Search Workshop Supplies delivers quality products every time
06/04/2018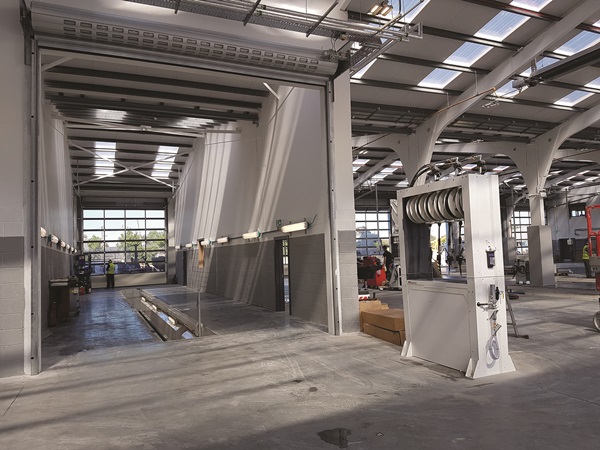 Trading for over 40 years, Search Workshop Supplies is one of Ireland's leading suppliers – instore and online – of garage equipment and workshop consumables. Supplying the heavy commercial transport industries, and specialising in complete garage fit-outs, the company has the knowledge and experience to provide for all your requirements.
Search Workshop Supplies was set up in 1976 by Gerald Glass. In 1995, it changed its name from Search to Search Workshop Supplies and relocated to a purpose-built premises at Altnagelvin Industrial Estate in Londonderry / Derry, close to Altnagelvin Area Hospital. The premises, which consists of office and warehousing facilities, has grown from 3,000 sq. ft. to 20,000 sq. ft., with building work currently taking place on 4,000 sq. ft. of additional warehousing space. Gerald's sons Simon and Lawrence now head up the family-run business which employs 20 staff and has a customer-base across Ireland.
The company has quality procedures in place to ensure customers receive the best possible service. A vast product range, which includes everything from consumables to heavy duty equipment, enables Search Workshop Supplies to provide a unique service, including an in-house repair facility and on-site service engineers. Training is also provided for equipment supplied to any personnel requiring Safe Use and Operation of Machinery. Currently the firm is going through the process of attaining a Torque Wrench Calibrator Counterbalance System to conform to the new
BS EN ISO6789:2017 Standard Accreditation.
Stertil Koni, VL Test Systems, Majorlift, Powervamp, Samoa, Cattini, Weber, NuAir, GTEC, Launch, Boxo Tools, Premier Pits and PCL are just some of the well-known brands in the suppliers' portfolio. Search Workshop Supplies is constantly adapting to meet the changes in the marketplace and the requirements of its valued customers. Its mission statement is to be "a vital support key to our customer's prosperity, through a team committed to achieving excellence in our industry."
Simon Glass explains: "We carry a large range of products and are possibly the only supplier in Ireland to carry ex-stock column lifts and pit jacks.
"Our father was the first Irish dealer to secure the franchise for Snap-on tools back in 1976, something we held until 1997. We've become main Ireland and UK distributors for several other top brands since then."
Stertil Koni are the market leaders for heavy duty commercial vehicle lifts. As a leading supplier of commercial workshop equipment, the company strive to provide a quality product that will last. The majority of their products are EU-made and are of the highest quality. They also supply economy brands such as Launch lifts, which come with a three-year warranty.
Search Workshop Supplies' friendly and energetic team are committed to offering complete customer satisfaction and products are available for immediate dispatch.
When it comes to garage fit-outs, they provide a reliable and flexible service from initial site survey to project completion. Their back-up service is second to none with two of their service engineers based in Derry and another in Newry which mean they are perfectly positioned to cater for the Dublin and Belfast markets.
The large range of products from Search Workshop Supplies can be viewed on the company's easy-to-navigate website www.swsni.com. A fully interactive brochure of their equipment can be found there, as well as sections on the website dedicated to commercial vehicle equipment, car and van equipment, workshop tools and consumables and their unique range of bespoke merchandising pre-pac stands.
The garage fit-out end of the business continues to flourish with Search Workshop Supplies having recently completed a major contract for main Volvo Truck and Bus dealers, Irish Commercials, at their new depot in Santry, North Dublin. The seven double-bay depot offers a range of services, including Volvo truck and bus maintenance and repairs, Volvo genuine parts, Tachograph Centre, and also contains the company's Partech division, which supplies parts for all makes of trucks, buses and trailers.
Search Workshop Supplies has supplied major capital workshop equipment to McCarthy Commercials in Watergrasshill, Co. Cork and Kilkenny, KCT Transport in Kilkenny, Dundalk Truck & Trailers, Wexford Bus, Mulgrew Transport in Dromore, Manfreight Ltd in Craigavon, McGuire Haulage in Thomastown, Kilkenny, a new test lane at the Quinn Group in Derrylin and at Translink's new hub in Belfast. Additionally lifts were recently installed in Wexford Garda Station with a similar installation set for Galway Garda Station, and all truck lifting requirements at NVD (National Vehicle Distribution) in Baldonnell, Co. Dublin.
Opening hours are from 6.30am to 4.30pm Monday-Friday, while there is free delivery on orders over £50 / €80.
"I would like to take this opportunity to thank our customers for their loyalty and support down through the years. We look forward to working for and with them for many more years to come," Simon concludes.
Search Workshop Supplies
Altnagelvin Industrial Estate,
Londonderry / Derry
BT47 2ED
Telephone: 028 71312225 / 01 5060572
Web: www.swsni.com
Taken from Irish Trucker & Light Commercials magazine, January 2018, Vol 21 No 1