The first Volvo FL 18 Tonne crew cab rigid shows the way for WJ
06/04/2018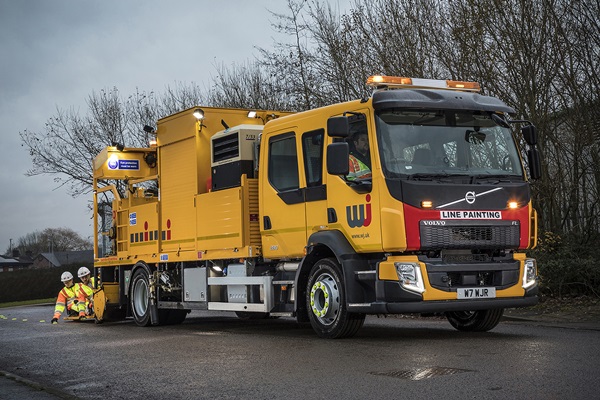 WJ UK, the UK's leading independent specialist road marking business, has put the UK's first 18-tonne Volvo FL with factory-fitted Crew Cab into service.
The 5,600mm wheelbase 4x2 rigid FL model was supplied by Steve Brown, Area Sales Manager at Crossroads Truck and Bus Limited. WJ UK opted for Volvo's D8K engine producing 280hp coupled to a six-speed manual transmission system. In addition to a rear engine-mounted live drive Power Take Off (PTO), an extra front mounted engine pulley provides drive for some of the bodywork accessories. The new arrival also features a 7.1-tonne front axle, large capacity alternator and cab air conditioning.

"Volvo has a long standing presence in our fleet of 150 trucks and the latest FL rigid was ordered after the performance levels of a 16-tonne FL Crew Cab," notes Mark Fawcett, Managing Director at WJ's Elland depot. The FL has been allocated onto temporary road marking works and is fitted with specialist bodywork that is designed and built in-house by WJ UK.

Mark explains how the vehicle works. "The truck has a team of four. The driver follows a pointer bar to guide him accurately on the carriageway and up front in the bodywork, a hot compressor air dries the road surface. Behind that is a canopy covered stockpile of temporary coloured road studs. Immediately aft of the rear axle is a radar encoded bitumen glue applicator."

He adds, "This triggers the correct amount of surface adhesive every one to two metres, depending on the job in question. Finally, on the rear platform, two team members and their stock of markers, stick the studs onto the roadway." WJ are currently working on a robotic arm design to automate the latter function.

The inaugural FL 18-tonne Crew Cab starred at the Road Safety Marking Association Show in Nottingham before entering service last December. "The new FL is an excellent machine. The driver and team allocated to the truck are pleased with both its performance and capabilities," concludes Mark.