Paddy Graham - Delivering an excellent service every time
03/04/2018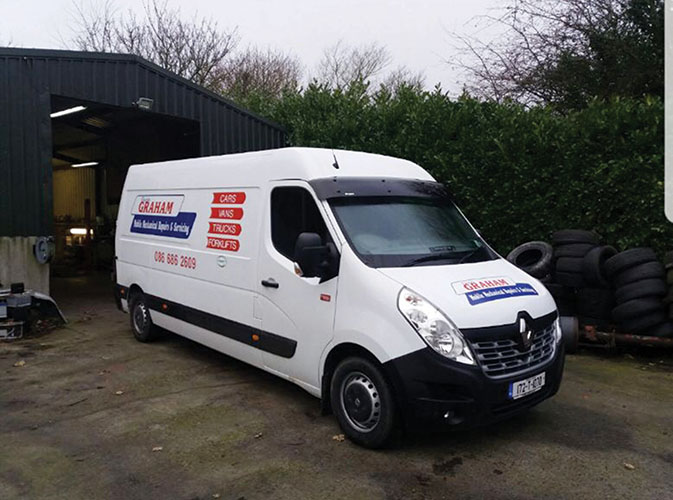 Paddy Graham Mobile Repairs & Servicing in Co Tipperary has built up quite the reputation for providing an excellent service in the short space of six years. Irish Trucker found out more from the man himself recently.
Since officially going out on his own in 2011, Cashel native Paddy Graham hasn't really looked back and much of that comes down to providing his customers with a five-star service time and time again.
The origins of Paddy Graham Mobile Repairs & Servicing began in and around 2009, when Paddy took the decision to go out on his own after having earned his reputation in machinery repairs for the best part of a decade beforehand.
Today the company operates with three staff members in total, with a second van set to hit the road very soon in order to keep up with the demand from customers.
With an increasingly hectic schedule to contend with, Paddy was able to take some time to explain to Irish Trucker about the services in which he provides and why he feels his customers choose him first ahead of other competitors.
"We do everything really. Vans, trucks, forklifts, you name it," he explained. "I did my training in Clonmel and went working in the timber industry for about a year-and-a-half. I'd have also worked a lot in training with cranes.
"I worked in Nissan in Thurles as well and eventually decided to start up in 2009. Two years later, I was full-time out on my own. Right now two of our main clients would be Coolymoyne Couriers and Shannonside Galvanising. We do a lot of their forklifts."
It seems that Paddy Graham Mobile Repairs & Servicing offers the whole package when it comes to machinery repairs, which obviously appeals to potential customers in various different industries.
Paddy himself didn't grow up immersed in machinery works but explained that his brother had a big influence on his chosen career path.
"We would have grown up on a stud farm," he said. "There were no vans or trucks around our house, so this was something that I would've started on my own.
"My brother John drives for Maguires in Monaghan and I was constantly involved with him with trucks and that, so my interest just grew from there I suppose."
Now, more than two decades on, Paddy is running his own mobile repairs and servicing firm.
Over the past 18 months or so things have been going very well indeed for the Cashel-based business, with a bold investment in a new diagnostics system at the beginning of this year illustrating that point as well as anything.
"Business at the moment is not too bad," he said. "We're constantly getting new customers all the time and we've a new van on the way very soon.
"I don't really advertise. I provide a good service and the word spreads on that. That's it."
He added: "We've a good diagnostics system here that we use for our clients. We spent big money on it back in January and it's been going great for us ever since."
Needless to say, it takes more than heavy investment in new equipment to make a venture a resounding success.
So what has been the secret to the success of Paddy Graham Mobile Repairs & Servicing so far?
The man himself stated: "Well, we are very accessible to the motorway in Cashel from here and we have a van which is fully kitted out and it's is fully mobile as well. I'll have two vans soon – a Transporter and a new Renault Master.
"Another part of it too is our prices. I'd like to think that we're fairly reasonable when it comes to our prices. We try and look after our customers as well as we can.
"I'm convenient for local people and, as I said, we're in a good spot too with the motorway close by. The other thing I'd like to stress is that whatever's done here is done right, so customers can trust us to do a job well for them."
Paddy buys his vans from Surehaul in Clonmel, having worked for them in the past, and says his loyalty to them comes down to him simply "wanting to return the favour".
Paddy retains his customers and it is not just down to loyalty, but because they clearly like what they've seen from him so far and it's earned him repeat business from some notable businesses in and around the local area.
Add to that the fact that Paddy's company covers repairs and servicing for basically any machine with wheels and it's hard for his clientele to look elsewhere.
"Shannonside Galvanising and Hall Forklift Solutions in Monaghan, which specialise in combilift forklifts, would be two of the main clients that we do work for along with Coolmoyne Couriers in Fethard," Paddy stated.
"John Crowe Transport, Philip Ryan Haulage and Mitchelstown Transport would be a couple other clients that we have as well."
He added: "I do lots of work for local people, whether it be their cars, vans, trucks or other machinery. I do a lot of work for farmers' machinery as well and have gained different knowledge of different machines in the meantime."
2009 seems like a long time ago now for Paddy and his thriving business, but back then there were no guarantees of growth, especially with the country reeling from the economic recession.
The way he looked at it though was that that he had the required amount of knowledge of the industry to start up by himself.
"I took a chance," said Paddy. "I was on my own and trailers kept me going for a day at a time. I just built on it from there and took on a new man then four years later. I took on another man recently, so things have been going well."
Paddy gets great support from his wife Geraldine, who helps out with the paperwork, and their kids Ronan and Pippa. Looking towards 2018 and the future in general, Paddy modestly concluded: "If things stay the way they're going, we'll be flying it."
What more could you ask for than that?
Paddy Graham Mobile Repairs & Servicing
Dualla, Cashel,
Co Tipperary
Mob: 086 686 2609
Taken from Irish Trucker & Light Commercials magazine, January 2018, Vol 21 No 1