McBurney Transport Group adds 25 new trucks
28/03/2018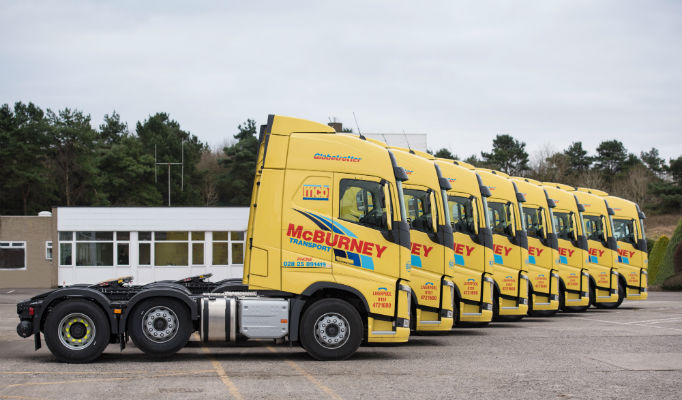 Northern Ireland operator McBurney Transport Group has boosted its haulage fleet with the addition of 25 new Volvo trucks. Supplied through Dennison Commercials Ltd, the company's latest delivery of tractor units includes 15 Volvo FHs, nine Volvo FMs and a stunning Ailsa Edition Volvo FH.
The new order consists of a combination of replacement and additional vehicles that join McBurney Transport Group's sizeable fleet of over 300 vehicles, based at depots in Northern Ireland, England and the Republic of Ireland.

The FM and FH groups feature similar specifications and the 6x2 pusher axles chassis are all powered by Volvo's D13K 13-litre engine rated at 500hp. Globetrotter Cabs, sliding fifth wheels and Michelin tyres all feature on the trucks, which are subject to full repair and maintenance contracts with Dennison Commercials Ltd.

The special Volvo FH16-750 Ailsa Edition is finished with a Golden Fleece paint colour and the 6x2 tractor also has a Globetrotter XL Cab, 12 speed I-Shift automated manual transmission system and Volvo's unique Dynamic Steering system.

The limited-edition truck's extensive interior specification includes a Driving ++ Package, a rotating and heated passenger seat, in addition to I-Park Cool, Volvo's stationary air conditioning system.

Rob Ireland, Sales Director at Dennison Commercials reports, "McBurney Transport Group is a loyal customer of Dennison's and we are always pleased to help out with any truck requirements. The company has a reputation for quality service and going the extra mile for its customers. We hope the new Volvos will complement the high standards provided by McBurney Transport Group."

Sammy Hamill of McBurney Transport Group adds, "We are delighted to have purchased another 25 new Volvo trucks. As we continue to invest in and expand our business, it is important that our transport fleet is reliable for our operational needs and provides uninterrupted service to our customer base. Over the years we have been impressed with the efficiency, reliability, comfort and safety of our Volvo trucks, not to mention the quality of service provided by Dennison Commercials."