DAF Trucks Ireland invest in customer experience at Dublin HQ
28/03/2018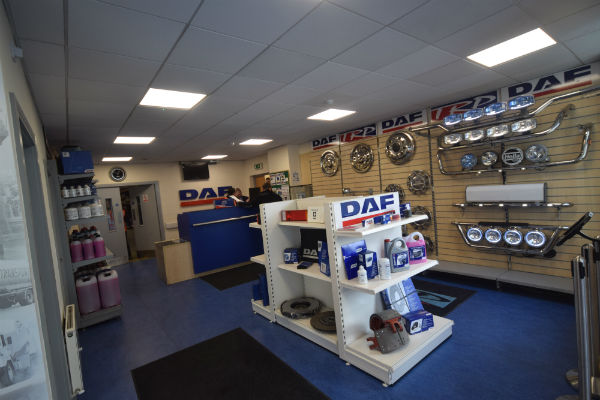 DAF Distributors Ireland has recently invested in a series of upgrades to the customer facing areas of its Dublin Headquarters in Baldonnell, as part of a continued company focus to provide a first‐class customer experience.
The Dublin HQ is the flagship DAF sales and service location in Ireland, ably supported by its nationwide network of dealers. Whether it's for urgently required parts, a service check or to view the new range of trucks, DAF Dublin is the primary destination for truck customers, drivers and operators. With that in mind, DAF Ireland decided it was time to invest in an improved customer environment.
As Arthur O'Sullivan, Aftersales Director, DAF Trucks Ireland, explains, "The DAF facility in Baldonnell was built almost 15 years ago, and although it remains state of the art, the time was right to upgrade the Aftersales areas, with the objective of improving the customer experience for our parts and service customers."
The upgrades include a full renovation of the reception area and customer lounge, a brand‐new waiting area with flat screen TV and comfortable seating, upgraded driver facilities including a modernised driver rest room and shower and a new open-plan layout for parts and service reception. Service and Parts customers can check out the display of DAF and TRP accessories, avail of free Wi-Fi or simply chill-out watching TV while enjoying a complimentary coffee in a comfort.
Arthur continues, "2018 heralds a new beginning for the DAF customer experience in Ireland. Our European Truck of the Year 2018 award for CF and XF has spurred us on to higher levels of technological and customer satisfaction. With the upgraded facilities our goal is that our customers will feel comfortable and more at home while in our care. One of our aims with the Baldonnell improvements was to make thedealership easier to navigate, more approachable and more user friendly. With these recent changes, I think we have achieved that."
These customer focused changes are expected to be just the start for DAF Trucks Ireland, with plans for enhanced vehicle testing areas and multiple new parts and service dealer locations also at an advanced stage of planning.
Arthur concludes, "We have put a lot of time and thought into creating an atmosphere in which our customers will be comfortable and happy. We look forward to welcoming everyone to our new after-sales centre over the coming months and hope they find the renovations as exciting as we do."