A bigger and better service for fashion-conscious operators
27/03/2018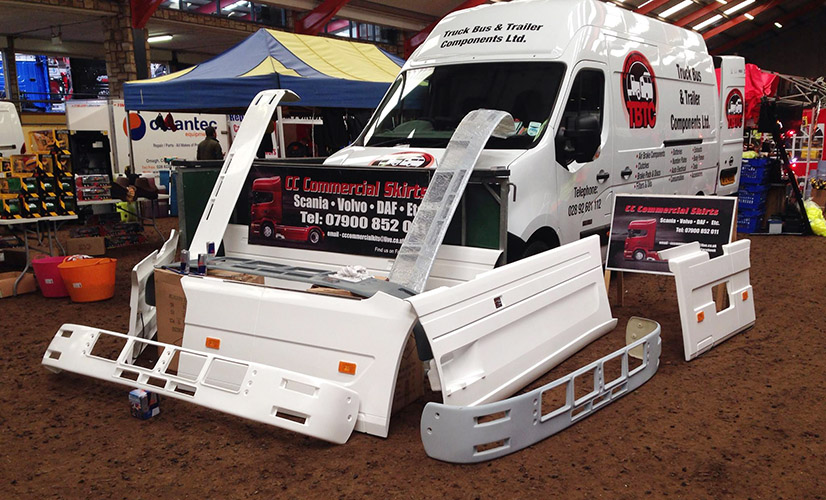 Already firmly established as one of the island's premier independent designer, manufacturer and fitter of side skirts and wind kits for all makes of trucks, CC Commercial Skirts Ltd service has just got even better. We dropped into the company's busy workshop in Coalisland, County Tyrone and touched base with founder / proprietor Gerard McCourt to discuss the improvements he has made to take his market-leading operation to the next level.
Manufacturing a wide range of high-quality side skirts to suit all makes and models of HGVs – from Scania to DAF and Volvo to Mercedes-Benz – and serving local, national and international markets, CC Commercial Skirts Ltd had carved such a comfortable niche for itself in the industry when last we spoke to Gerard McCourt in 2015 that one would readily have forgiven the Coalisland man for easing up, with the business established and performing superbly well.
Instead, to the contrary, the ambitious, meticulous, customer-orientated entrepreneur has rolled up his sleeves and adapted a proactive approach, with a view to further improving his products and services, ensuring that his exceptional self-built enterprise continues to go from strength to strength.
"The business has been revamped in the last two years and we now have a bigger and better way of doing things. I have streamlined everything and the structure of the business is far more straightforward, which means a better service for customers."
Trailer skirts have also been introduced to the product range. "These are becoming increasingly popular so I've started to manufacture and fit bespoke skirts for trailers," Gerard confirms. "I can do both standard and bespoke skirts but a lot of them are bespoke, manufactured exactly the way the customer wants them to ensure a unique product and a novel look for their truck and / or trailer."
The business is making tremendous progress on the back of providing exceptional products and services, culminating in rising demand through repeat custom and positive referrals. It would be fair to say that the trucks fitted by CC Commercial Skirts Ltd are show-stoppers, as they have regularly picked up top awards on the truck show circuit.
K Mackin Transport Ltd.'s striking flagship T-Cab and the two stunning, brand-new, state-of-the-art, high-spec Volvo FHs acquired earlier this year by Hastings Transport in Cavan are just a couple of the head-turning vehicles to have received the much sought after CC Commercial Skirts Ltd treatment.
Gerard's flexibility is second to none in that he can work on any truck, with the work fully approved and endorsed by main dealers. An unlimited warranty completes the package! "I try to keep everybody happy, whether they drive a Scania, a Volvo or a Mercedes etc. As well as designing, manufacturing and fitting the side skirts myself, I also work with main dealers as far away as the Czech Republic, manufacturing the skirts here and then shipping them over. I give a lifetime guarantee with all my products and this affords customers great peace of mind."
Such extensive guarantees are almost unheard of in the haulage industry – how is this even possible? "It comes down to workmanship and the quality of the materials used. Basically, knowing what you are doing," says Gerard. "The art of making them strong and bolting on the brackets at the end."
Almost an art form in itself? "I suppose it is to an extent, and it comes from experience. My father was a boat builder, as was his father before him, so that's three generations of the family who have worked with fibreglass and you get to know its ways. It's all fibreglass and I also do a lot of Kevlar and carbon fibre if required for trims, all finished in whatever colours the owner wants."
Other products provided include chrome strips, perimeter strips, lighting bars, visors, stone guards and fifth wheel covers. All in all, the business is moving forward at an impressive rate…
"The customer base is growing and a lot of dealers in Ireland, the UK and Europe have zoned in at this stage and are buying direct," says Gerard, who also provides his services to some of the largest and most conspicuous fleets and manufacturers in the country, including the likes of Mulgrew Haulage Ltd., Surefreight and Muldoon Transport Systems, to mention just a few."
Constantly investing money in his custom-build premises, Gerard can claim without fear of contradiction that his workshop is state-of-the-art. "There's been a lot of investment," he concurs. "There's plenty of specialist equipment here that nobody else in Northern Ireland would have. One of the latest additions is a new machine for spraying gel coats and resins. We also provide a specialist vacuum moulding service, which results in a more efficient and more robust finish."
Gainful employment is generated for a crew of six, although Gerard is on hand around the clock to keep a very close eye on everything. For the owner, it's a real labour of love, with each and every job overseen, signed off and guaranteed by him personally. Every job is afforded the utmost care and attention.
Looking to the future, Gerard McCourt isn't ready to rest on his laurels any time soon. Indeed, he is determined to keep pushing forward: "I'm hoping to expand the business even further," he concludes. "To become even more efficient and to manufacture better products. We also do some fibreglass linings for the backs of vans for fishermen, etc., but it's mostly trucks and that's what I'm going to stick with."
CC Commercial Skirts Ltd,
Derrylaughan Road,
Coalisland,
County Tyrone.
Tel: 0044 7900 852011
Email: [email protected]
Taken from Irish Trucker & Light Commercials magazine, January 2018, Vol 21 No 1