A haulier's haulier
23/03/2018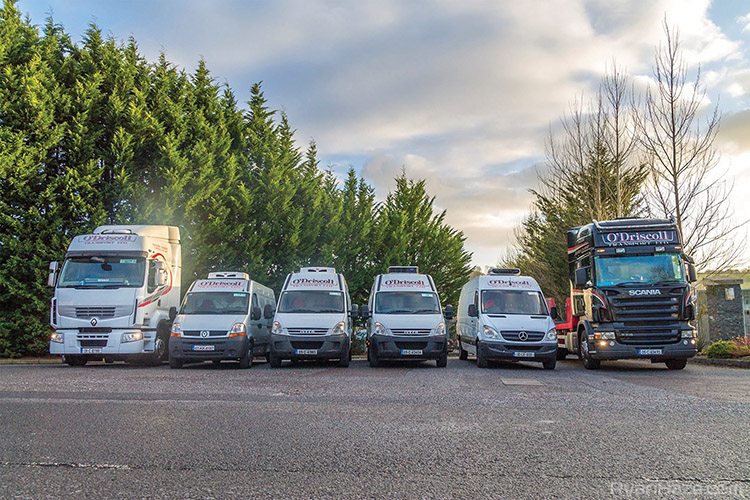 Cork man Tony O'Driscoll is passionate about trucking. He fronts his own company, O'Driscoll Transport Ltd., and is also chairman of the Cork branch of the IRHA. We travelled to Glanmire in the Rebel County and had an interesting chat with a man whose enthusiasm for haulage and hauliers is positively infectious.
As chairman of the Cork branch of the Irish Road Haulage Association, Tony O'Driscoll is doing all in his power to provide a strong representative voice for hauliers on Leeside and, indeed, further afield. Meanwhile, as the driving force (pun intended) behind O'Driscoll Transport, he has been making sure his customers receive optimal service levels for a decade and a half. We interrupted his busy schedule to discuss Tony's impressive family business and his Association activities…
The genesis of O'Driscoll Transport Ltd. dates back to 2003 when the Cork man started out on his own with one truck, transporting machinery for local hire companies such as HSS Hire, Boom & Platform Hire, Cronin Buckley Steel, Paul Browne Plant Hire, CB Tool Hire, Tac Coat Services and Fahey Construction as well as many others. "I was transporting all of their small plant and machinery locally from site to site and also doing some subcontracting for Tony Doyle Transport and Little Island Transport," he reflects.
An exceptional service was offered from Day One and Tony was so busy that he opted to purchase a second truck within two years. During the recession, when the construction sector was of course the hardest hit and everybody connected to it felt the ripple effect, he opted to diversify into delivering fresh produce around Cork city for Keelings (now trading as Pallas Green) and Musgraves Cash & Carry, running two 3.5 tonne refrigerated vans.
When the machinery side of thing started to pick up again three years ago, the Cork man purchased a 2013 Renault Premium Artic with low loader, which he now runs alongside a 2005 Scania Beavertail Rigid. There are now three vans in the fleet – two Iveco Dailys with split compartments for fresh and frozen products and one Mercedes Sprinter, which caters for fresh produce.
A small close-knit team works hard to guarantee customers the best possible service. "I drive the Scania Beavertail full-time myself and Sean O'Connor, Denis Gough and Tony O'Shea drive the vans," Tony explains. "I've started a lady driver, Nora Hanrahan, driving the artic full-time and she's fantastic at the machinery and container work. She replaced a lad who was with us for two-and-a-half years and she is excellent.
"My wife, Anne Marie, who's also a director in the business, looks after all the administration, helped by 13-year-old daughter Ava, while our son, Anthony (21), drives part-time and he's also serving his time with McCarthy Commercials, main Volvo dealer in Cork. He's a fully-qualified driver and he also looks after all of our maintenance."
Business is going well. But Tony has had to cut his cloth to fit, as there's no future for a haulier who spends extravagantly or unnecessarily. It's all about finding efficiencies and offering clients a quality service that's also good value:
"The vans are two 2009s and one 2010. We don't go new because it isn't always cost-effective especially with the spiralling cost of insurance over the past few years. Our insurance premiums doubled last year, without any claims. That's an unsustainable rise in overheads and it prevents you from investing in new vehicles.
"So we're forced to keep the overheads down by doing everything ourselves," he continues. "90% of the maintenance is done in-house and I have the use of Tony Doyle's workshop, which is a massive help to me. Tony has been a great help since I got involved in the haulage business. Before setting up on my own, I drove for Tony Doyle Transport for nine years, and I spent another nine years prior to that working in my own commercial vehicle garage."
Tony O'Driscoll has been an active member of the IRHA since 2004. Three years ago, he became a council member and in 2015 he was elected vice-chairman of the Cork branch. He became chairman this year and will fill that position until 2019. He's quick to point out that the Cork branch of the Association is very strong…
"I've a very good team with me here, with great people like Pat O'Donovan (ODT] and Michael Collins [Transport] on the management team as well as Gordon O'Keeffe of K&L Deliveries, Laurence O'Connor [Transport], John O'Donovan [Blarney], Denis J Downey [Haulage], Michael Hartnett [COH Transport], and of course Tony Doyle [Transport] – the man who first introduced me to the IRHA."
Regarding the biggest challenges facing the Association's hard-pressed members, Tony doesn't have to think too long before stating that "insurance costs are a massive issue and trying to make sure we get a decent rate for the service we provide.
"Also, it is very hard to get drivers now as young people are not interested in the profession because it is so expensive to get a licence. I was lucky to get Nora Hanrahan in as a driver as she came from the warehouse. I'm not in favour of poaching drivers from neighbouring companies as it leaves a sour taste.
"The biggest feedback I'm getting from hauliers is the strictness of the CRVT tests. It's just going too far at this stage, especially if you are running second-hand trucks. I'm all for safety but the regulations have gone way too stringent, even if your vehicle is only twelve months old. Trucks come back with a list of problems, you fix them all, and then you could still fail over something else.
"It's very tough on the vehicle owner. You'd nearly need brand-new vehicles to get through. The test has become too strict and the common sense factor has completely gone out the window.
"Trailers are being scrapped because apparently there's too much rust on the chassis but the same trailers are fine in the UK. Backdating tests to the month of manufacture is also very unfair, especially for lads who are doing seasonal work. It feels like they are nit-picking and hauliers just want to get on with providing a safe, efficient and high-quality service."
That's something Tony O'Driscoll has been doing for 14 years now and there's still plenty more to come from this outstanding family operation!
O'Driscoll Transport Ltd.,
Avanna,
Brooklodge,
East Glanmire,
County Cork.
Tel: 086 8323006
Taken from Irish Trucker & Light Commercials magazine, November/December 2017, Vol 20 No 7