Changing times
22/03/2018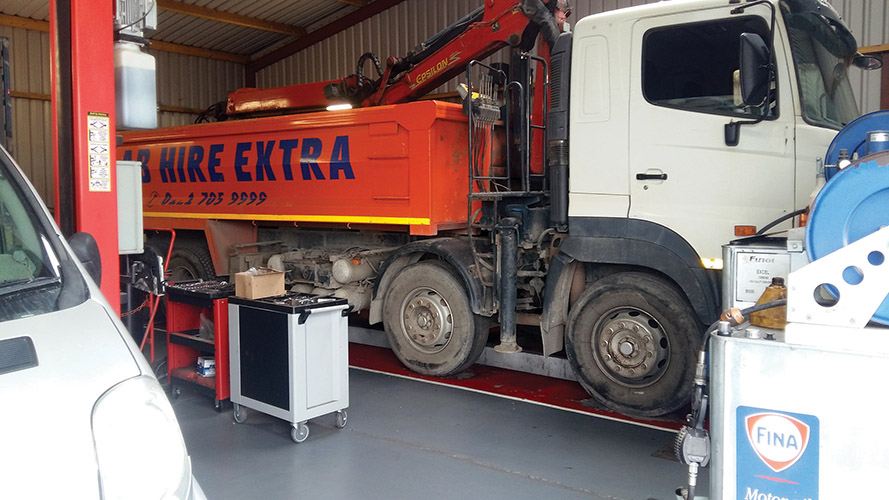 For any commercial vehicle repair company, it is essential to move with the times and be up to date with the latest equipment used to work on light and heavy goods vehicles.
Mechanics who have been a long time in the trade have seen many changes down through the years not only in the construction and parts used in vehicles, but the machinery and tools used to repair them.
The common toolbox has almost being replaced by diagnostics and computer orientated equipment that not only allows mechanics to repair and maintain vehicles; it also records any work being done and this is an essential part of today's workload.
RSA and H&S checks means that trucks and light commercials must be kept in perfect condition and this leads to regular maintenance. The Road Safety Authority in collaboration with the Health & Safety Authority and An Garda Siochána have developed a series of simple vehicle walk around posters and checklists to highlight the importance of regular driver vehicle checks and to assist drivers in carrying out the checks. These are aimed at the most commonly found work vehicles and cover Heavy Goods Vehicles (HGVs), Vans and Light Goods Vehicles (LGVs) and Bus and Public Service Vehicles (PSVs).
When work is needed on a vehicle, owners like to use someone that not only does the work to the highest standard, but to someone that they can also trust.
That is why a lot of hauliers based in North Dublin turn to Aidan Wade Commercial Repairs. Based in Lusk, Aidan has been providing his vast experience and knowledge of repairing HGVs to a large customer base since 1998.
With a lifetime experience of mechanical work behind him, Aidan is the go to man when his customers have an issue that they need resolving efficiently and promptly.
"I served my time with Massey Ferguson years ago, before going on to work with a haulage firm for 16 years. At the time, I was building my house and raising a young family, so I started working for myself in the evenings and the weekends to raise a few extra quid and it just took off from there really," said Aidan.
Over the decades involved in the industry, Aidan has seen many changes and he recalls a story from a few years ago where he asked a so-called knowledgable person on lorries about a certain part of a truck.
"We were sitting in the canteen one day in my old job and there was this lad there who would make out he knew everything about trucks and this was the time when air suspensions had just came in an replaced mechanical ones. I asked him what a helper spring was? He had no idea at all much to the amusement of the rest of the lads in the canteen."
A helper spring is actually a suspension enhancement product engineered to enhance, support, and help various types of original equipment suspension. There are two basic types of helper springs: steel springs and pneumatic springs, more commonly known as air springs.
These days, Aidan and another mechanic work out of a state of the art premises that has four bays and is kitted out with all the latest modern technology to ensure that vehicles receive the attention and care required.
"It is important to have the latest technology, I recently updated my diagnostics equipment which has to be upgraded every 12 months. I always tried to upgrade the equipment on a regular basis, but I only did it when I had the money to do so."
One of the features that strikes customers when they walk through the doors of the premises in Lusk is the cleanliness of the place and it has been remarked on occasion that the facility looks more like a factory clean room than a garage.
"I suppose I am a bit of a clean freak, but it is something that I have always been proud of. Before any vehicles leaves here after work being done, it is brought outside and washed. Regardless of the size of the job, it won't leave here unless it is washed. Many of the lads delivering parts and lads dropping off or collecting their trucks comment on how clean the garage is."
Aidan has built up an impressive customer base that includes Conroy Pallets, ACE Express, James Adams Transport, RPS Transport, St Margaret's Recycling, Conroy Flamers, Fastec Transport and many more.
"We specialise in trucks and trailers, 90% of the work would be HGVs. I've a very good working relationship with my customers. You get paid every 30 days without fail and that makes such a difference. They are happy with the service that I provide and the aim is to continue providing that standard of work."
As stated, these days all forms of work have to be recorded as traceability is essential and Aidan keeps repair logs for that purpose and for his customers' peace of mind.
"My wife Paula looks after the admin and I firmly believe there is as much work to be done at a computer these days as there is with the toolbox. The customers need records of what work is done and we have all that here."
Another service provided by Aidan is call outs as he has a repair van kitted out and goes on site when his customers need him.
There is no doubting that when someone brings their vehicle to Aidan, everything that is asked to be done is done and more. That is why his customers have remained loyal over the years and will continue to do so for many years to come.
Aidan Wade Commercial Repairs
Lusk,
Co Dublin
Taken from Irish Trucker & Light Commercials magazine, November/December 2017, Vol 20 No 7