Noel Howley Logistics - a trusted outfit
21/03/2018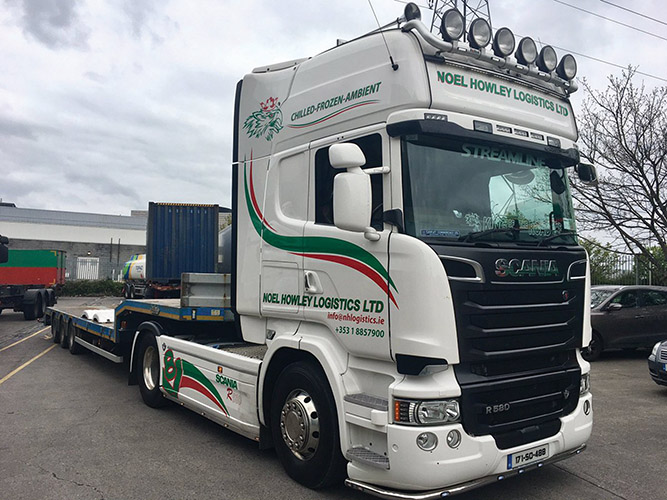 Noel Howley Logistics is currently operating a fleet of 15 Scania and Mercedes trucks from the company's two bases. Irish Trucker spoke with the man himself recently to learn about the service they offer and find out how business has been as of late.
Operating from two different locations in the east and west of Ireland, Noel Howley Logistics has been keeping up with the pick-up in business in recent times in the hopes of doubling their turnover during 2017.
Noel Howley has been involved in the logistics and transport business most of his working life and recently welcomed his son Brian on board the company which he first founded back in 1994, before its rebranding three years ago.
Noel Howley Logistics concentrates on the haulage of chilled, ambient and frozen foods, with 50,000 sq ft of warehousing, and recently added two new Scania trucks to its fleet. The man himself was good enough to take time out of his busy schedule to speak to us recently and explain what the company is all about.
"We're operating from two bases here. One is in Unit 7, Rosemount Business Park, Dublin 11 and the other is in Foxford, Co Mayo," outlined the Managing Director. "We rebranded the company in 2014 – it was Howley Distribution Services when it was set-up in 1994.
"I'm the owner of the company and my son Brian is Operations Manager, he's the only family member involved here. He would have joined the company last September."
The company employs some 25 staff between Dublin and Mayo in order to run its day-to-day operations, which sees them hauling chilled, ambient and frozen foods nationwide. For Noel, logistics is a business he has been in most of his working life and with his son recently having come on board the hope one day is that Noel Howley Logistics will last the test of time to become a second generation company.
The purchase of a huge warehouse facility means that the Howleys are in it for the long haul.
"We have 50,000 square foot of warehousing here which is used completely for logistics," said Noel. "We offer the complete logistics service from our warehouse, along with chilled and frozen foods. Right now, we have 15 trucks on the road."
Two new Scanias recently arrived via Sligo dealer Cawley's Commercials, which is Ireland's north-west location for Scania and Mitsubishi commercial vehicles, along with servicing and CVRT testing. Noel puts his trust in Scania, along with the Mercedes brand, as he feels that both are reliable as well as efficient for the work he carries out day in, day out.
While the economic recession had a tough effect on his business a couple of years back, Noel is glad to report a turnaround and is looking forward to growing the company even more in the coming years.
"Business is on the pick-up, slowly but surely. The downturn hurt us a bit but we are coming back from it now and growing," he enthused. "We have 15 trucks operating in our fleet which is made up entirely of Scania and Mercedes. We buy our Scanias from Cawley's in Sligo and our Mercedes off Simpson's Commercials in St Margaret's.
"I think the fact that we recently brought in a few more Scanias says a lot about how business has been going and we'll always be sure to keep up with the demand here."
Above all, clients' satisfaction is perhaps most imperative when it comes to frozen food logistics and down through the years Noel Howley Logistics has earned itself a glowing reputation amongst its clientele. The company provides its clients with a timely service, while their warehouse facility, which is being used purely for logistics, is a first class facility.
"We have a lot of long-time clients here and I think they trust us because we provide them with a great service which is also very reliable," said Noel. "The likes of Eucon and Keelings would be good clients of ours that would have been happy with our service from day one and we're happy to still have them with us."
The aim now for Noel, Brian and co is to keep growing the business and try and add a couple more clients to the list. Now well into a new year, Noel Howley Logistics has been keeping a busy schedule and the hope is to keep getting busier and busier in the coming months.
"We're hopeful that we'll continue to grow like we're doing. Hopefully we'll double our turnover in 2017," Noel stated.
Going on form since the upturn in the economy, it would be no surprise to see.
Noel Howley Logistics

Address: Unit 7, Rosemount Business Park, Dublin 11

Phone: (01) 822 4064
Taken from Irish Trucker & Light Commercials magazine, November/December 2017, Vol 20 No 7