'So far, so good' at Bring International Ltd
16/03/2018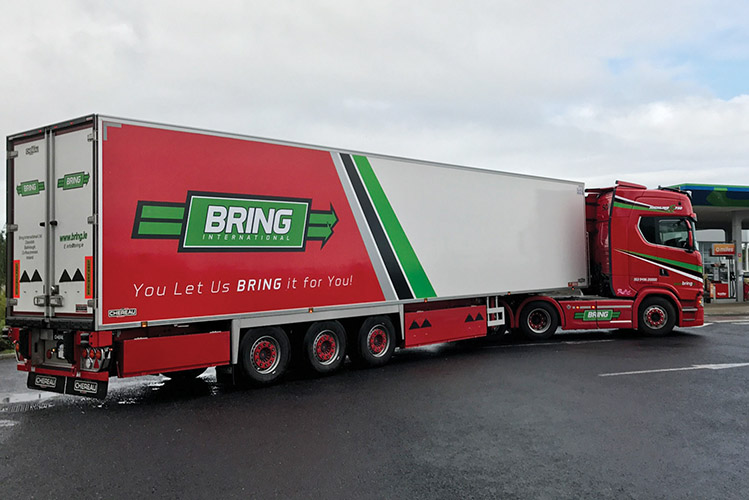 Set-up last May, Bring International Ltd in Co Roscommon is an exciting new transport business servicing Ireland, the UK and Europe. Irish Trucker learned more from company manager Mark Finneran.
These are early days for Bring International Ltd but already the Roscommon-based transport company has shown signs of having hit the ground running.
Located in Castlerea Business Park on the Henry Byrne Road in Castlerea, Co Roscommon, Bring International Ltd was set-up by businessman Tom Murphy, who has been immersed in the supply of machinery most of his working life.
The company is just a couple of months old and has quickly grown its fleet up to four trucks which are currently all busy on the roads.
Mark Finneran has been part of the team since 'Day 1'and was able to tell Irish Trucker all about the exciting new venture which has wasted no time in getting its trucks to work, including two brand new Scania 730s and three new Chereau fridges. They also have a low loader on contract to one of their customers providing a European wide delivery service of construction machinery to assist in their delivery of machines worldwide , so Bring International Ltd can help in this sector also if required
"We're in Castlerea, Co Roscommon and we've been established since May of this year,"explained Mark.
"At the moment we're operating with five staff. My official title here would be company manager and Tom Murphy is the Managing Director and founder of the business."
Both Tom and Mark have put in considerable hours, along with the rest of the staff, over the past couple of months in making sure that Bring International Ltd has had a smooth birth and the hard work looks to have paid off so far.
So what is it exactly that the company does? Mark outlined it for us.
"We are a young company which is only starting out, to be honest"he said. "We have three new refrigeration vehicles on the road and we carry fresh produce and dry cargo for our customers ,along with the movement of machinery
"We have trackers built into both our tractor units and fridges for our customers that want to know where their produce is at all times, so we can update our customers in real time. The trucks and trailers are both tracked by different tracking providers which gives us a back-up should either one be tampered with.
"We also have TAPA TRSii approved locking systems here that keeps the cargo safe at all times."
Mark is quick to point out that they "don't mess about"when it comes to customers'cargo and it shows with the machines which Bring International Ltd has invested in.
Along with this, the drivers at Bring International Ltd are complete professionals when it comes to their work and carry out their service with expertise.
"All of our trucks are maintained by Westward Scania in Strokestown and all of our drivers are ADR and GDP trained and have 30 years driving experience,"said the company's manager.
"Tom's background would have seen him involved in business in the UK before starting this company. He moved to England 20 years ago and set-up a very successful construction company and eventually moved into the supply of machinery.
"I've been involved in transport for 17 years now. I started driving in college before I got my degree and I've been involved in the industry ever since then."
Now Mark finds himself immersed in a venture which is only months old with its trucks already travelling as far as Portugal, throughout Europe and other destinations around the continent with cargo.
Needless to say, they're happy with how events have unfolded so far in the first few months at Bring International Ltd.
"Business has been good,"said Mark. "To be honest, we are only up and running a couple of weeks now but so far, so good.
"We're not expecting to rule the transport world. We just want to create a business that provides a good service for our customers and so far, we've been doing that.
"There are four trucks here in total and, as I said, they're all ADR-tested."
Scania has very much been the truck of choice in what are very early days at Bring International Ltd.
While the company is sure to see plenty of ups and downs (hopefully more ups), as well as changes, over the next couple of years, sticking with Scania looks to be a sure thing for Bring International Ltd.
As Mark explained, it's a brand which we firmly put our trust in and the plan down the road is to hopefully keep adding more Scania's to the fleet as business continues to grow.
"We feel they're a reliable truck that provides a good service,"he said.
"We are hoping to grow this company over the next couple of months and hopefully that will see more trucks added to our fleet next year."
It's all happened very fast as far as Mark's concerned and that can surely only be a good sign.
The company's rapid growth since its inception last May is hopefully a sign for what's to come and its manager is confident that more and more clients will come to appreciate the service that they offer.
"When it comes to Tom and I, we don't mess about. It is all about the customer and working closely with them to provide the service that they require, "said Mark.
"We have a good presence on social media already and people like the trucks that we have here.
"With us being based in the midlands we are very accessible to all counties across Ireland. We can be anywhere within a couple of hours.
"You let us BRING it for you."
That's a service hard to resist.

Bring International Ltd
Address: Castlerea Business Park,
Henry Byrne Rd,
Castlerea,
Co Roscommon
Tel; 00353 94 96 20 000
Taken from Irish Trucker & Light Commercials magazine, November/December 2017, Vol 20 No 7