Donegal Commercial Vehicles won't be beaten
14/03/2018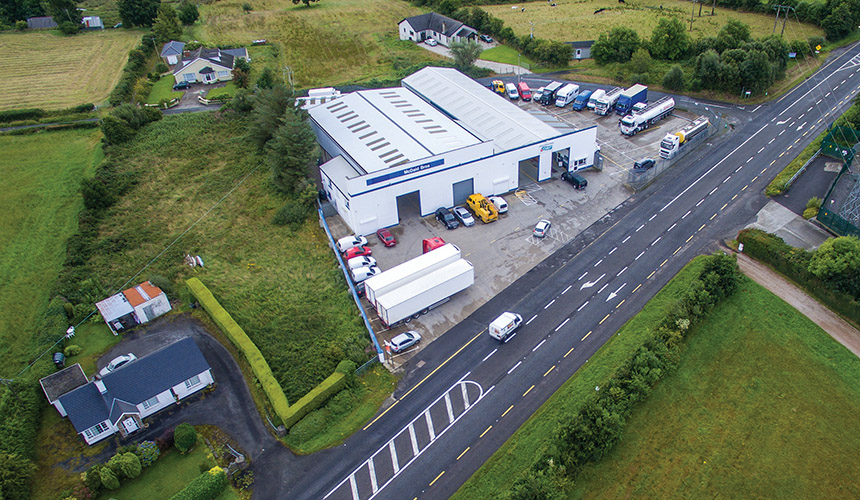 Donegal Commercial Vehicles is now carrying a large selection of quality used buses at its garage in Drumkeen, which is synonymous with commercial repair and maintenance services throughout the North-West.
The garage is located south of Letterkenny and is just three miles from Donegal Commercial Vehicles'other outlet at Lurgybrack, which is also on the Ballybofey Road, and has been a CVRT (formerly VTN / DOE) Test Centre since 1982. Brendan McDaid runs the commercial garage along with general manager Darragh Kelly, while his brother Pat McDaid is in charge of the test centre. The brothers have worked in the business their entire lives and have a vast knowledge of the industry and its demands.
"Our father founded the business in 1978 and opened the test centre four years later,"Brendan explains.
"The commercial garage and test centre operated from the same premises in Lurgybrack until 2015 when we moved the repairs end to Drumkeen. Our father bought the Drumkeen site in 2008 as an investment, but with the business growing rapidly we had to use it ourselves to cover the business needs. The move to Drumkeen has allowed us to grow and concentrate more on our sales division. We stock a wide range of used commercial vehicles and buses, and are fast earning a reputation as one of the leading suppliers of quality used buses in the country."
Donegal Commercial Vehicles has everything covered when you buy a commercial or bus from them. They can help you find the right tour bus, school bus or minibus according to your needs and budget. They also take care of all the paperwork for you and will deliver anywhere in Ireland.
"We can supply everything from a four-seater wheelchair accessible vehicle up to a 57-seat touring coach. The most-sought bus is the Mercedes Vario, which ranges from 24 to 33 seats,"says Darragh Kelly, who joined the company as general manager last January.
"About 90 per cent of our buses are sourced from government agencies in the UK. We only buy in quality and meticulous vehicles and all vehicles are fully serviced and tested before they go out to the customer. We pride ourselves on being able to supply nearly-new buses at the best prices. Most of the buses we stock are wheelchair accessible and, if they're not, we're able to make them wheelchair accessible for the customer if they wish."
He continues: "It's a juggle out there for any private bus operator who wants to buy a bus in the UK and we're here to take the hassle out of it for them. We'll go across the Irish Sea and source a genuine, quality bus for them. We'll bring it home and deliver it to their door. In addition, we'll have all the paperwork done; the bus will be serviced, inspected and CVRT tested. It'll be ready for the road.
"We provide a comprehensive back-up service and aim to develop a long-lasting relationship with our customers."
Donegal Commercial Vehicles also offers one of the most cost-effective repair services around. The garage can carry out all necessary maintenance at its state-of-the-art workshop, which boasts a full range of diagnostics for all types and sizes of vehicles. It also offers a 24-hour breakdown and recovery service for all vehicles within a 60-mile radius of Letterkenny. "If someone's vehicle has broken down on the side of the road, we'll call out to them and try our best to get them going on the spot,"Darragh says.
The five-bay garage in Drumkeen is currently looking after fleets for the ESB, Eir, KN Networks, Dan Ryan Truck Rental and HSE along with the majority of Donegal County Council's commercial vehicles and the fire service for the entire county of Donegal. A fully automated fleet maintenance program to look after and track customer's vehicles has recently been installed, while a huge range of parts is also available for customers.
Donegal Commercial Vehicles employs nine qualified technicians and two apprentices as well as five administration staff. The company invests heavily in its equipment and staff, and makes sure its apprentices get as much experience as possible by partnering them with the head technicians.
"That has always been our policy. Our qualified mechanics are Scania and Mercedes trained, so our apprentices are working and learning from the best,"Brendan points out.
"We keep our customers'downtime to a minimum by carrying out repairs quickly and efficiently. We have the capacity to turn jobs around very quickly. Both our sales and service customer-base is growing all the time through word of mouth and recommendations from our existing clients. We endeavour to meet all of their needs and help them in any way possible."
Up the road in Lurgybrack, Donegal Commercial Vehicles'test centre is a one-stop shop for all your vehicle testing, tachograph calibration and vehicle plating needs. It is part of a network of independently-owned CVRT test centres dotted throughout the country which carry out inspections on behalf of the RSA on all commercial vehicles. The CVRT inspection includes checking brakes, lights, markings, wheels and tyres, steering and suspension, chassis and underbody, tachograph, speed limiter, exhaust emissions, electrical systems, glass, mirrors and more. The purpose of the test is to ensure that these vehicles are in good condition throughout their entire life.
Donegal Commercial Vehicles
Drumkeen,
LIfford,
Co. Donegal
Tel: 074 91 34812
Web: www.dcv.ie
Taken from Irish Trucker & Light Commercials magazine, November/December 2017, Vol 20 No 7