Lifting expectations for 50 years
07/03/2018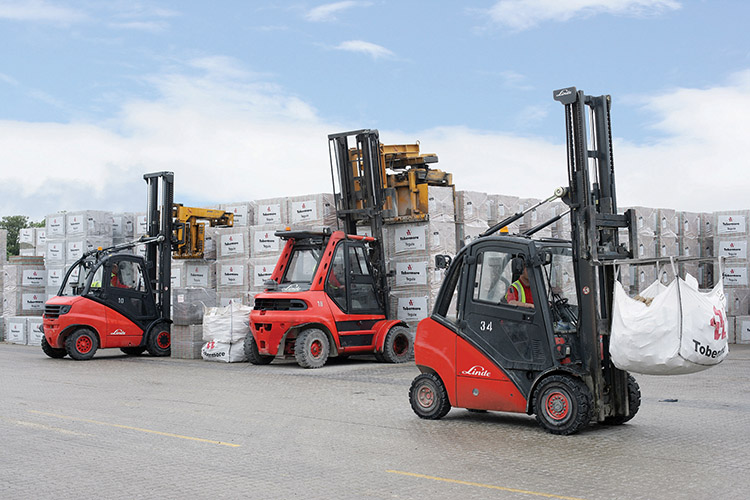 Celebrating 50 years in business this year, Alexander Group is the longest established forklift provider in Northern Ireland. Irish Trucker learned all about the company from one of its two directors, Peter Alexander.
They say that success breeds success, and it certainly seems to be the case with the Alexander Group, which celebrated half a century in existence this past July.
Based in Lisburn, Co Antrim, the family run company has been a success story since being set-up by Robin Alexander in 1967 to the point where it now has 400 forklifts in its fleet
Robin's aim when he set-up the business was to serve the growing need for material handling equipment in Northern Ireland and since that time it has developed and grown to become one of the leading forklift equipment suppliers in the country, while also remaining a local family owned and operated company.
Alexander Group are very proud to be able to offer the Linde range of products and services to their customers and feel that there is no superior forklift truck in the market. The firm's aftersales team ensure a combination that customers can rely on to keep their operation running smoothly and efficiently.
Today the company is run by Robin's two sons, Mark and Peter, and Irish Trucker had the pleasure of speaking to the latter recently to get the lowdown on what they've been up to lately.
"We're the Linde dealer for Northern Ireland and at the moment we have three salesmen specifying and supplying customers with equipment based on their needs and 20 Linde trained service engineers out in the field fixing and servicing equipment. It is all thanks to the excellent team based in Lisburn that we are able to keep our customers operations running as smoothly as possible,"Peter outlined.
"Altogether we have 35 staff working here. I and my brother Mark have been partners in the business since our father (Robin) retired 15 years ago."
Nowadays the company is as busy as can be expected and that's something which Robin Alexander would have happily taken when he first set up shop half a century ago.
Robin's vision has helped the company grow into the establishment it is today and, as Peter explained, the ethos that he first started out with have been carried through by the second generations of ownership.
"When he started out he saw a growing need for forklifts and decided to try and fulfil it. We've been focused on supplying quality materials handling equipment since the beginning and have tried to build a solid forklift sales and hire business ever since,"he stated.
"We have always had an experienced and knowledgeable sales team, that's been the way since I started working here after school.
As the longest established forklift provider in Northern Ireland, customers, both old and new, shouldn't find it difficult to remember the company's new name, especially having earned such a glowing reputation over the past 50 years.
While more recent years have seen the economic downturn having taken a toll on business, Peter says there's nothing at all to complain about lately.
"We did have some fairly lean years during the recession but things have picked up well since then and we're staying busy. At the moment we have good levels of business in both sales and hire with the service department being as busy as always but we are always ready and able to do more."
"We cover all of Northern Ireland here, so we have plenty of customers that have been with us a long time and are discovering lots of new opportunities week in, week out."
Quinn Building Products, Encirc, SDC Trailers, Glanbia, Diageo, Diamond Corrugated, Jenkins Shipping, Tobermore Concrete, Terex to name just a few are some of the company's more high profile clientele and Peter feels that there's two reasons in particular that firms choose them over other competitors.
Experience also plays a factor, according to the Co Antrim man.
"I think it's a combination of the quality of the Linde equipment and the back-up service that we provide for our customers,"said Peter.
"We've been in the business for a long time and we generally know what our customers are looking for, high productivity and low downtime, we strive to provide this at all times and I think that's the foundation of our success all these years."
Of course the quality of product comes down to the brand and the Alexander Group are proud to be the only authorised Linde forklift Dealer in Northern Ireland.
The Linde product represents the ultimate in forklift technology and brings its owners maximum efficiency, low operating costs and minimum downtime within an ergonomically designed truck that will keep operators happy, comfortable and safe.
For seasonal or unexpected periods of peak demand, Alexander Group offers its customers access to hire the most modern fleet of over 400 forklift trucks, with access to the Linde UK rental pool there isn't much they can't supply.
Whether the requirement is for sales or rental of a powered pallet forklift truck, order picker, reach truck or engine/electric counterbalance truck, they can offer an easy access to the widest choice of the best forklift equipment in the Northern Ireland. A comprehensive range of handling attachments is also available for rent to match the needs of customers.
Available for both short and long-term periods, the company offers total flexibility to hire by the day, or rent for as long as you need. And with competitive rates and comprehensive service cover operating locally throughout NI, you can be sure of a responsive and productive partnership.
A selection of what's available can always be viewed on the company's website - alexander-group.com.
As for what's next on the agenda, Peter says that strengthening staff numbers is currently top priority for the company.
"As of right now, we do need to start looking at getting more sales people in order to keep up with the demand. Other than that we will continue to improve on all the services we provide our customers with a view to being here in another 50 years.
Alexander Group
Blaris Industrial Estate
20 Altona Road Lisburn
Co. Antrim BT27 5QB Northern Ireland
Tel: 028 9266 1010
Fax: 028 9266 7711
E-mail: [email protected]
Web: alexander-group.com
Taken from Irish Trucker & Light Commercials magazine, November/December 2017, Vol 20 No 7