Volvo recognised as top apprenticeship employer
06/03/2018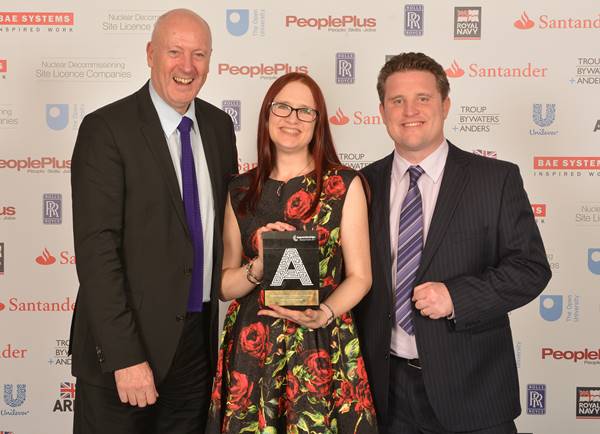 Volvo Group Trucks UK and Ireland has been recognised in the prestigious Centrica Top 100 apprenticeship employer list, which is compiled annually by the National Apprenticeship Service and recognises excellence in businesses that employ apprenticeships.
Volvo Group Trucks UK and Ireland were honoured when their Apprentice Programmes were 'Highly Commended' as runners-up in The British Army Award for Large Employer of the Year at the 14th National Apprenticeship Awards held on the 18th January 2018 in London. The prestigious Government sponsored awards recognises apprenticeship programmes that demonstrate exceptional results for both apprentices and business alike as well as celebrating individual apprentice achievements.

Judged by a panel of apprenticeship experts, the awards attracted over eight hundred entries nationwide. Volvo Group Trucks were crowned winners in the 'Large Employer' category for the West Midlands heat before achieving this hard-fought 'Highly Commended' accolade in the national competition.

This award means that both the Volvo Truck and Renault Truck apprenticeship schemes run by Volvo Group Trucks UK and Ireland are amongst the top ten apprentice employers in the country.
After accepting the award, Adam Plastow Commercial and Apprentice academy manager at Volvo Group Trucks said, "We are so proud to have all the hard work of the last four years to be recognised as being among the very best in the country. As the largest HGV apprenticeship in the country we think this is a great accolade for both our programme and our apprentices. Whilst we believe our programme is great and we get excellent feedback from the apprentices and the business it is great to have it recognised at such a well-respected event."

Sue Husband, Director of the National Apprenticeship Service commented on Volvo Group Trucks UK and Ireland being named a Centrica Top 100 Apprenticeship Employer saying, "The Top 100 Apprenticeship Employer list 2017 demonstrates clearly the impact apprentices can have on an organisation. Apprentice employers are creating opportunities for individuals to gain the skills and knowledge needed to succeed, up to degree level, whilst working and earning. These Top 100 Apprenticeship employers are making a difference to the lives of their apprentices by investing in their future. In return, apprentices are helping employers to develop a skilled, qualified workforce to build a stronger economy. I hope the success of these Top 100 Apprenticeship Employers will mean more businesses across England to aspire to follow their example and to find out for themselves how apprenticeships help grow a skilled and highly qualified workforce."