Curtin rising
05/03/2018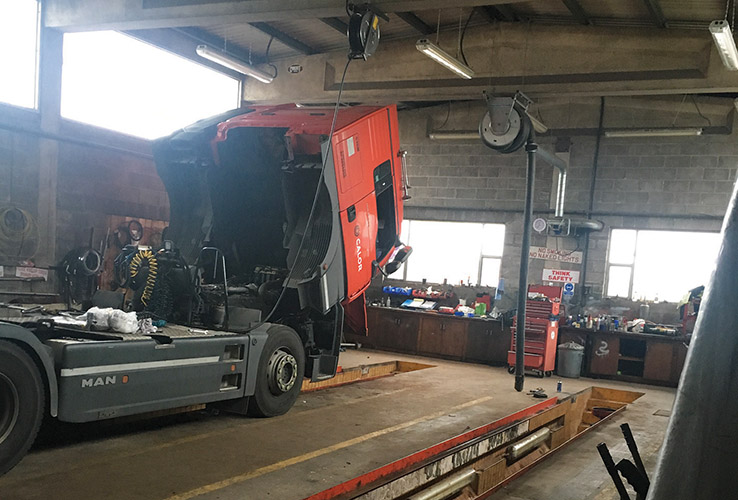 Rising to the occasion week in, week out to deliver outstanding maintenance, repair and engineering solutions on Calor Gas'magnificent fleet of vehicles, Curtin Engineering will celebrate its 40th anniversary next year. We travelled to Midleton in Cork and caught up with director Mossie O'Connell to find out more about this exceptional operation.
As well as providing an unrivalled fleet maintenance and repairs service to Calor Gas –one of Ireland's longest-established operators –Curtin Engineering has also helped develop an ingenious new cylinder pallett retention system for their trailers. Working hand in hand with Calor, with a daily presence on site at their terminal in Tivoli and cylinder gas filling plant in Whitegate, the company has come a long, long way since its inception in 1978.
"Nicky Curtin started out on his own with just one apprentice and he developed the business from there to where it is today, now with eight full-time employees,"notes director and man on the ground Maurice 'Mossie'O'Connell.
Curtin Engineering has formed a strong partnership with Calor Gas and works exclusively on the upkeep of its spectacular fleet of trucks and trailers. Celebrating 80 years in business this year, Calor Gas operates a vast fleet of high-quality, safety-conscious vehicles. As well as providing fuel for cooking and heating, Calor is also at the forefront of the drive to supply LPG as an alternative, environmentally-friendly fuel for road transport.
With terminals in Cork, Dublin and Belfast, Calor operates a modern fleet of 60 road tankers and 60 cylinder trailers nationwide, all paired with MAN trucks. They have garages / workshops in all three locations, which are overseen by independent, third-party contractors. Curtin Engineering looks after all the maintenance work on Leeside.
"Nicky started doing engineering work for Calor on their bottle trailers in Whitegate and then went to Tivoli in the mid-90s and began working on the tankers as well as the discharge of LPG from the ships,"continues Mossie. "We now do plant maintenance in Tivoli and Whitegate; look after the cylinder trailer fleet,mofett and forklifts in Whitegate; and maintain the road tankers in the Tivoli garage."
With up to 25 tankers in Tivoli and 23 trailers in Whitegate as well as a dozen Moffett Mounties, it's a significant undertaking and Curtin Engineering operate a preventative and proactive programme:
"In conjunction with George Dennison and Martin Costello from Dennison Trailers and Pete Sykes from Calor, we've designed an all-new trailer with a new locking system for optimising loads,"Mossie reveals. "The cylinders are carried in cages and we have essentially redesigned how they are secured onto the trailer.
"It was previously a hook system but we developed a pneumatic-operated system which is being fitted onto all the new trailers joining the fleet. The trailer fleet is in the process of being updated and they're all going to have this new system. We're also trialling a 26-tonne cylinder truck with the new pallet-retention system to see if it's viable for cities and larger towns rather than taking the artics in there."
Curtin Engineering are constantly investing in tools, diagnostic equipment, training etc. and work from Calors state-of-the-art engineering shops on site in Whitegate and Tivoli. A flexible and varied service is provided, encompassing everything from trucks and trailers to plant and shipping and Mossie says it's a real pleasure to work for a prestigious, market-leading company of the calibre as Calor Gas:
"They are an excellent company to work for and we work hand in hand with them regarding Health & Safety, Quality Assurance and general day to day running at both facilities, anything that they want changed or sorted out we will deal with it straight away. The client comes first and we give them the best possible service and high levels of customer care at all times.
"We do all the general maintenance and we have the capacity to handle any engineering or maintenance work they require, with men available around the clock.
"Of course, we also work very closely with the hauliers themselves - Kieran Walsh & Sons Ltd. in Ballyragget, County Kilkenny; Brendan Walsh in Midleton [B&A Transport]; Macroom Haulage; Michael Crossan [John Crossan & Sons] in Letterkenny;Tommy Smith [B Smith & Co] as well as working with Southern Gas Installations in Clonmel, who build the road tankers."
The fact that they are contracted exclusively to Calor allows Curtin Engineering to afford them the utmost care and attention. "We do as much in-house diagnostics and repairs as possible and we also use the services of D Dennehy Ltd. in Carrigtwohill with terrific MAN back-up through service manager Jim Murray and foreman Brian Mulcahy. We find them very helpful.
"We're on call 24/7 and we work whenever we have to,"Mossie continues. "Preventative maintenance is always the best approach. We have independent inspections carried out by the FTA and it goes without saying that safety is of paramount importance in the line of work that Calor are involved in. We carry out eight-week inspections on all of the trucks, trailers, moffetts and forklifts and also check all other associated equipment on these pieces of kit such as the LPG gas pumps, LPG gas hoses and fittings , and LPG gas meters.
Regarding the key to Curtin Engineering Ltd.'s ongoing success and enduring relationship with Calor Gas, Mossie concludes: "It all comes down to hard work and excellent workmanship. We provide an exceptional service and have a 'can do, will do'attitude.
"Afterhours, we have one technician on call for Whitegate and one for Tivoli at all times and we are also in the process of opening a new fabrication shop for general fabrication.
"Dennison built a trailer with the new retention system fitted in 2016 and we received two more brand-new ones from them this year. We're hoping to have three more built soon, which will be going to the Whitegate facility from our new fabrication centre in January / February 2018."
It'll be an exciting start to Curtin Engineering's 40th anniversary year. Four decades on, the Cork-based company finds itself in a very strong position on the back of outstanding workmanship and service levels.
Curtin Engineering Ltd.,
34 Rosary Place,
Midleton,
County Cork.
Taken from Irish Trucker & Light Commercials magazine, November/December 2017, Vol 20 No 7