Where there's a mill there's a way
28/02/2018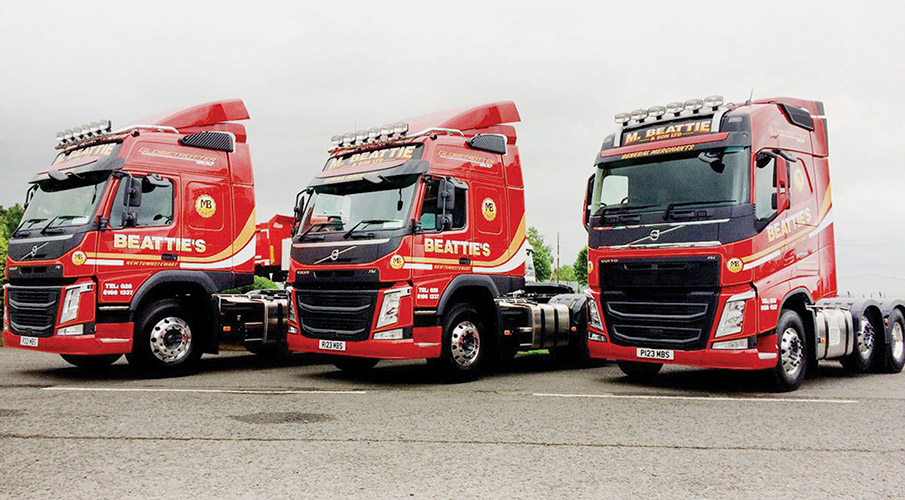 M Beattie & Son Ltd. in County Tyrone has been providing the agri sector with a superb animal feeds / general merchants service for over six-and-a-half decades. Since opening up their new state-of-the-art mill in 2007, the fourth-generation family business has gone from strength to strength. We dropped into their Newtownstewart HQ and met Arnold Beattie to find out more.
Twenty-fourteen marked the 65th anniversary of the formation of M Beattie & Son Ltd. Considering how long this business has been serving its customers, one could forgive them for resting on their laurels –but the opposite is the case. Numerous key developments have taken place in recent years and they are going stronger than ever, if truth be told.
The construction of a new mill has resulted in a much more efficient animal feeds service, while a new toy store was also opened to the public on the well-appointed Newtownstewart site at the start of the current calendar year (M Beattie & Son has a second depot at Donemana). Providing a wider range of products and services than ever before, these are exciting times for the Beatties, who cover a large catchment area and are recording unprecedented levels of growth.
The development of the aforementioned state-of-the-art, environmentally-friendly blending plant has been key to this growth: "The new blending plant has revitalised the business,"confirms MD Arnold Beattie. "It has brought in a lot of new business and we are going from strength to strength. It comprises twelve new bins and a grinder plus a three-tonne mixer and five storage bins. It's a fantastic asset but we're not going to leave it at that. We intend to develop the plant even further next year in order to make the animal feed side of the business even more efficient.
"We can mix the feeds to exact customer requirements. We do our own specified mixes too but if any customer wants a bespoke mix then we can provide that. Basically, we are here to meet customer demand and we have the plant, the personnel, the raw materials and the knowhow to produce whatever they want, which can be supplied in any quantity to any part of the country [bulk deliveries, jumbo bags or 50kg / 25kg bags].
"A lot of owners will want feed with particular minerals and precise percentages of protein that are specific to their animal's needs and you have to have a system in place to provide this. Our mixes are all farm quality assured and UFAS [Universal Feed Assurance Scheme]-registered.
"They can collect the feed here or we will deliver it. We will travel any distance. For example, we have been to Kildare and further afield to deliver horse feed. While a lot of our business is in the Tyrone, Donegal, Derry, Fermanagh area, we go anywhere."
The genesis of the business goes back to 1949, when Matt Beattie and his wife Winifred bought the property in Corrick as a grocery shop. Mrs Beattie ran the grocery business on her own for a number of years while Matt continued to work as chauffeur for Major Moutray at Favour Royal, Augher coming to Corrick at weekends. After Matt, his only son Cecil sold groceries from a grocery van serving the local area, a routine that continued for over 30 years. Cecil's son, Arnold, and Arnold's own two sons, Jamie and Jason, are all now active in the long-serving family operation.
During the intervening years, M Beattie & Son has become renowned across Mid Ulster and beyond for producing and supplying high-quality bespoke blends for beef cattle, dairy cows, sheep, horses and goats –pretty much everything.
As well as feeds, a wide range of associated products is provided for both wholesale and retail, including fertilisers (Goulding, Grassland, Greenfields), drainage materials, fencing materials (posts, wires, staples), general hardware and agri sprays. In the on-site shop, animal medicine products and workwear are also stocked.
As a general merchant, M Beattie & Son also supplies United Feeds, Top Dog One, layer crumbs and pig meal as well as coal, wood pellets, de-icing salt, antifreeze, wellingtons and wetwear, wheelbarrows and other garden products.
Arnold operates a fleet of ten trucks –a mixture of Volvo and Scania, drawing bulk trailers, blowing trailers, curtainsiders and flats - offering an extensive animal feeds delivery service as well as a small bit of nationwide haulage forTegral Slates and Provimi Ireland.
A new venture for the business arrived earlier this year when Jamie opened a toyshop on site - Beattie's Toy Barn –specialising in farm toys and selling leading brands such as Rolly, Siku, Britains, Kids Globe, Tractor Ted and Grassmen. "The toyshop is going really well,"says proud Dad Arnold. "He didn't get it opened in time for Christmas last year but he has done a great job with it and there's a lot of interest in the toys. We're looking forward to providing a great range of products for this year's Christmas market."
Gainful employment is provided to a team of 16 across the operation and business continues to grow. Arnold has three sales men out on the road –James Warnock, Malcolm Beattie and Jason Beattie –who are doing a great job spreading awareness.
All in all, this excellent family business is moving in the right direction some 66 years since its inception and all the evidence suggests that there are plenty more chapters yet to be written in this particular success story.

M Beattie & Son Ltd.,
70 Plumbridge Road,
Newtownstewart,
County Tyrone.
Tel: 028 81661337
Fax: 028 81662137
Email: [email protected]
Taken from Irish Trucker & Light Commercials magazine, November/December 2017, Vol 20 No 7