Leading white glove specialists bolster fleet
16/02/2018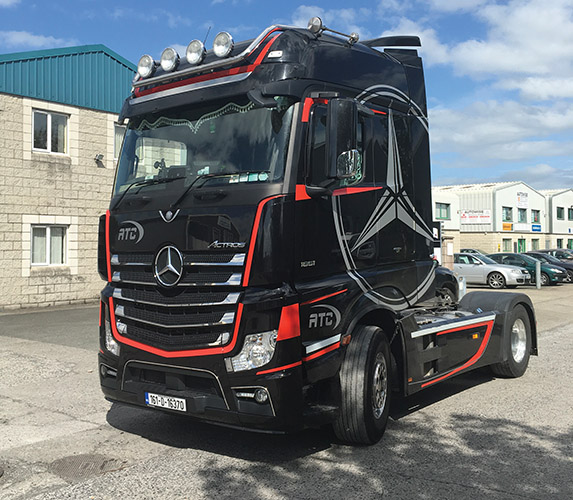 Established by Alan and Patricia Young in October, 1979, ATC Computer Transport & Logistics has evolved into one of Europe's premier data centre, logistics and white glove specialist solution providers in the high-tech sector. As they took possession of two stunning, brand-new 172-reg Mercedes-Benz Actros units, we caught up with Alan to find out more about this exceptional, cutting edge operation.
New Fleet
In July, computer transport and logistics specialist ATC took delivery of two spectacular, eye-catching Mercedes-Benz Actros units from MUTEC on the Long Mile Road. The new acquisitions bring to three the number of Actros trucks in the ATC fleet –the Dublin-headquartered high-tech logistics solutions providers also run a 161-reg 1851LS 4×2 2.5m BigSpace.
The new units comprise: one Actros 2533 6×2 2.3m StreamSpace rigid fitted with temperature-controlled body (engineered by Lifford Coachworks) complete with side marker / indicators; and one Actros 1845LS 4×3 2.5m BigSpace tractor unit, fitted with ambient lighting, auxiliary hot water heater, leather steering wheel and Predictive Powertrain control.
The latter is towing one of ATC's coupled trailers, each of which feature five indicators on each side (for enhanced visibility) and load space cameras.
Painted in striking metallic black - with the distinctive Mercedes three-pointed star motif reproduced on the driver's cabs –each of the new units is equipped with the latest Mercedes-Benz safety equipment including Stability Control Assist, Lane Keeping Assist, Attention Assist and Active Brake Assist. Additional safety comes via forward, reverse and side-facing cameras, offering better visibility of vulnerable road users.
With no expense spared, nothing left to chance and every minute detail taken into consideration, the new acquisitions not only look sensational but also perform superbly –symbolising and epitomising ATC's unshakeable dedication to customer service, which is in turn reflected in the very apt company motto: 'small enough to care, big enough to get the job done'.
"With the prestigious, high-value products we are carrying, it is very important that the trucks and trailers look good. Each and every delivery is important and you have to give your clients and their products the respect they deserve …understandably, you can't just drive in with a Hino. We invest a great deal of time and effort into the make-up of our fleet and take a practical approach to getting the job done, always on time and as stipulated by our client,"notes managing director Alan Young, who established the business 38 years ago in conjunction with his wife, Patricia (director, financial controller). Their son, Keith, is also currently involved in the IT side of the progressive, high-performing family operation.
White Glove Service
Since its inception from humble origins, ATC has been painstakingly developed into one of Europe's leading high-tech specialists, providing white glove transportation services to data centre operators and final mile for global logistics partners.
100% Record
ATC's unblemished, 100% record for meeting delivery windows is down to the dedication, skill and professionalism of their planners, drivers and data centre installers, assisted in no small way by the availability of a reliable, customised, state-of-the-art fleet, which currently comprises four artics, five rigids and six trailers. The trailers are predominantly Krone, but ATC also runs one City Trailer with rear-steer axle, which is extremely convenient in congested cities like London, offering the capacity of a larger trailer in tandem with the steerability of a rigid.
Proudly Irish. Proudly European
Although proud to be an Irish company, ATC are also pan-European, with offices in Germany, the Netherlands and the UK, serving customers across the continent, from the Atlantic coast to the Arctic Circle to the Mediterranean Sea.
Data Centre Technical Services
Recognising the complexity of building a data centre, ATC provide professional data centre technical services to work with clients from commissioning through to maintenance and final decommissioning. As the physical and electronic security of clients'data is a principal consideration, they can manage all end-of-life IT equipment to include fully-certified secure media disposal and destruction as well as recycling of physical equipment.
Logistics Management & Planning
ATC manages inbound logistics to ensure just-in-time delivery by air, road or sea across Europe. Their immaculate fleet of modern, high-specification vehicles transports equipment from door-to-door –with the cargo remaining in the same vehicle for the entirety of the journey. Meeting the most stringent requirements of customers at all times, every consignment is handled with the utmost care and attention.
"At the end of the day, it all comes down to providing a quality service,"Alan points out. "As a family-run business, we pride ourselves on providing a personal touch. We haven't let our customers become a number and, even while we have expanded, we have still maintained the one-to-one service that customers quite rightly expect."
Fleet Operator Recognition Scheme
Hard work and dedication has brought ATC Computer Transport & Logistics to where it is today. Moving sensitive, high-value items across Europe, Health & Safety is of course a huge consideration and the 32-strong team undergo regular training in this area. The directors are currently working towards achieving the much-sought-after FORS (Fleet Operator Recognition Scheme) certification.
"We're operating in a specialist area that requires specialist skills,"Alan confirms. "These skills were acquired through many years of working on the ground since the very beginning. I'm a hands-on director myself and you will often find me out in a forklift or out on site; I don't walk around here dressed in a suit or spend my time on a golf course. I've been to all of the sites myself and, when I ask one of our team members to do something, it will always be something that I've done myself."
Steady Growth for a Solid Future
The company really has come a long way since Alan started out in 1979, delivering letters, packages and small parcels in an Estate car. He soon found himself moving media and information –payrolls, wage slips, invoices, etc. –for customers to data processing companies, where they would be typed into computers. As computers came more and more into play, Alan spotted a niche and bought his first truck with tail-lift. The rest, as they say, is history.
Looking to the future, Alan ensures Irish Trucker that there will be no drop-off in the high standards of customer care for which ATC Computer Transport & Logistics are renowned and, as such, is confident that further growth is on the horizon:
"Our growth has been gradual and steady and can be attributed to the technical expertise we have acquired as well as the professionalism of our employees and the quality of service, which is a constant,"he concludes. "We are hoping to achieve continued, moderate expansion –which will be controlled so as to ensure that we don't sacrifice our personal touch.
"My goal for the business would be to expand on the back of providing a consistently high-quality service and to make sure to secure a future for our employees"
Easy as ATC.
ATC Computer Transport & Logistics,
2059 Castle Drive,
Citywest Business Campus,
Dublin 24.
Tel: 01 4035710
Email: [email protected]
Web: www.atc-logistics.ie
Taken from Irish Trucker & Light Commercials magazine, November/December 2017, Vol 20 No 7