Centuries of service
07/02/2018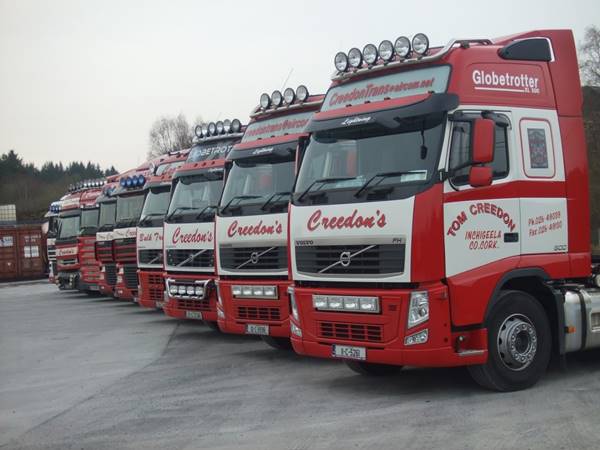 Tom Creedon Ltd. has been providing customers in West Cork and beyond with a range of services, running a thriving general merchants store and a storage, distribution and bulk transport business. We travelled to the picturesque Gaeltacht village of Inchigeela and caught up with Tom to find out more about this long-standing, highly-reputable family operation.
Tom Creedon is keenly aware of the sense of history and tradition of service inherent in the family business that's been serving the people of West Cork for many generations.
Over the years, the business has evolved and progressed in response to the needs and requirements of the community to provide efficient, dependable and competitive services, including trustworthy, prompt, secure and competitive bulk and general haulage.
Regular investment in the fresh, immaculately-maintained fleet ensures that all deliveries are made safely and on time, with experienced, fully-compliant and conscientious drivers completing the package to guarantee optimal customer satisfaction. To this end, the acquisition of a stunning new Volvo FH13 500 6x2 GT tractor unit with all the bells and whistles from McCarthy Commercials in April is the latest addition, with another one on order. "We're currently running a fleet of eight trucks, five Volvos and three DAFs,"Tom confirms. "We're in the process of updating the fleet, having added two new DAFs towards the end of 2016 also. We are updating to ensure that we have a fresh fleet capable of continuing to give our loyal customers the level of service they are accustomed to."
The Creedon family have a proud record of trading going back to the 18th century, having operated the local post office, a merchants'mill business, a bar and a hotel. Transport services commenced carrying goods to the various markets and to the family operated store in Cork City called the "Inchigeela Dairy".
In the 1940s, the family commenced provender milling and this operated successfully until 1990, supplying feedstuffs to a large consumer base and local co-ops. Trucks were kept busy collecting and delivering feed. The transport activity increased during the 1980s when a fleet of artic trucks was purchased for nationwide transport primarily servicing the bakery trade with flour using bulk powder tankers as well as the cement and timber industry.
"Over the past decade, the flour and bakery industry has suffered huge change with the closure of all bulk flour mills in the Republic which led to a significant reduction in our operation and fleet. Most of this flour is now imported from the UK and European Millers although we still service some local bakeries from Belfast,"Tom continues.
"Our principal contract is with Irish Cement, bringing bulk cement and storage and delivery of bagged cement to Munster and providing general transport services countrywide"
Although it's a beautiful corner of the island, hailing from West Cork and working so much in that part of the country leaves the business at a distinct disadvantage compared to competitors elsewhere. "There's a lot of pressure and compliance is a difficulty because the road infrastructure in Ireland hasn't been updated to match our compliance requirements,"the Cork man notes.
Unfortunately, it's all national roads in West Cork and in the area of Munster that we operate therefore we have higher running costs like fuel and maintenance and because of our lower MPH average we are not achieving maximum productivity. You're also limited by your compliance as in a 45-hour week you could easily cover 2,000 miles on a motorway but only 1,600-,1,700 on secondary roads. It's a massive difference and we found that when we were in the UK with flour that we had 20% better fuel consumption than on the roads between West Cork and Limerick.
"As the vast majority of our business is now collecting out of the Limerick and Foynes area the building of a new Cork to Limerick motorway would give us a huge competitive improvement."
Tom has been involved in the family business for five decades, currently assisted in the day to day running of the company by his wife Sheila. His son John is now taking over as General Manager of the business. Brid O'Donoghue runs the office and accounts and Dan Cronin takes care of fleet maintenance. "Our drivers are locally based and have given a long and loyal service to the company and customers.
"Currently we are comfortable with the size of the business and we will continue to service our existing customer base in to the future. Our updated fleet offers us an increased efficiently in carrying capacity which will further enhance our service."
Tom Creedon Ltd,
Inchigeela,
Macroom,
County Cork.
Tel: 026 49039
Fax: 026 49130
Email: [email protected]
Web: www.creedontrans.com
Taken from Irish Trucker & Light Commercials magazine, November/December 2017, Vol 20 No 7