Mackey expresses concern
05/02/2018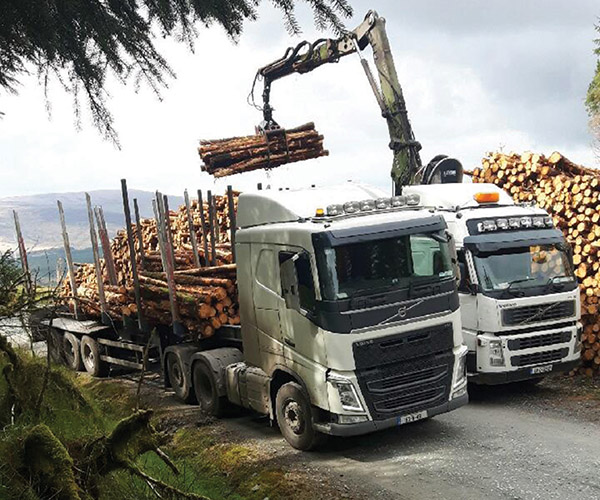 The road haulage industry is one of the most competitive sectors to be involved in, the overheads involved can be colossal if not properly monitored and one wrong decision could prove detrimental to the company's future.
Another issue that has emerged is the lack of young people showing an interest in the industry and although it is a situation that may not affect the haulage sector at the moment, it will in years to come, according to Ground Control Ltd Director and IRHA member Liam Mackey.
Speaking to Irish Trucker, Liam stressed that more needs to be done to entice young people into the haulage industry as there is a gap developing where a generation has bypassed HGV driving.
It is no real surprise that young people are ignoring the haulage industry given the costly procedure they have to go through to get their licence and this is all before they look for insurance!!
The average age of a truck driver today is 48. Young people are just not coming into the industry: they see it as anti-social and governed by too much legislation. at the same time, demand for drivers is increasing.
"There are genuine concerns for the future of the industry as we will certainly find ourselves in the situation where there is a shortage of drivers. In fact, most haulage operators will tell you that we are there already,"said Liam.
The point that Liam made has been proven by the fact that the number of non-national drivers has increased ten-fold over the course of the last decade or so.
"We specialise in hauling timber and fertiliser and good communication skills are needed as our drivers are operating on some of the most rural roads in the country and they need to know where they are going."
Liam has found out at first hand the problems incurred by a young driver trying to get his licence and insured.
"My son Steven is 21 now. It cost €3,500 for him to get his haulage licence. Sure, what young lad has that kind of money. This is a big turn off for any young lad that is keen to become a truck driver.
"Now that the licence is sorted, the next issue is insurance where many companies won't insure him because he has no experience. Sure how the hell is he supposed to get experience when he can't get insured. It's a real catch-22 situation. The IRHA is lobbying the government to develop a driver apprentice scheme for HGV drivers. "
They want a driver apprenticeship scheme launched within the next 12 months to be fully funded by the government and hauliers will commit to employing apprentices in their business.
Statistics show that 90% of apprentices continue to work with their employer beyond the official apprentice period. The IRHA want young people from the age of 17 –both men and women –to gain a professional qualification for driving heavy goods vehicles.
The apprenticeship scheme would increase the number of HGV drivers with relevant licenses and training coming into the industry, improve the image of professional HGV drivers so that haulage would be recognised as a profession, rather than a trade; and provide a career path of progression and transferable skills for those who complete the course.
"The young drivers scheme needs to be pushed through sooner rather than later. The simple fact is that haulage work is a young man's game, it is a tough industry to be involved in."
As stated, Liam is a director of Ground Control Ltd, a family run business based on the Waterford/Kilkenny border that specialise in hauling timber and fertiliser.
"We have eight trucks on the road most of our work would be for Glennon Bros in Cork, while we would also do some for Coillte. The majority of our work is carried out in the Leinster/Munster regions.
"Thankfully, we are busy enough. The fleet would be split between Scania and Volvo, but I've just added a DAF to it as well. All trucks would be under five years old and that is a conscious decision that we made. It helps keep down on maintenance and most are still under warranty.
"The majority of the drivers here are with us many years and they are very experienced at what they do. My father Sean, mother Kathleen and myself first set up the business in 1993. They are still involved today, even though they say they are retiring every year,"joked Liam.
As an active member of the IRHA, Liam is vocal in his support of the industry. Regional meetings are held every three months, while national meetings take place once a month.
"Any issues that may arise are discussed at the meetings and then the best course of action is agreed on and we take it from there. The haulage industry needs more support than it is getting."
Ground Control Ltd
Grannagh Business Complex,
Grannagh,
Co Waterford
Tel: 051 870403
Fax: 051 854850
email: [email protected]
Taken from Irish Trucker & Light Commercials magazine, November/December 2017, Vol 20 No 7