JGM Transport Ltd & Gerard Mackin Transport
01/02/2018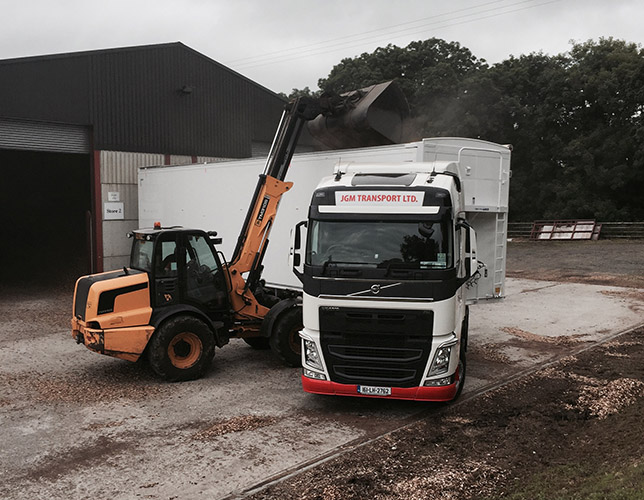 Started from humble beginnings by Gerry and Monica Mackin in 1993, the Louth-based operation has evolved into a progressive business, one that is recognised as one of the best in the country at bulk haulage.
"We are in the business 24 years now and are professionals at what we do,"explained Gerry Mackin. "There have been many changes over the years and we are one of the first in the Republic of Ireland to be affiliated with Trade Assurance Scheme for Combinable Crops, aka TASCC."
TASCC is a scheme set up to ensure that crops of grain, oilseeds and pulses are treated responsibly once they have left the farm. It provides verification that the trade is meeting foods safety laws. JGM and Gerard Mackin Transport have over nine years of successful annual audits, maintaining a standard that has resulted in an excellent reputation.
Becoming a TASCC member entails completing an application to join TASCC, paying a fee, having an initial audit and of course complying with the scheme rules. Regarding statutory requirements to haulage operations, the scheme covers many aspects including vehicle hygiene, insurance, subcontractor hire, personnel training, HACCP, record-keeping and complaints. By being on the scheme, the protocol required is to follow the haulage code of practice with annual audits to provide verification, ensuring that the haulage company is meeting the various food and feed safety laws. "There is a lot of paperwork involved, but in fairness to Annamarie, she has all of that under control. The difficult part is getting everything in order, but once you have a system in place and you follow it, then the problems are minimal. There is a code of practice in place and once that is followed, then everything should be in order. Our experience helps us deal with any unforeseen issues that may ultimately arise"
The companies operate both north and south of the border. Gerry is now well established with Northern Mills such as United Feeds, Cefetra and Fane Valley, drawing in the raw material products, which make up the finished feed for the feed mills. Hauling mainly bulk animal feeds Gerry also draws salt from the Carrickfergus salt mine and delivers salt to many County Councils throughout the country.
"In the Irish Republic we work closely with Marksville Farm and Drummonds Group in Co Louth, AW Ennis and Carton Group in Cavan, Bord Na Mona in County Offaly and various other mills throughout Ireland."
Employing 17 drivers, a haulage planner, two secretaries and one full-time mechanic, Gerry is joined in the day-to-day running of the companies by his wife Monica. The combined Mackin businesses boast a fleet of 17 trucks, 19 tipping trailers, one walking floor and one low loader. Gerry also has many sub-contractors at hand, for busy periods especially during the winter months.
"We see the key to success is having a team of committed, reliable, responsible and well trained staff."
The combined Mackin fleet needs an experienced team of drivers and Gerry admits that he is fortunate to have some excellent drivers on the books.
"We have 17 drivers here that are very experienced at their job. It gives us great peace of mind knowing that they can operate on the job, with great initiative and professionalism, representing our company ethos, with minimal issues arising. Our drivers look after their trucks extremely well, which is also an important part of the job."
To compliment Gerry`s driving team, he has superb office personnel. Anna Lise, Anna Marie and Michelle provide the administrative, planning, regulatory and infinite record keeping support, which enables the smooth and efficient running of the businesses.
"The beauty of our office staff and indeed all of our team, is their willingness and ability to be adaptable, versatile and to flow with the many challenges that any busy haulage firm meets, on a daily basis."
To run the business so proficiently, Gerry operates a modern fleet of trucks and trailers that are kept in pristine condition.
"We have 17 trucks between the two locations, most of them are Volvo, but we also own a few Scania trucks. Three new Volvos have been added to the fleet in recent times, these we have purchased from Dennison's and McDonnell's, both of whom we do business with on a regular business."
A purpose built HGV workshop was constructed in 2010, where much of our in house maintenance and repairs are carried out. Gerry believes that in house maintenance is most effective, keeping trucks & trailers roadworthy and reducing down-time.
"Obviously the trucks that are under warranty go back to the main dealers, where we get an excellent back-up service"
There are some improvements that Gerry and the firm feel that could enhance the industry.
In this sector we see the burdensome impact of escalating insurance costs and would really appreciate Government intervention to seriously address this issue for hauliers.
The lack of drivers available for hire is also a concerning issue for the haulage industry. Incentives for drivers including grants and apprenticeship would be beneficial for young and inexperienced drivers, to improve their ability to join the workforce.
Also a reduction to the diesel rebate level would alleviate cost pressures on hauliers and reduce one of our biggest expenses. In recent months, the M50 toll operator is no longer allowed to include VAT in the toll, however the toll charge has not been reduced with the removal of the VAT on the toll. Previously hauliers could reclaim the VAT, so therefore the M50 tolls have increased by 23%.
Another expense which has hit the hauliers in the South of Ireland is the HGV Road User Levy, which has been imposed on all trucks over 12 tonnes entering the North of Ireland and the UK, this extra expense to hauliers can cost £10 per day and up to £1,000 a year per lorry.
Improvements to our infrastructure would be hugely valuable to the haulage industry, which would have beneficial knock on effects in various aspects of our business, such as maintenance expenses, wear and tear on the lorry and also to our drivers!
There is also massive scope for more creative and innovative development around CPC courses, incorporating purposeful improvements to make the course more interesting and more relevant to the daily hands on needs of the driver.
Also, the uncertainty of Brexit can be a worrying time for hauliers and of course the concern is that this may add higher costs and challenges to the movement of goods across our borders.
Gerry is pleased to report that his businesses are flourishing, for which he and Monica are extremely grateful. Gerry is pleased with the direction that the business has taken in the last few years and he acknowledges that it is essential to continue to build and improve on the service, in order to maintain excellent customer service.
"We are continually investing in the business. Our intention is to expand even further next year.
We are always aware of the overheads in the industry, but thankfully both diesel and tax have come down, but that has been negated by a rise in insurance costs."
Gerry added that placing a strong emphasis on customer service has been key to the success of the business over the years.
"It is all about the customer and once they are happy, then we must be doing something right. We pride ourselves on being efficient, safe, reliable and adaptable. Over many years despite challenging factors, we consistently reach for and achieve high standards. Our goal is to continue to serve all customers, professionally and efficiently. Looking to the future, we aim be to keep our customers happy and grow as they grow."
JGM Transport Ltd
Bolies,
Castlebellingham,
Co Louth
042 –9372393
086 –2575940
Taken from Irish Trucker & Light Commercials magazine, September/October 2017, Vol 20 No 6