Volvo a perfect fit for Bradley Transport
29/01/2018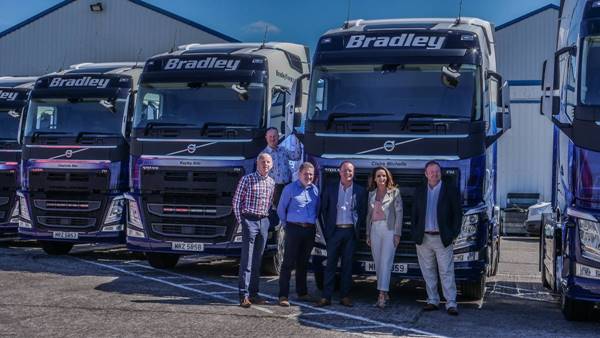 An overhaul of their fleet has seen Bradley Transport Ireland recently invest in 15 new Volvo FH tractor units from Dennison Commercials in Ballyclare. As they took possession of the ten latest additions in July, we dropped into their head depot in Buncrana, Co. Donegal to find out more about this significant investment, which represents a real statement of intent, epitomising the family business'unwavering commitment to serving the needs of their customers as professionally, efficiently and dependably as possible.
Bradley Transport Ireland, which operates out of Buncrana and Mallusk, Co. Antrim, placed an initial order for five new Volvo FH-460, 4x2, Globetrotter tractor units in March and the company were so impressed with the new vehicles that they opted to further invest in their business with ten additional trucks. Powered by Volvo Euro-6 step C engines, with a 1,300 litre fuel capacity and I-shift automated gearbox, these trucks are easy to drive and packed with fuel-saving software. Each 4x2 tractor unit is equipped with Volvo's Dynafleet system, allowing Bradleys to gather precise information in relation to the specific areas to be addressed to achieve better efficiency and profitability. This sophisticated system also assists the company to comply with the necessary regulatory regime in the jurisdictions in which they operate.
The switch to Volvo represents a major departure for Bradley Transport who traditionally operated a Scania-strong fleet. Half of the fleet is now comprised of Volvo trucks and the Donegal based operation aim to continuously assess performance and ascertain feedback from their very loyal and committed workforce to help determine future investment and development. Peter Bradley, managing director of Bradley Transport Ireland, reflects on the importance of having a reliable fleet in the logistics business; "Our transport business is based on the provision of an efficient and reliable service for our customers, so we need an effective fleet to ensure that we maintain the excellent reputation that has been built up over the past twenty years. Whilst we have been, and still are, a long-time customer of Scania we undertook a full review of our trucks this year as part of the company's vehicle replacement and renewal procedure. We decided to test what other manufacturers had to offer and so began a process of trying 'demo'trucks from various companies. But it wasn't just the vehicles that we were testing. We were seeking a dealer that could supply us with a reliable, fuel efficient fleet but which also provided a high level of customer support afterwards. After extensive trials over several months, we found that, while there were very good vehicles and customer support packages available from all suppliers, Volvo had the edge in being the best fit for our business, at present."
Peter commends the Dennison team on their commitment to customer service, stating that; "Everything that we asked of them was met with positivity, and nothing was ever too much trouble. They provided an unbeatable level of support and really went that extra mile to ensure we were happy. We were particularly impressed by the effort put in by Damian Kerin, the sales representative, and are proud to be partnered with Dennison Commercials Ltd at this time."
The striking Volvo FHs –which are on Gold R&M contracts with Dennison Commercials - are finished off impeccably with paintwork by Dennison's Body Shop and livery by The Sign Place in Burt, Co. Donegal. Chosen by drivers, staff and friends of Bradley Transport, each truck has been given a unique name, proudly displayed at the centre of the vehicle, above the front grille.
Reflecting on the integration of the Volvo trucks into the fleet and their updated dark blue colour design Peter says; "We received our first lot of Volvo trucks in March this year and the remainder in recent weeks so they have been operating as part of our overall fleet for a few months now. We are really pleased with the final design as it represents a modern and professional image and our drivers, who are equally as important in maintaining our modern, professional image, are also very pleased to be in the new Volvos. Their feedback highlights the comfort and attention to detail evident in the Volvo trucks and I am a firm believer that a happy driver is a productive driver."
Bradley Transport Ireland is, at heart, a family run business. It was first established by Danny Bradley in 1995 but its logistical roots date back to 1945 when James Bradley (Danny's father) first used his petrol Ford truck to transport potatoes from growers in Donegal to the markets in Dublin and Cork. Whilst Danny remains very active in the business, his two sons Peter and Paul now head up and manage the vibrant transport operation. They are assisted by their mother Patricia and Peter's wife Aishling, who are both heavily involved in the day-to-day running of the company. Peter and Paul adopt a very "hands on" approach wearing many hats from Managing Director, to Transport Manager to Plant Manager to ensuring regulatory compliance and health & safety, while their mother Patricia manages all the Office Administration and Accounts. A family business indeed!
Bradley Transport Ireland has been firmly established as one of the island of Ireland's premier contract logistics solution providers, using their stunning fleet of 30+ vehicles to provide ultra-reliable services for key clients in many diverse businesses across Ireland and the greater EU on a 24/7 basis. When asked about the integration of the Volvo trucks into their logistical operations Aishling Bradley replies; "All 15 of the new Volvos are working out of our Mallusk depot, which is well placed to service our EU network including the local market. Our regional manager there is John Paul Harkin and his ability and commitment to, not only his work, but to the company, is translated through his workforce resulting in a very sharp and efficient operation in Northern Ireland. Similarly, we have a second regional depot in Mullingar which is managed by Julian Rosu and he also exemplifies our commitment to service; maintaining and ensuring an excellent service is provided to our customers. He and his team work in sync with Buncrana and Mallusk to make the overall Bradley Transport Ireland machine function in a productive manner."
Active at the forefront of the temperature-controlled, logistics market since 2007, Bradley Transport Ireland take a proactive approach to offering their clients solutions and service levels that are second to none. As well as the eye-catching trucks –preserved in immaculate condition- the fleet of refrigerated trailers is also extremely modern, with appropriate additions being made as the operating need demands. "We pride ourselves on maintaining the fleet to an impressively high standard,"says Aishling. "When you are working with customers that are market leaders in the food industry then you have to provide them with reliable vehicles and a first-class service that is in line with their own business ethos."
Behind the scenes, an inordinate amount of hard work and long hours –not to mention the courage to invest in taking the business to the next level –have been required to get the company to where it is today, according to Aishling; "We take our business very seriously and we concentrate on providing a good service and doing the best job we possibly can. We are always aware of, and respect, healthy competition as it keeps us focused. We take a massive personal interest in the business and one of our dedicated team will always be available to deal with queries at any time, day or night. Bradley Transport Ireland is a "round the clock" business where time and timing are crucial to the success of the operation. We all work extremely hard at this and have built up our business over the years by looking after our customers and by making sure they get the service they expect. Together with our staff, we hope to continue to build on this into the future,"she concluded.
Bradley Transport Ireland,
Umricam, Buncrana, County Donegal.
Tel: 074 9322714
Fax: 074 9320694
Email: [email protected]
Taken from Irish Trucker & Light Commercials magazine, September/October 2017, Vol 20 No 6