Keep on truckin'
24/01/2018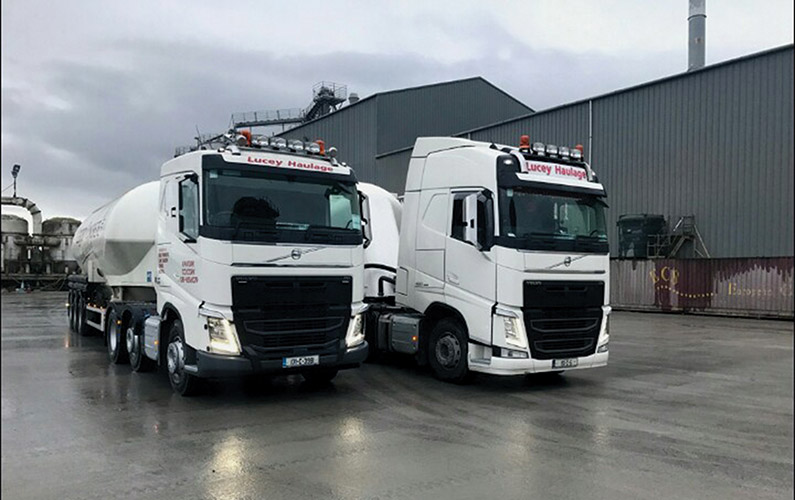 Being successful in any business is a testament to the hard work and dedication that the people concerned put in over a period time.
This is especially true within the haulage industry which undoubtedly is the toughest sector of all to be involved in the current economic climate.
With so many overheads to contend with and rates failing to meet the cost of running a haulage firm; anyone not involved in the industry may ask the question as why someone would want to work in this sector.
However, there are many who are making a living from haulage and for this month's edition of Irish Trucker, we profile Cork based AF Lucey Haulage Ltd who are situated in Kanturk.
We speak to company managing director Albert Lucey who is celebrating eleven years in business this year and he tells us about the trials and tribulations facing the haulage industry on a daily basis.
Many involved in the haulage industry come from second or third generation haulage families, but Albert is unique in this respect as he had no background in the transport sector as he explains to us.
"I was doing maintenance work for a company for a number of years and it was shift work. So, I was left at a loose end on my days off and decided to go get my haulage licence,"said Albert.
"I then did the CPC course and decided to buy my own lorry and go into it full time. The construction industry was going very well at the time and it was mainly bulk haulage that I specialised in, although I did all sorts of general haulage as well."
Despite the end of the Celtic Tiger and the demise of the construction industry, Albert continued to work hard and he managed to build his fleet up to what it is today, consisting of ten trucks, which comprises of Scania, Volvo and the latest addition, a Renault Terex ready-mix truck.
"I had the fleet built up when the bottom fell out of the construction industry and to be honest, things did look bleak for a while, however, in 2011, I got a contract with Lagan Cement and I have been there ever since. I have eight trucks in with them full time and we have a good working relationship with them.
"The fleet is kept in pristine condition and we do all our own maintenance work. We sub the bigger jobs out to mechanics in the area, which works well for both parties. We added the new Renault Kerex recently, while the majority of the fleet is Scania and Volvo. I'd deal with AOC Commercials, McCarthy Commercials and Setanta Trucks in Dublin and we have dealt with them for a good few years now."
Albert believes that the construction industry has taken a turn for the better over the course of the past year or so. "The economy has certainly picked up a bit in the last year. There is a lot more construction traffic on the roads than there had been over the last few years, which is great to see."
Of course, the biggest gripe within the haulage industry is the price of fuel and Albert admits that Government rebate scheme has helped a little.
"Everything is a help and better than nothing, but the thing with the rebate is that you can be waiting over ten weeks for it to come through. It is a big issue in the haulage industry, but I can't see much more being done about it."
Aside from the overheads attributed to hauliers, Albert is happy with the workload that he has at the minute, but he stressed that he is always on the look-out for more work.
"We are busy enough at the moment and that is great. Lagan really are keeping us going and hopefully we can continue to supply them with the service that they expect from us.
"I'm always looking at ways of expanding the business, but these days you have to have a more cautious approach when it comes to taking on new business."
Albert admits that the days of going out and buying new trucks are a lot more difficult now. "Buying new is tough as the banks are more reluctant to give out money than they use to be. You have to make sure that the work is there as repayments are very high."
Beside every good man is a good woman and Albert revealed that wife Brigid helps out on a daily basis also. "Brigid looks after all the paperwork, which takes a lot of the pressure off me,"he smiled. "We have grown a good bit since we first set up and we're happy with the direction that the company is heading."
AF Lucey Haulage Ltd
Kanturk, Co Cork.
Taken from Irish Trucker & Light Commercials magazine, September/October 2017, Vol 20 No 6