Servicing and repairs as they should be
19/01/2018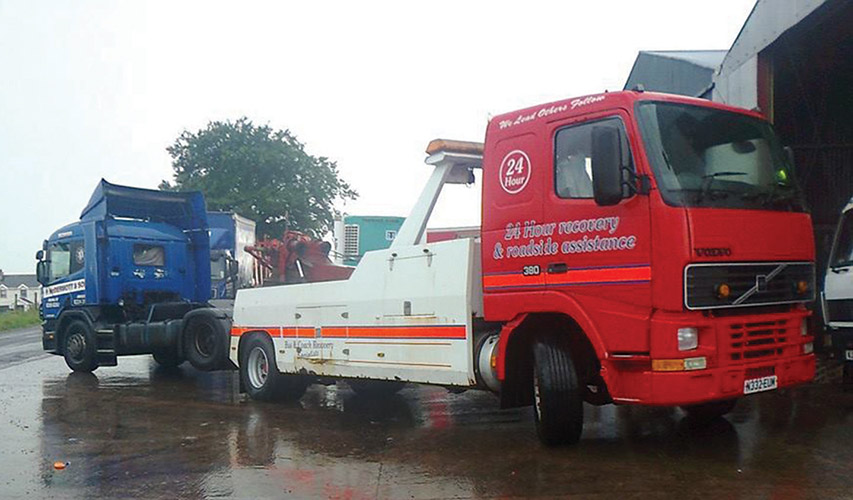 McFarland Ltd. in Beragh, County Tyrone has been providing operators with unrivalled commercial vehicle servicing and repairs solutions for the past three decades. We caught up with founder / director Trevor McFarland at his busy, modern workshop to find out more about this exceptional, long-running operation.
August, 2017 is a landmark month for McFarland Ltd. as the company will celebrate its 30th anniversary. During that time, the County Tyrone based commercial vehicle specialist has developed an outstanding reputation for providing excellent commercial vehicle servicing and repairs solutions, as well as offering keen and prompt 24/7 call-out and breakdown recovery services.
Trevor McFarland oversees his self-made business from a modern, well-stocked workshop in Beragh, has done so since 1987. He served his time with Kevin Darcy's, which was the largest garage in Tyrone at the time, specialising in commercial vehicles.
"I decided to build the workshop here and started doing commercial vehicles repairs myself,"he reflects. "There was an opening there to go out on my own so I started off small and built the business up gradually. It's going well, so I can't complain."A modest, easy-going man, he fails to mention that he has forged an outstanding reputation for excellent workmanship during the intervening years and decades.
Trevor specialises in all kinds of heavy and light commercial vehicle work including repairs, maintenance, servicing, parts, breakdowns, brake testing, pre-MOT / PSV tests etc. He has the capacity to work on both trucks and trailers and is renowned far and wide as an authority on tankers amongst other things.
Down through the years, the Tyrone technician has constantly invested in the latest equipment and technology in order to continue providing his customers (and, specifically, their vehicles) with the highest possible level of service.
His state-of-the-art commercial vehicle workshop features the best computers, brake rollers, shaker plates, beam setters, laser steer alignment, brake disc skimming and diagnostic equipment that money can buy, enabling McFarland Ltd. to provide commercial vehicle servicing / repairs that are simply second to none.
"We have absolutely everything you could need for a truck,"the Tyrone man confirms. "The only thing we don't do is tachograph calibration."
Very much the archetypal hands-on proprietor, Trevor oversees the workshop himself five days a week and is on call 24/7. In total, McFarland Ltd. generates gainful employment for a team of six mechanics, including Trevor's son, Jonathan. All the workers are fully-qualified and vastly-experienced in all aspects of commercial vehicles. "The fifth lad is finishing his Level Three this year,"notes Trevor, whose wife Sharon runs the office and looks after all the paperwork.
The high-quality service provided is facilitated by McFarland's own in-house fleet: comprising a mobile service unit, recovery truck and a spare Scania artic to safeguard customers against possible downtime while their own is being fixed. The call-out van is a Volkswagen Crafter fully-fitted out with all the latest equipment including compressor and air tools etc., while the recovery truck is a trusty Volvo FH12.
"We're prepared to go wherever we have to. I travelled as far as Wexford for a breakdown not too long ago. If a customer is in trouble, I will look after him. That's how this business works. You have to provide customers with a very good service."
Little wonder McFarland Ltd. benefits from such a healthy volume of repeat business, working regularly for an array of local hauliers as well as providing tanker maintenance and repair work to a number of clients including LacPatrick (formerly Town of Monaghan Co-op).
As a commercial vehicle mechanic, Trevor has always embraced the latest technology and been prepared to move with the times. This is one of the many reasons why the business has been such a success for 30 years and counting. "You have to keep up to speed with what's going on in the industry,"he notes. "This is a major challenge because things are changing all the time, but you simply have to keep abreast of the changes or you will be left behind.
"You need to keep up with all the software updates and diagnostics and keep everything calibrated at all times. We invest a lot of money and effort into ensuring that we are as up-to-date as we possibly can be."All of which results in the superb solutions McFarland Ltd. is famous for.
With the capacity to work on any make or model of commercial vehicle, light or heavy, McFarland Ltd.'s services are in such high demand that they cover a vast catchment area encompassing counties Tyrone, Armagh, Monaghan, Louth, Fermanagh, Derry and even Dublin.
What does Trevor believe has been the key to the business's continued success and longevity down through the years? "You have to keep the vehicles right for the road and make sure every job is done properly. Safety is a big issue and is our No.1 priority. You need to give every job and every vehicle your utmost attention and make sure you do the work as well as it can possibly be done.
"It's all about quality of service and looking after customers, keeping them happy and offering them good rates as well. We provide a very high-quality service but we're also competitive. We're very flexible as well –whatever the customer needs, we will be able to provide it."
Hard work is another quality that's inherent in McFarland Ltd. Trevor's phone is never switched off and he could be called upon at any time of the night or day to get a customer out of trouble. He doesn't mind. It's all part of the service…
"For 90% of call-outs, we should be able to get them going again there and then and we'll try everything we can to sort the problem out on the spot,"he concludes. "If it's a case that it's a major fault and the vehicle has to be towed, we have the spare truck here and we're only too willing to let customers use it. At the end of the day, when you are delivering milk –or any other perishable good –you can't afford to be off the road."
McFarland Ltd. has been keeping operators on the road for 30 years and all indications suggest that there's plenty more fuel in the tank as far as this top-class commercial vehicle servicing / repairs specialist is concerned!
McFarland Ltd.,
52 Drumduff Road,
Beragh, Sixmilecross,
Omagh, County Tyrone,
BT79 0SD.
Tel: 028 80758413
Taken from Irish Trucker & Light Commercials magazine, September/October 2017, Vol 20 No 6