Ten years of Munster Tyre Recycling
18/01/2018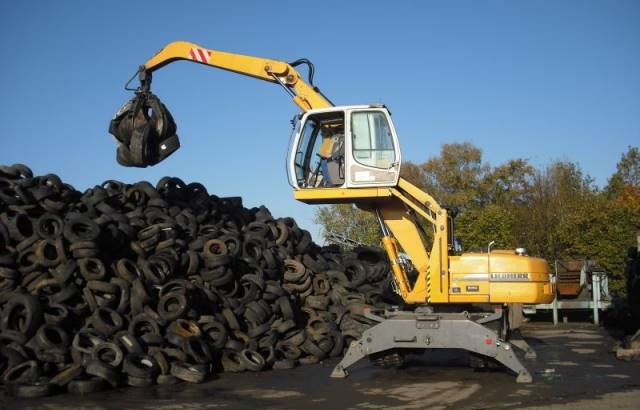 Celebrating 10 years in business, Munster Tyre Recycling provides a bespoke, reliable and fully compliant tyre collection service to a wide range of customers across Munster. Based in Killorglin, Co. Kerry, the company has a wealth of experience in used tyre collection, disposal and reprocessing of waste tyres.
Owner Mike Ahern got the idea to set up the business after attending a recycling conference in Dundalk, Co. Louth in 2006. With the help of his father, also Mike, he established Munster Tyre Recycling which specialises in responsible end of life tyre disposal and recycling. Covering the whole of Munster, the company recycles car, truck, agricultural, industrial and even aircraft tyres, providing a convenient and cost-effective service. Its customer-base includes garages and tyre retail outlets, scrapyards, farms, local authority depots and household waste recycling centres as well as industrial sites and ports.
Whether it's a single waste tyre or full loads of waste tyres, Munster Tyre Recycling can collect. Its specialist tyre shredding equipment turns your unwanted tyres into material suitable for a variety of recreational and industrial purposes.
Tyres are made from vulcanised rubber which is a chemically enhanced rubber designed to be very durable. This material is highly toxic for both humans and the environment. Munster Tyre Recycling's tyre collection and approved recycling services ensure that waste tyres are recycled in an environmentally-friendly manner.
"We can collect end of life tyres anywhere in Munster or Ireland for recycling,"Mike explains.
"We have three vehicles on the road (two Volvo FM9 260 rigids and a Mitsubishi Canter) collecting from a wide range of customers on a weekly basis, including farmers, car dealerships, hauliers, quarries and garages. With our waste disposal service, you can rest assured that we have the right equipment to process your tyres at our Killorglin plant to avoid using landfill.
"We accept all types of tyres –car, cycle, motorcycle, JCB, tractor, lorry, van, aircraft, earthmover and forklift. We can offer a 'per tyre'small load collection or a consolidated load service in large bodied walking floor trailers. For our customers, this has the benefit of the disposal of car or any mix of tyres in a bulk load. This is always offered at a fixed price per load, which provides cost certainty, the maximum disposal payload and best value-for-money."
Tyres, which consist of steel, fabric and rubber crumb components, can be recycled into many different things, including building materials, school and office stationary, shoes, sports surfaces and playgrounds, carpet underlay and garden mulch. At present, the Ahern's export the recycled material in baled form, but that could soon change thanks to a new Repak ELT initiative which aims to provide a more competitive market for companies like Munster Tyre Recycling right here in Ireland. "I'd very much welcome that,"Mike says.
Repak ELT was approved in November 2015 by the Minister for the Environment, Community and Local Government to operate the only waste tyre compliance scheme in Ireland. The scheme oversees the disposal of all waste tyres in the Republic, while Repak ELT also contributes to the costs of disposing of an estimated 10 to 15 million tyres stockpiled in illegal dumps, warehouses and on farms across the State. Munster Tyre Recycling is a member of Repak ELT and also holds a National Waste Collection permit.
While the Repak ELT scheme has regulated and led to greater traceability within the Irish tyre sector, Mike says the industry still has a long way to go in terms of changing mindsets and raising awareness about the benefits of recycling.
"Old habits die hard,"he points out.
"When we started out in 2007, there was no proper recycling being done in this part of the country and there were lots of stockpiles around the place. Things have certainly improved since then, but we still face a constant battle to change the mindsets of people."
Mike continues: "Even though there is a small fee involved, the customers we have on our books would never go back to the old way. They have become much more environmentally-minded and insist on having their tyres being disposed of through the proper channels.
"I would like to take this opportunity to thank them for their loyalty and support over the past decade, and look forward to working for and with them into the future."
In summary, Munster Tyre Recycling continues to go from strength to strength by providing their customers with a fast and professional waste tyre collection service, with the peace of mind that their waste tyres are going to be recycled, protecting both the environment and creating a new product in the process.
Munster Tyre Recycling
Tullig Beigh,
Killorglin,
Co. Kerry.
Telephone: +353 87 1268036 / +353 87 9821810
Web: www.munstertyrerecycling.com
Taken from Irish Trucker & Light Commercials magazine, September/October 2017, Vol 20 No 6