Operating a first class service
16/01/2018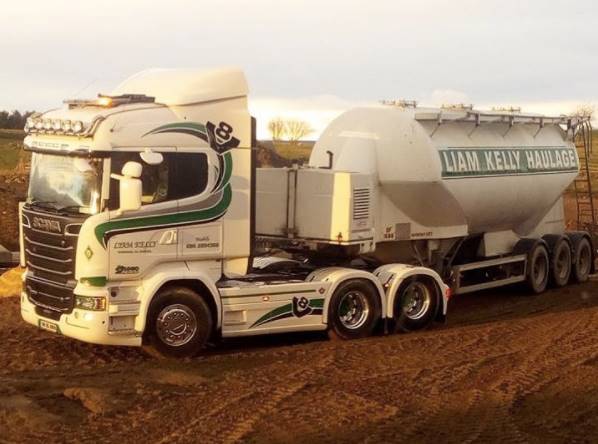 Liam Kelly Haulage Ltd has become a leader in transport and general haulage throughout Ireland through three different decades. Irish Trucker caught up with Liam Kelly jnr to find out more about the business and the impressive fleet of trucks that they operate with.
Set-up by Liam Kelly snr back in 1990, Liam Kelly Haulage Ltd has grown from strength to strength through its 27 years to the point where it has proved to be recession-proof.
The Donegal-based company had concentrated on the transport of concrete powder for companies such as the Quinn Group pre-downturn and were forced to alter their tactics a bit once the Irish construction market took a colossal hit around 2008.
Under the directorship of Liam Kelly jnr, business is thriving again at present and he wouldn't have it any other way, having taken over the reins from his father, who still remains involved in the company today.
Liam jnr was able to take the time to tell Irish Trucker what they're all about, while also filling us in on what they've been up to as of late.
"We do transport and haulage throughout Ireland and the UK,"Liam jnr explained.
"Our main business was powder cement for many years and then we took the decision to move into low-loader work a couple of years ago. Right now, we're doing a lot of work for Quinns over to Scotland and we're kept quite busy overall, thankfully."
Despite the change in management, Kelly Haulage Ltd very much remains a family business to this day and its origins date back to a time when Liam jnr's grandfather began pursuing a career in transport.
Since then, trucks have been coming in and out of the yard on almost a daily basis (Sundays are usually the Kellys'day off) in Ballymagan, where the family calls home.
"We're on Hill Rd, Ballymagan, Buncrana, Co Donegal,"Liam jnr outlined.
"The company was started in 1990 by my father Liam Kelly snr and at the moment we're employing 15 staff in total. I'm director of the company and my mother, Pauline, and brother, Sean, are also involved here along with my father."
As already alluded to, the history of the business is an interesting one which goes back to a time when Liam snr's father used to travel back and forth from Derry on a regular basis.
Going on that evidence, it's clear that this line of work is well and truly in the Kelly blood.
"My grandfather started by hauling turf to Derry years ago and since that time the family has always been into transport,"said Liam jnr.
"My father first drew cement in 1990 with a Volvo truck and bought his next truck in 1991, which was a Scania. After that, the next truck was bought in 1997 and another then in 1998.
"In 2006, we bought two new R500s and those trucks are still in the company today. Since 1990, the business has just grown from strength to strength really, and thankfully we were able to come through the downturn after it hit because it did have a big effect on this industry."
Part of the reason why Liam Kelly Haulage Ltd was able to survive the recession comes down to the continued loyalty of their long term clients.
Companies like Letterkenny Concrete & Quarry Products and Roadstone Laghey have stuck with Liam Kelly Haulage Ltd through thick and thin and the current managing director is grateful for their business, as are all of the Kellys.
"Cassidy Brothers in Buncrana, Muckish Sand & Gravel, Churchill Stone, Gilispie Quarries and Anytime Concrete would all be long time clients and we're very grateful for their business,"he said.
Asked why he feels some of the above continue to choose his company first ahead of other competitors, Liam replied: "It's probably because of the service that we give them. We give on time deliveries and we're always there for our clients."
A consistent quality service down through the years has helped Liam Kelly Haulage Ltd to swell its fleet of trucks up to double figures in the past decade in order to cope with demand.
While Scania has been first choice for the company for many years, Liam jnr revealed that they've recent added two new Volvos to their pack.
"We've eight Scanias, three Volvos, two MAN and one DAF. Altogether there are 14 trucks in the fleet and, as things stand, we're happy with that number,"he said.
"We had a couple additions to the fleet last year and we also recently bought two new Vovlos off McElvaney Motors in Monaghan."
At 14 trucks, the company are where they want to be with regards to their fleet and business-wise things are looking as good as they have been for some time.
With the Dublin area in particular back booming again, Liam Kelly Haulage is making trips to the capital on a regular basis.
"Business is quite good at the moment,"Liam jnr enthused. "The building trade has picked up well, especially around Dublin, and that's great to see because times were tough for a lot of people over the past couple of years.
"Hopefully the next few years will make up for it and we have the opportunity put a couple more trucks on the road while our clients get busier.
"It (the downturn) definitely affected us. We went from 26-load of cement every day all the way down to two, so that will tell you how it affected us.
"Things have turned around since then though. We're working with Quinns since 1990 and still going strong, so we can't complain."
Liam Kelly Haulage enjoys an excellent relationship with its customers and delivers bulk powder cement all across Ireland and the UK.
Always willing to establish new clients, they believe in customer service and a friendly but professional service is maintained throughout the company.
Liam Kelly Haulage Ltd
Hill Rd Ballymagan,
Buncrana,
Co Donegal
Taken from Irish Trucker & Light Commercials magazine, September/October 2017, Vol 20 No 6