Morenane Transport still delivering after 81 years
09/01/2018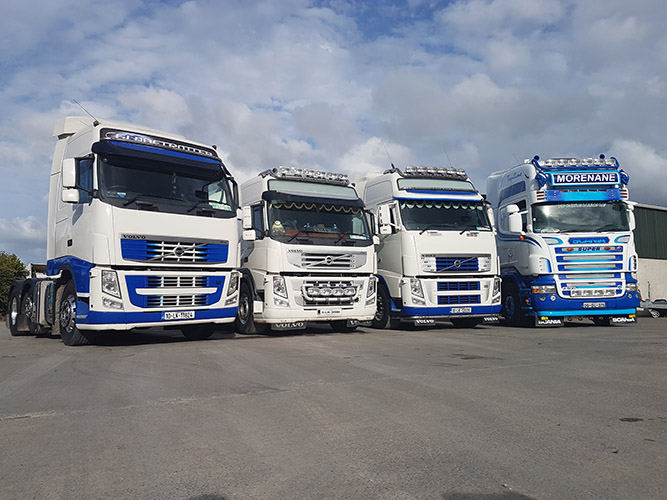 Morenane Transport Ltd is a fourth-generation haulage company based in Kilcornan, Co. Limerick. It provides bulk, liquid and general transport services to a wide range of customers and was one of the first TASSC-approved haulage contractors in the Munster region.
The history of Morenane Transport can be traced back to 1933 when Ned O'Callaghan started drawing animal feed for Roche's Feeds on the Dock Road in Limerick. Eighty-four years later and the working relationship between the successful family-run businesses remains as strong as ever. Ned's son Michael subsequently ran the business before passing it down to his son and current managing director Edward O'Callaghan in 1994. Originally known as O'Callaghan Transport, the company was rebranded Morenane Transport in 2002 and has gone from strength to strength under the guidance of Edward and his wife Hazel.
"Edward had many years of experience as a driver before he took over the business from his late father Michael. At the time, we were a one-truck operation, but through hard work and a lot of investment, we've since grown the fleet to 20 artics and 26 trailers. Our 19-year-old son Christopher is now involved as a driver, so hopefully Morenane Transport will be around for many more years to come,"Hazel explains.
Operating from Kilcornan, which is located on the N69 between Limerick and Foynes, Morenane Transport employs 14 drivers and 19 staff in total. The drivers are reliable, professional, highly-trained and courteous. The company runs a modern fleet of 18 Volvo and two Scania articulated trucks along with 26 trailers consisting of bulk tippers, bulk tankers, flats, curtain-siders and grab trailers. All maintenance and repairs are carried out in-house by mechanics Jim Moloney and Ian Ryan. It also runs a number of bulk blowing trailers on behalf of Roche's Feeds, who are by far Morenane Transport's biggest customer.
"About 90 per cent of our work is for Roche's Feeds,"Hazel reveals.
"We look after their transport requirements throughout Munster and into parts of the West and South-East. Not only do we deliver the animal feed to merchants and farms in these areas, we also draw the raw materials from ports into the mill on the Dock Road for processing. A lot of the work we do for Roche's Feeds is seasonal, but we also have good customers like Irish Cement, Dominick Lydon Steel in Galway, O'Neill Grain Merchants in Castleconnell and Greaney Concrete Products in Shanagolden, whose work keeps us busy all-year round. We draw bulk powder cement for Irish Cement from their factory on the Dock Road to Limerick Port, which is just 2km away."
Roche's Feeds has the distinction of being one of the last family-owned feed mills in the country. The company has developed its business from a small manufacturing unit producing 21,000 tonnes per annum in 1994 and employing 18 staff to one which now produces in excess of 150,000 tonnes and employs 40 staff.
The business is confined to a 150km radius of the manufacturing plant which means bulk delivery times are no more than 36 normal working hours from time of order. Roche's Feeds manufactures a full range of products which cater for dairy, beef, sheep, pig and poultry. Many of these products are trailer-made by an in-house nutritionist who deals directly with clients, and custom designs feed programmes so that the animals can reach optimum performance. This action alone creates customer loyalty and, more importantly, ensures the customer receives what they have ordered.
As bulk animal feed haulage specialists, Edward and Hazel believe trust and transparency are vital commodities. This is borne out by the fact their company was adhering to the TASCC code of practice for the haulage of animal feed and combinable crops before it became a requirement. The TASCC code of practice aims to combine food / feed safety legal requirements with recognised industry good practice and specific customer requirements to provide confidence in the food / feed chain. Morenane Transport drivers are TASCC trained and up-to-speed with current legislation. The West Limerick firm can arrange collection and delivery from farms, mills, docks, ships and stores anywhere in Ireland.
For the past few years, Morenane Transport has been proud to support the Ger McDonnell Charity Cycle from Kilcornan to Doolin, which is dedicated to the memory of Ger McDonnell, who was the first Irishman to climb K2, the world's second highest mountain. Tragically, the Kilcornan mountaineer died on the same mountain while trying to help other climbers make their way to safety in August 2008.
The 112km cycle, which took place on Saturday, July 29 this year, retraces a route that Ger took himself on a summer's day many years ago while home on holiday. The funds raised have helped various nominated charities and causes.
"This year's cycle was the second last of 10 and we've been delighted to be associated with it,"Hazel says.
The O'Callaghan family would like to take this opportunity to thank their staff, customers and suppliers for their support and loyalty down through the years. "We've a great team here –we're one big happy family!"Hazel concludes.
Morenane Transport Ltd
Morenane,
Askeaton,
Co. Limerick.
Telephone: 086 8323201 / 086 2515630
Taken from Irish Trucker & Light Commercials magazine, September/October 2017, Vol 20 No 6