Philip White Tyres are specialists since 1982
05/01/2018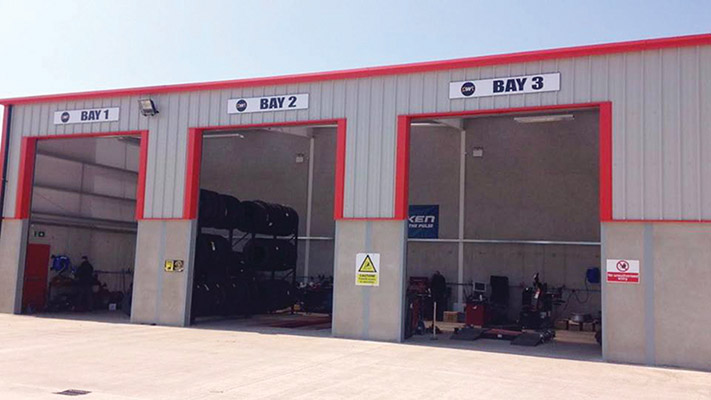 When it comes to the sale of tyres for all types of vehicles, there are few firms that can match the independently owned family run Philip White Tyres Ltd.
Established in 1982, the company has gone from strength to strength over the years and they now have retail depots in Armagh, Dungannon, Belfast, Londonderry, Castleblayney and Dublin.
Their Castleblayney depot is a new purpose built facility, which the company moved to in recent times as Depot manager Nigel Thornton and CVRT manager Colm Ruddy spoke to Irish Trucker about the relocation of the premises.
"We moved about six months ago and are now in a purpose built facility which has three tyre bays and we also provide CVRT testing with two bays, one for heavy goods vehicles and one for light commercials,"said Colm.
"There are two testers here. The testing is carried out five days a week and this end of the business is busy at the moment."
Of course, Philip White Tyres Ltd is synonymous with providing top quality tyres to a large customer base across Northern Ireland and parts of the south.
"We are an authorised distributor of all major brands and economy tyres, we also hold several sole brand franchises namely Mitas, Falken, Prestivo, Salsons, Athos and Solideal Material Handling Tyres,"stated Nigel.
"With an adjoining extensive wholesale department we can offer you the best quality tyres, products and services at prices to suit all budgets."
Agricultural tyres are a key part of the business also and with a wide range of choice for all types of machinery, this family run business is a one stop shop for all.
A large percentage of their turnover is related to the Commercial, Agricultural and Earthmover Market. As a major supplier to many leading haulage companies they offer all leading tyre brands at very competitive prices. Due to their long established relationship within the Commercial Market, they have built up a professional working knowledge and expertise within this field enabling them to give the service required by you the customer.
"We can supply all of your customer requirements including Tractors, Combines, Trailers, Forestry, Manure Spreaders, Sprayers, Cultivators, Row Crop, Backhoe, Skid Steer Loaders, Telehandlers ,Lawn & Turf ,Front Wheel Drive, ATV, Crossply, Radials and Flotation Tyres.
"We will advise you on the most suitable tyres for your individual farming needs with your chosen brand for your agricultural vehicle and as we buy our Agricultural Tyres in container bulk , we are able to pass on amazing savings to our customers. This enables us to guarantee the best price available."
With the ever increasing variety of sizes and manufacturers in the market today, Philip White Tyres have strived to carry the necessary stock to meet customers demands.
This means that there is very little waiting around to get your preferred choice of tyre as downtime is something that ever business strives to avoid.
Another service provided by the Philip White Tyres team is solid filling of tyres which is a service carried out by trained PWT technicians.
As tyres are filled with a liquid compound that cures to soft rubber core within 24 hours they are now nail proof, slag proof and even bullet proof. Unlike conventional air filled tyres the solid fill is pumped into the tyre at manufacturers recommended pressures and this will remain constant throughout the life of the tyre.
PWT operate a bespoke Fleet Management Programme is a key financial benefit to fleet customers as it provides you with detailed reports on operational costs tailored specifically to your individual requirements.
"We can provide the following services: Bespoke Fleet Management Programme, Casing Management, Retreads and Regrooving, 24hr NI, ROI, UK and Europe Breakdown Service, Vehicle Testing for Light Commercial Vehicles, Fleet Checking, Tyre Maintenance, Pressure Testing, Computerised Wheel & Steering Alignment."
Philip White Tyres Ltd operates a 24 hour, 365 day per year breakdown service to Commercial Customers in Northern Ireland, Republic of Ireland, UK and Europe.
PWT also has an extensive emergency call out network so in the event of a breakdown they can get you back on the road as soon as possible.
All staff have been fully trained at the Continental Roadside Assistance Programme and Health and Safety Compliant.
"Our mobile breakdown team will endeavour to get you back on the road as soon as possible with a professional reliable service and the minimum of disruption to your business."
Taken from Irish Trucker & Light Commercials magazine, August 2017, Vol 20 No 5