Drogheda's top parts supplier
04/01/2018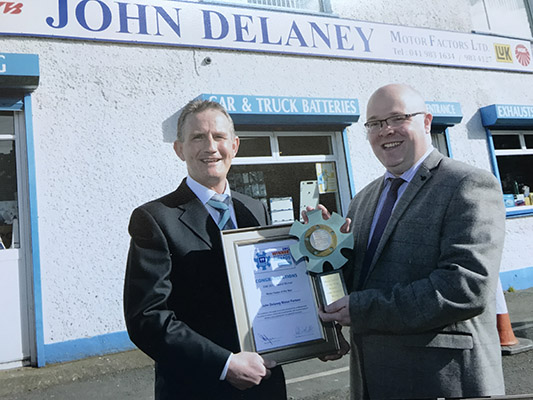 In February, John Delaney Motor Factors in Drogheda picked up the Motor Factor of the Year award at the annual Irish Motor Awards. The man himself filled us in on what the accolade meant to his company and also outlined what they're all about.
National awards don't come all that easy and the surprise on John Delaney's face when he learned that his company had scooped one back in February perhaps illustrates that point as good as anything.
Having set-up John Delaney Motor Factors nearly three decades ago, the Drogheda native has seen his company grow from strength to strength while also maintaining all the members of staff which it originally started with all those years ago.
Such success in the motor industry is so often a rare thing but, then again, this is a business which John himself has been immersed in ever since he was a young teenager, as he explained to Irish Trucker when we caught up with him recently.
"I started off in the motor industry when I was only 14 years of age and from there I started out working for a company,"he outlined.
"Seven years later I took the decision to go out on my own and thankfully I haven't look back since. Now we sell all the main parts for cars and light vans."
He continued: "The motor industry is constantly changing but during the downturn we weren't all that much effected. In fact, parts sold well because people weren't buying new cars during the recession."
Addressed at Fair Green, Drogheda, Co Louth, John Delaney Motor Factors has been established 27 years now in total and is still going strong, having ironically experience an upturn in business during the recent economic downturn.
What the company actually does is something which John was happy to fill us in on, having been good enough to take time out of his daily schedule.
"We supply all the smaller garages and then a lot of the main dealers around areas such as Navan, Slane, Trim and Bettystown,"he explained.
"Drogheda is our main hub here though and we'd also be going into Dublin as well. At the moment we have two vans on the road for deliveries to our clients all over the Leinster region."
And business has been flourishing over the last few years, according to the man with his name over the door.
While the recessionary years saw so many companies suffering, the fact that many drivers weren't willing to invest in new cars saw somewhat of a boom in business for John Delaney Motor Factors.
Things might not be just as rosy now for John and co but he rests assured that they will be again.
"Business has been going quite good recently,"he said.
"I've had more opposition in Drogheda over the last four or five years and it's always good to have competition. This year we've been fairly busy up to now and it's been pretty stagnant lately but we're confident enough it'll turn around again."
And when it does the company's experience staff will no doubt be able to cope with the demand once again.
As aforementioned, a large portion of John Delaney Motor Factors'business comes from the town of Drogheda itself.
Plenty of their customers have been with them since the beginning, so what is the secret to it all? How is that the company's clientele continue to choose them first ahead of other competitors in the same industry?
"I think one of the biggest reasons is because I tend to get parts quicker than anyone else,"John stated.
"We could have deliveries coming in here up to four times a day and that ensures that our customers get the parts when they need them."
After the best part of 30 years, some national recognition came through the door (literally) in the early part of this year.
The SIMI's Irish Motor Industry Awards took place in mid-February and although John was unable to attend on the night, for his company to be given 'Motor Factor of the Year'award was something he described as "a great honour"
The award itself recognised excellence in the supply of car parts and accessories, particularly as demonstrated by quality of customer service and competitiveness.
"It was on in the Clayton Hotel on February 17th and unfortunately I couldn't make it on the night as I was on holidays at the time,"said John.
"They presented us with the award here and it was Seamus McCormack from SIMI had come here six weeks before that and we'd have never dreamed that we would win it, so, as I said, it was great.
"To say that we're the best in the country isn't something you get every day, so we were delighted with it."
John's clearly proud of the accolade his company has earned this year, but there's one thing which his business has that he particularly takes pride in.
"As I mentioned earlier, all of my staff here have been with me from 'Day One'and that's something that I'm very proud of,"he beamed.
"Not too many people in business 27 years can say that so we're happy that they've stuck with us down through the years and we hope that they continue to do so as we get closer to the 30-year mark now."
As the company's 30th anniversary nears closer, John is hoping that business will pick up again this year and they continue to welcome new customers through their doors.
"I'd like to think that things will get better because it is stalling a little but again but we'll get through it.
"We get a lot of business from foreign nationals here as well and we're happy that they choose us first because, as I said, there's plenty of competition around now,"he concluded.
John Delaney Motor Factors
Address: Fair Green, Drogheda, Co Louth
Tel: 041 983 1634
Taken from Irish Trucker & Light Commercials magazine, August 2017, Vol 20 No 5