New name; same great service
03/01/2018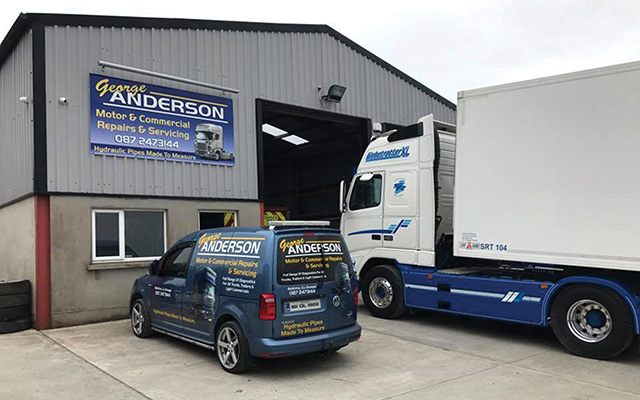 Strategically located in the village of Ballintra, which is just off the N15 Donegal Town to Ballyshannon Road, George Anderson Commercial Repairs Ltd offers the most cost-effective truck, trailer, bus and light commercial repair and maintenance services in the North-West.
Formerly George Anderson Motor & Commercial Repairs & Services, the business has been trading as George Anderson Commercial Repairs Ltd since becoming a limited company in March. Established 12 years ago by local man George Anderson, the garage has earned a stellar reputation among truck, bus and light commercial owners alike. It can carry out all necessary maintenance and repairs to your truck, trailer, bus or commercial vehicles at its state-of-the-art workshop, which boasts a full range of diagnostics for all makes and models. The company also carries a wide range of spare parts, provides made-to-measure hydraulic pipes, welding and wheel alignment services, and is the only brake shoe relining specialist within a 40-mile radius of Ballintra. In addition, George Anderson Commercial Repairs Ltd offers a 24-hour breakdown and recovery service.
"We're going from strength to strength,"George enthuses.
"Our customer-base is growing all the time through word of mouth and recommendations from our existing clients. We pride ourselves on being able to provide a prompt, clean, friendly and price-competitive service. We keep our customers'downtime to a minimum by carrying out repairs quickly and efficiently, while cleanliness is also a big thing with us. We try to keep the premises and the vehicles we repair spotless."
He continues: "Our workshop caters for heavy and light commercial vehicles and all types of trailers. We can maintain most types of ancillary equipment used for haulage and are servicing and repairing more buses than ever before."
George has invested heavily in his workshop and repair equipment, while his son Kyle is one of the company mechanics. New column lifts, capable of lifting large trucks and buses up to 45 tonnes, were recently added to the three-bay workshop which also features a spare parts department. George Anderson Commercial Repairs Ltd stocks parts for all makes of truck, trailers and commercials, which can be purchased over the counter.
"We're stockists of Scania, DAF and Volvo parts as well as Gigant, SAF, BPW, WABCO and other leading brands. In the unlikely event of us not having the part or accessory the customer is looking for, we will make sure to have it for them the next day,"he explains.
Preparing your vehicle for DOE, HGV and LGV testing is all part of the service provided by George and his team, who will answer any queries before and after the test. Their aim is to prepare the vehicle efficiently and assist the vehicle owner in getting a pass certificate. If a vehicle undergoing a DOE test is found to be in need of repair work, it can be carried out later.
George Anderson Commercial Repairs Ltd is also here to help customers with scheduling their 12-week vehicle inspections and carrying them out to the prescribed standard. In addition, the garage will provide the vehicle owner with instantly accessible maintenance records which fully comply to RSA standards.
No job is too big or small for George who can count the likes of Daytona Heavy Haulage Ltd, SR Refrigerated Transport, Killybegs Seafoods, Curran Coaches, Cherrymore Kitchens & Bedrooms and Nordstar International Transport Ltd among his lengthy list of clients who are too numerous to mention.
For your next truck, trailer, bus or commercial repair or maintenance job, be sure to give George a call. Opening hours are 9am to 6pm Tuesday to Saturday.
He concludes by saying: "I would like to take this opportunity to thank our customers for their continued support. Every customer, regardless of their size, is treated the same. We are proud to be a one-stop shop for all your repair and maintenance needs."
George Anderson Commercial Repairs Ltd
Ballintra, Donegal,
Co. Donegal.
Telephone: 087 2473144, 086 3747659
Email: [email protected]
Taken from Irish Trucker & Light Commercials magazine, August 2017, Vol 20 No 5