"Light Up The Night" Truck and Tractor Run
18/12/2017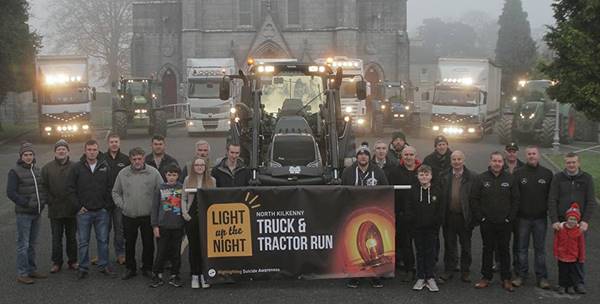 On New Years Eve of last year, the inaugural "Light Up The Night" Truck and Tractor Run was held, to highlight suicide awareness. The event took place on the highways and byways of North Kilkenny illuminated with the flashing amber lights of many a tractor and truck.
The level of participation from near and far was overwhelming, and a staggering €11,000 was raised through the event. This money was distributed to local charities working with mental health issues, while also highlighting some of the help that is available to people in the area.
Preparations are well underway for a repeat performance on New Years Eve 2017.
Over 350 trucks and tractors participated in the event last year.
This year there will be 3 routes, 2 for tractors and one for the trucks.
Registration takes place between 1pm and 3.30 pm in Ballyragget, with refreshments supplied to all the drivers before take off at 4pm.
More information and updates can be found on Facebook https://facebook.com/LightUpKilkenny/