Service fit for a king
13/12/2017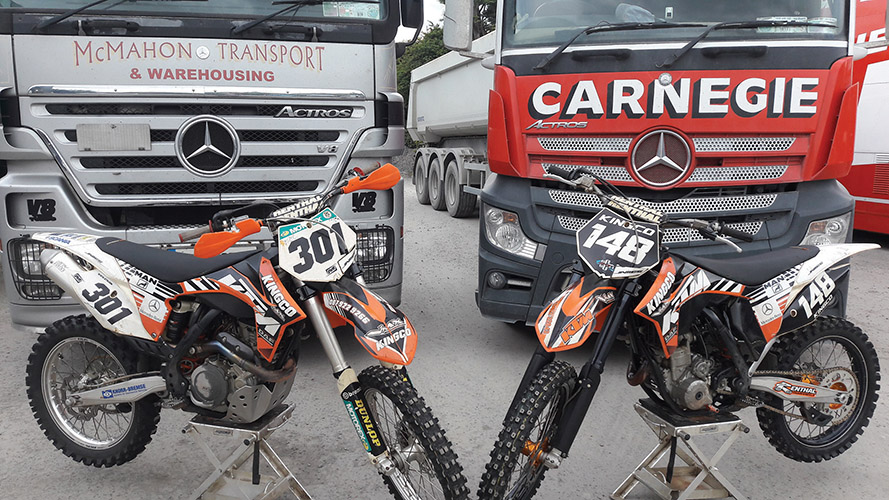 Trucks are treated like royalty at Kingco Commercials Ltd., an outstanding family-run commercial vehicle workshop which has been offering operators a comprehensive range of exceptional maintenance and repair services for more than three decades. We dropped into their impressive, thoroughly professional hive of activity on the Old Naas Road and touched base with managing director Glenn James to get an update.
From its state-of-the-art workshop in Dublin 22, Kingco Commercials Ltd. provides HGV owners with a service that's quite simply second to none. Boasting some of the most modern, specialist equipment in the country –backed up by experienced, highly-skilled technicians –they've been looking after a who's who of light and heavy commercial vehicle fleets in and around the capital since 1985, ensuring that their customers'vehicle compliance and safety requirements are all expertly taken care of.
"We're very thorough and prevention is a key part of it,"notes proprietor Glenn James. "By spotting small things now, you can prevent a bigger problem from occurring further down the line. In so doing, you are minimising downtime and keeping customers'vehicles on the road.
"We're working at a very high intensity on the RSA 13-week inspections these days, keeping vehicles up to date and compliant and keeping all the records etc. right."
Kingco Commercials Ltd. is one of the only independent garages in Ireland to have installed a HGV rolling road brake tester, complete with inspection lane. This essential piece of equipment was put in place three years ago and enables Glenn and his team to complete tests, checks and repairs with an absolute minimum of fuss and maximum speed / accuracy.
"I don't actually know of any other independent garage that has one,"the affable Dubliner states. "We were ahead of the posse when we got that and it has brought us a lot of business.
"It has drastically reduced breakdowns and time off the road for our customers because we are catching the little faults quickly and conveniently and preventing them from snowballing into bigger problems.
"Once the vehicle is off the road and in for inspection anyway, we can take a quick look and highlight and resolve s fault that is going to develop into a bigger problem. By providing this service, you are keeping customers'vehicles on the road and enabling them to make more money, which is what it's all about at the end of the day."
Customer relations are also of paramount importance and the team at Kingco Commercials always go the extra mile to cater to the needs of every customer, whether they are an owner-driver or transport manager / operator of a vast fleet. This is why they attract regular custom not just from the capital but also from as far afield as Wicklow, Carlow, Westmeath, Kildare, Wexford, etc.
A full range of professional, cost-effective services is efficiently provided at Kingco Commercials Ltd., including servicing and repairs of all makes and models of light and heavy commercials; mechanical and electrical repairs; aluminium, steel and stainless steel welding; light fabrication; spare parts; and full diagnostics.
"We cover everything,"Glenn confirms. "We strive to look after vehicles from bumper to bumper, including everything –tail lifts, hydraulics, etc."
As a one-stop shop, the garage has constantly grown and evolved since it was established by William James in 1985, consistently remaining a step ahead of the competition. Having previously ran his own haulage business, William had an innate understanding of operators'exact requirements when it comes to vehicle upkeep and invested that unique insight into building up an outstanding operation, which is now overseen by his son, who's worked with trucks all his working life.
Regarding the steady growth being experienced today, Glenn continues: "Many of our existing customers have increased their fleets, so we have a growing number of vehicles to take care of and we are also taking on new customers as well. But most of the growth is hand in hand with existing, long-standing customers."
Five technicians are employed full-time, providing unrivalled service levels and exceptional workmanship, while founder William, who has semi-retired, still keeps a close eye on proceedings. The workshop is open six days a week and a 24/7 call-out service is provided to loyal customers.
"We've invested a lot of money in diagnostics and it's updated weekly to make sure that we are at the cutting edge of trouble shooting,"says Glenn, who runs the business in conjunction with his wife, Cathriona. "We're fully-equipped and we're also in an excellent location, so we're very optimistic about the future of the business."
Indeed, looking to the future, the increased volume of business being recorded is such that further growth seems inevitable: "It's getting busier all the time and with the increased intensity of the 13-week checks –with the RSA seeking more and more compliance –and everything that entails, I can see things getting even busier.
"Our aim is to stay on top of things and keep our customers happy by keeping the RSA happy. For any of our customers who have inspections done, all the comments coming back from the RSA inspectors have been extremely positive and no follow-up visits have every been required.
"We have everything in place here to keep the vehicles right and, as I said already, to spot the small things and eliminate them before they have a chance of turning into bigger problems.
"Some of our customers have been dealing with us for 30 years, so we're very solid that way and we are delighted that so many of our good, longstanding customers are so happy with the service we're providing."
That's what happens when you give their vehicles the royal treatment!
Kingco Commercials Ltd.,
Kingswood, Old Naas Road, Clondalkin,
Dublin 22.
Tel: 01 4592275
Mobile: 087 9229266
Email: [email protected]
Taken from Irish Trucker & Light Commercials magazine, August 2017, Vol 20 No 5