Connection Logistics - delivering a top quality service
08/12/2017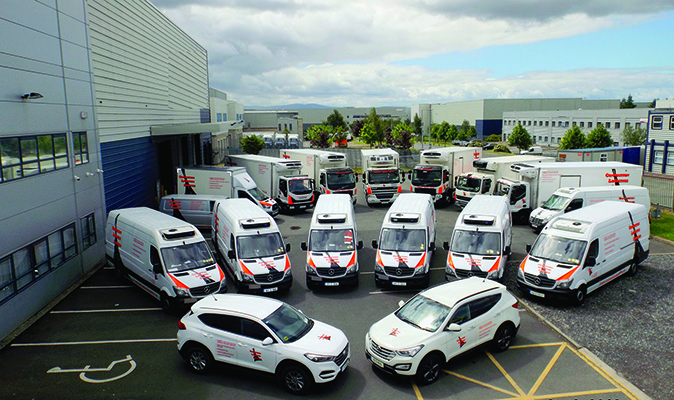 Connection Logistics Ltd in Blanchardstown has been offering its clients a top quality service since its establishment in 2005. Alan Garnett is one half of the company's directorship and told Irish Trucker what they're all about.
Business is thriving right now at Connection Logistics Ltd and for directors Alan Garnett and Shay Friery and their staff it's all about keeping up with the current demand.
Connection Logistics Ltd specialise in providing both high quality frozen, chilled and ambient courier services tailored to the food, pharmaceutical and medical industries.
The company also provides a pallet, parcel and envelope distribution service to the manufacturing industry. They strive to be the best in the industry, delivering; reliability, professionalism, quality, and above all service.
Managing Director Alan Garnett has been immersed in the business since its inception and explained that its 25 staff have never been busier than at the present time.
The Co Dublin native was good enough to take time from an increasingly hectic schedule nowadays to tell Irish Trucker all about Connection Logistics Ltd.
"Business is flying right now,"Alan beamed. "We have 25 vehicles in our fleet at the moment and the breakdown of those would be 17 vans, 10 of which would be (Mercedes) Sprinters, eight rigids and then a couple of car vans and other vehicles make up the rest."
Connection Logistics Ltd get their vehicles through National Truck Rental and all of them are fitted with CTrack, which is one of the world's largest telematics (vehicle tracking) companies, as Alan explained:
"A critical part of the service which we offer is satellite tracking on all of our vehicles. CTrack is the company which supplies us this service and we've been very happy with it from day one."
Also seemingly happy are the clients of Connection Logistics Ltd, many of which have been with the Blanchardstown-based outfit since it was first set-up 12 years ago.
Hytech Logistics and Event Medical Services are two of the company's long-term clients, while Musgrave Market Place, which has bases in both Dublin and Belfast, is another customer that holds high value for the firm.
"One of the major clients for us would be Musgrave Market Place,"said the co-Managing Director.
"We'd have somebody on call for them 24 hours a day and we've had a great relationship with them over the last decade or so.
"Kepak and Allied Foods are other great clients for us and we've recently taken over the logistics various sporting associations, providing vehicles for teams on match days."Offering a nationwide service, the company's Dublin deliveries can be charged per single drop and per additional drop. Alternatively, multi-drop route prices can be arranged as per requirements prior to booking with the office.
All of Connection Logistics Ltd's country deliveries are charged at the rate of from point of collection to point of delivery. Cork, Limerick, Sligo, Wexford and Waterford are some of the company's most common destinations outside of the capital.
With customers seemingly all over the country, what's the secret? How is it that Connection Logistics Ltd's clientele come to choose them first ahead of other competitors?
"I think it's just down to the quality of service that we provide here," Alan stated plainly. "We made sure to keep up the quality of our service during the recession and we got through it. We've also kept the fleet up to date as well.
"A good fleet, good staff and good service –that's the core of our business here."
All those attributes help the company to assure its customers their Same Day Emergency Guarantee.
Connection Logistics Ltd can recover any failures you have encountered elsewhere, through a speedy professional service. Maintaining reliability and communication throughout, they will support you in delivering the highest level of service to your customers.
An order with Connection Logistics Ltd guarantees you a dedicated distribution service. Your order is tracked at every stage and its status can be communicated to you however you choose.
They also guarantee that their drivers and vehicles are smart, uniformed and presentable, as standards of high quality are maintained throughout the operation.
Connection Logistics Ltd have vehicles available with drivers for short and long term contracts and also have storage available for short and long term contracts as well.
The company has extensive experience in distributing delicate and valuable cargo nationwide and also understand the importance of getting it right first time, which is part of the reason why they gain so much repeat business from clientele.
An order with Connection Logistics Ltd guarantees the customer a dedicated distribution service and that order is tracked at every stage.
Fast-approaching 15 years since its birth, Connection Logistics Ltd are planning an expansion next year which would see them operating another office in the south part of the country.
"We do want to expand here,"said Alan. "Our hopes by the middle of next year would be to have an office opened in Cork.
"That is the ambition for us and it would be another string in our bow, so hopefully by this time next year we'll be operating out of Cork as well."
Only time will tell, but the signs have been extremely good for Connection Logistics Ltd thus far.
Connection Logistics Ltd
Unit 47 Rosemount Park Drive,
Rosemount Business Park, Blanchardstown, Dublin 11
Tel: 01 899 1015
Fax: 01 899 1015
E-mail: [email protected]
Taken from Irish Trucker & Light Commercials magazine, August 2017, Vol 20 No 5