Phibbstrans is going places
01/12/2017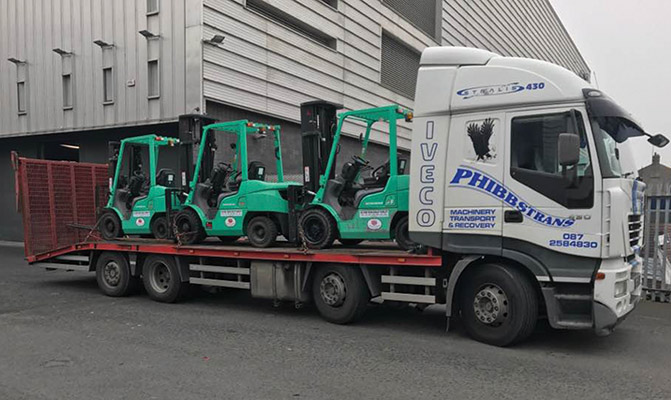 Hemps Haulage Ltd, trading as Phibbstrans, is a leading plant and machinery transport company with depots in Blessington, Co. Wicklow and Greenogue Business Park, Rathcoole, Co. Dublin. Managing director Seamus Phibbs explains more.
Established by Seamus in 2001, Phibbstrans has grown to a fleet of 14 trucks and six trailers. The family-run business transports heavy goods and plant machinery for a variety of clients, providing a complete delivery, collection and recovery service. Phibbstrans moves everything from cherry pickers, forklifts, telehandlers and excavators to crushers, screeners and farm machinery throughout Ireland, and has plans to extend its service to the UK in the near future. The transport provider has no load capacity restrictions and can obtain permits for wide and abnormal load transport as well.
"At the moment, we deliver, collect and recover heavy loads anywhere in Ireland. We are also looking to expand into the UK,"explains Seamus, who runs the company along with his daughter Aoifanna.
"We specialise in heavy haulage, construction plant transportation, agricultural machinery and abnormal loads. We're growing all the time and are always striving for excellence."
The company's success can be attributed to the experience and knowledge of its staff, the quality and reliability of its fleet, price competitiveness and its friendly and personal service. All 10 drivers are ticketed and trained to the highest standards, with ongoing training programmes to maintain the highest possible levels of safety and efficiency within the company.
Seamus runs nine rigids and five artics which are a mixture of MAN, Iveco, Scania and Renault. The latest addition to the fleet is a 150-tonne MAN artic which has the capacity to pull loads up to 150 tonnes. "With the right trailer, it can carry any size of machine,"Seamus points out.
The trailers are all low loaders. Two are four-axle extendables, three are standard three-axle, while the other is a three-axle low loader / curtainsider which is used mostly for the transportation of forklifts.
Always meticulously turned out and a head turner with their white, blue and red livery, the trucks are maintained by Seamus'son-in-law, David Minchin of Davbren Ltd in Blessington.
"We wouldn't be able to give a top-class service if our equipment wasn't of the highest quality. There is a lot of competition out there and you have to be on top of your game to survive. Time is money for the customer so breakdowns are out. We have to ensure that our trucks are running smoothly all of the time,"says Seamus, who can usually be found behind the wheel of a truck himself.
Phibbstrans has built up a large and loyal client-base over the years. Loxam Access, Henley Forklift Group, McHale Plant Sales and Jim Macadam Equipment are among the company's regular customers.
Based in Greenogue Business Park, Rathcoole, Loxam Access specialise in the rental of access equipment such as booms, scissor platform, van and truck mounted platforms. Henley Forklift Group, which operates out of the Killeen Road in Ballyfermot, is a wholly Irish-owned forklift company that has been at the forefront of the materials handling industry in Ireland for over 40 years. With depots in Greenogue Business Park and Birdhill, Co. Tipperary, McHale Plant Sales supplies and services new and used construction and agricultural plant and equipment. McHale is the national distributor for Ireland of several leading brands, including Komatsu, Metso, Merlo and Zetor.
Another Dublin-based firm, Jim Macadam Equipment is one of the largest importers / exporters of construction and quarry equipment in the country, supplying new and used tracked excavators, mini excavators, wheeled excavators, wheel loaders, backhoe loaders, skid steer loaders, telescopic forklifts, dozers and dumpers. The company is CASE, AUSA and Messersi distributor for the Republic of Ireland and is Manitou construction dealer for 13 countries.
"About 60 per cent of our work involves moving cherry pickers. But we're equipped to carry any size or shape of machine. No job is too big or too small. We treat all of our customers the same, regardless of their size, and are very appreciative of the business they give us,"adds the affable haulier.
Seamus'passion for trucks was instilled in him by his late father Mick, who drove for Roadstone in Ringsend for many years. Shortly after setting up Phibbstrans, he began working for Loxam Access. Henley Forklift Group then came on board, followed by McHale Plant Sales and Jim Macadam Equipment.
Phibbstrans'services were in high demand during the recession due to the large volume of heavy plant and machinery being exported at the time. The company has continued to grow, with most of its work being concentrated in the Dublin and Cork areas.
"There has been a big pick-up in Dublin and Cork, and a small pick-up in Galway. But the recovery in the construction sector has been much slower in the rest of the country,"he notes.
In summary, Phibbstrans provides quality services to any customer, no matter how big or small, and is dedicated to working with them to implement a solution that meets their requirements.
Phibbstrans (Hemps Haulage Ltd)
Hempstown, Blessington, Co. Wicklow.
Telephone: +353 (45) 891320
Mobile: 087 2584830
Email: [email protected]
Taken from Irish Trucker & Light Commercials magazine, August 2017, Vol 20 No 5