Lose the L plates with Advance Driver Training
27/11/2017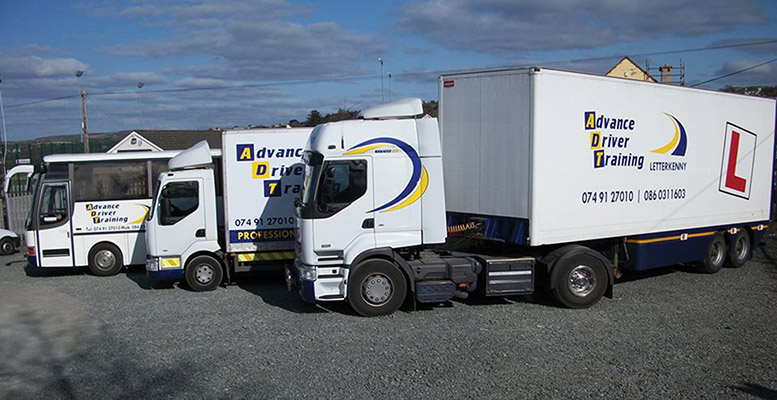 Advance Driver Training is one of the Northwest's leading schools of motoring, located outside Letterkenny, Co Donegal on the banks of the Swilly.
The McMenamin family has been an ever present on the Letterkenny local business landscape for the past 25 years as proprietors of McMenamin Commercials.
Specialists in the sale and repair of trucks, trailers & commercial vehicles, in addition to repairs on all makes and models of vehicles, they have successfully built up a loyal customer base since 1992.
10 years ago they added another string to their bow when setting up Advance Driver Training.
Drivers wishing to become a professional truck or bus driver must complete a range of theory and practical tests to obtain their professional driving license.
Advance Driver Training can help you become a professional truck or bus driver by offering you support and training at every step of the process.
Brothers Shay, Odhran, Fiachra and Senan McMenamin and Advance Driver Training are approved by the Road Safety Authority (RSA) to deliver a range of training programmes.
"Because of our own background we saw a niche in the market after another local company had finished up trading,"explained Shay McMenamin to Irish Trucker when asked to elaborate on how Advance Driver Training came into being.
"Basically, we take somebody who is a complete novice right through to the driving test. We give them hands-on experience of driving lorries, rigids and artics and assist them in preparing for the theory test and CPC exams."
With two full-time employees and a part-timer also on the payroll, the McMenamin brothers only use Renault trucks and they offer the following training for truck and bus drivers: Rigid (C), Articulated Lorry (CE) and Bus & Minibus (D/D1).
They also offer the complete package for car and trailer courses nationwide and expert tuition in the driver CPC.
"We're busy at the moment thank God. There are plenty of people looking to get trained up. We've seen an increase in the number of people looking to get trailer licenses for example, particularly from people who come from farming backgrounds."
On the McMenamin Commercials end of things, their main business is the supply and service of new and used Renault Trucks and vans. From a repairs point of view, they have a vast amount of diagnostic machines to cater for all manufacturers and highly trained technicians who are experts in vehicle diagnostics and electric systems.
In addition, they offer a truck rental, leasing and contract hire service as well as a towing service all over the North West of Ireland.
As a consequence, the McMenamin brothers possess a unique selling point when it comes to convincing wannabe truck drivers why they should trust Advance Driver Training to guide them through the learning process. That is their combined wealth of knowledge and experience and access to potential employers.
"When our clients successfully complete the training process and get their licence we provide them with a run where they gain practical experience of what the work is like. We give them the opportunity of working a fully loaded trailer on national and minor roads which is always a good experience for them.
"We've a good knowledge of the industry and we've established a lot of good contacts down through the year. Companies come to us to to see if we can recommend anyone when they are looking to recruit drivers.
"The fact that we have that bit of experience and are still driving ourselves is a big bonus. From our own experience, we can educate drivers about what we've come across and that helps. We don't just guide them through passing the test, we explain to them what way a company wants their drivers to appear. Transport companies want to know that once they send you out on a lorry –the load and lorry will come back in one piece!"
It's no wonder then to learn that Advance Driver Training's customers come from all over Donegal as well as parts of Derry and Tyrone to avail of their services. What advice would Shay have for any reader who may be considering going down the route of becoming a professional truck driver?
"You need to be made out for it. In the recent climate some people took it on to tide them over when jobs were in short supply and perhaps weren't suited to to. But, if it's something you are interested in, then yes go do it. There is a shortage of drivers out there at the moment but, that being said, it's not a profession for everybody because it can be a lonely existence.
"If you have your heart set on becoming a professional driver and believe it's an occupation that will suit you then definitely go for it. In the past companies tended to go for experience over youth but, nowadays, they are looking to recruit younger drivers because of the current shortage."
If you want to tap into Advance Driver Training's unrivalled expertise, give Shay and the team a call at the numbers above.

Advance Driver Training
Bonagee, Letterkenny, Co. Donegal
Tel: 074 9127010
Mob: 086 0311603
Email: [email protected]
Website: www.mcmenamincommercials.town.ie
Taken from Irish Trucker & Light Commercials magazine, August 2017, Vol 20 No 5