Swords Express does it again!
22/11/2017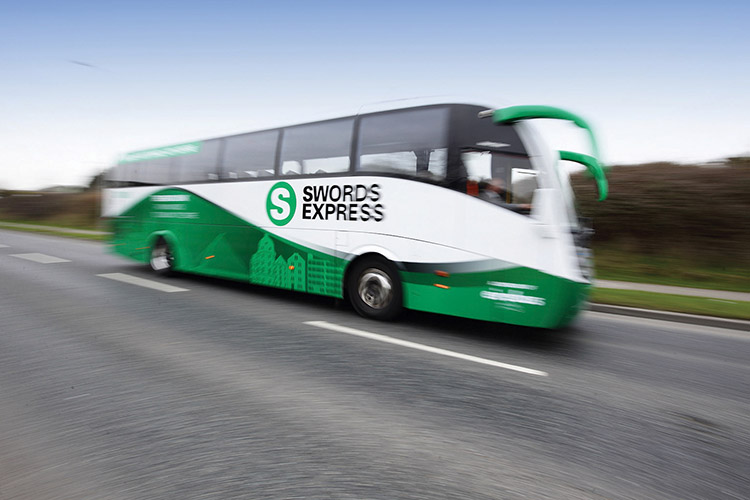 Swords Express celebrated 10 years on the road in style by scooping the title of 'Passenger Transport Company of the Year' for the fourth time in five years at the recent Irish Logistics & Transport Awards.
The glittering awards ceremony took place in the Clayton Hotel Burlington Road, Dublin on March 30 last where the cream of Ireland's transport and logistics sector were honoured in front of an audience of 450 senior executives. Hosted by comedian Colm O'Regan, 23 prestigious trophies were presented on the night and the Swords Express team were understandably thrilled to be back on the winners'podium in 2017.
"We were delighted to win the award and would like to sincerely thank all of our staff and, of course, our loyal customers, for helping us to win for the fourth time. It is great recognition for us,"says Marketing Director, Sinead Kavanagh.
"We previously won the award in 2013, '14 and '15 and it means a lot to win it again in 2017 because we're celebrating 10 years in business. The award reflects our continued commitment to customer service and quality.
Established in 2007, Swords Express is owned and operated by Eirebus Limited. Headed up by Paddy Kavanagh, Managing Director, Eirebus has been in business since 1971 and is one of Dublin's leading coach operators. Eirebus is a family owned business and, together with Paddy, Sinéad and her husband Jeff Clarke (Transport Manager) are the directors of the company. Eirebus operates a fleet of 50 deluxe coaches ranging from 16 to 53 seats and offers private coach hire, destination management and scheduled services. It is a member of the Irish Tour Operators'Association (ITOA), the Coach Tourism Transport Council (CTTC) and Dublin Convention Bureau (DCB) and is an ISO 9001 2015 quality approved company.
Swords Express continues to go strength from strength and it now operates 130 daily departures on weekdays and a further 75 at weekends. As the Fingal region continues to grow, it successfully provides well managed, efficient transport options to Swords commuters and is committed to meeting demand through the delivery of a keenly priced, rapid coach link to Dublin City Centre.
"We have added three new routes in River Valley, Miller's Glen and Montgorry Way to our existing Swords routes in the past year. We have increased departure frequency with new departure times between 6am and 11.30pm on weekdays. We also provide a late night service from the city centre on Thursday, Friday and Saturday nights which run as late as 1.30am,"Sinead explains.
"In addition, we have rebranded our coaches with a new livery and have expanded our range of scheduled services with the launch of our Fingal Express service in April 2016. This service provides regular routes from Skerries, Rush and Lusk to the city centre, and has been very well received by commuters in those areas."
Faster journey times on both the Swords Express and Fingal Express services are achieved by using the Port Tunnel and by operating coaches with no standees. The award-winning company operates a fleet of 30 fully seated, air conditioned deluxe coaches, all of which are equipped with complimentary Wi-Fi and reclining seats. The fleet is a mixture of Scania, Van Hool and wheelchair accessible Scania Caetano Levantes ranging in size from 53 to 64 seats.
Additionally, all coaches have been retrofitted with fuel usage monitoring and driver profiling equipment to ensure a minimum fuel burn and a reduced carbon footprint. Real-time vehicle tracking is offered for passenger convenience and the fleet is maintained by an expert team of technicians to ensure maximum performance and efficiency.
"We have provided our customers with a fast, comfortable transport option in Swords and we've built up a very loyal customer-base over the past 10 years. We would once again like to thank our customers for their continued support,"Sinead concludes.
Swords Express
Ballycoolin,
Blanchardstown, Dublin 15.
Phone: +353 (1) 529 2277
Email: [email protected]
Taken from Irish Trucker & Light Commercials magazine, August 2017, Vol 20 No 5