44 striking new arrivals at Wincanton Distribution
17/11/2017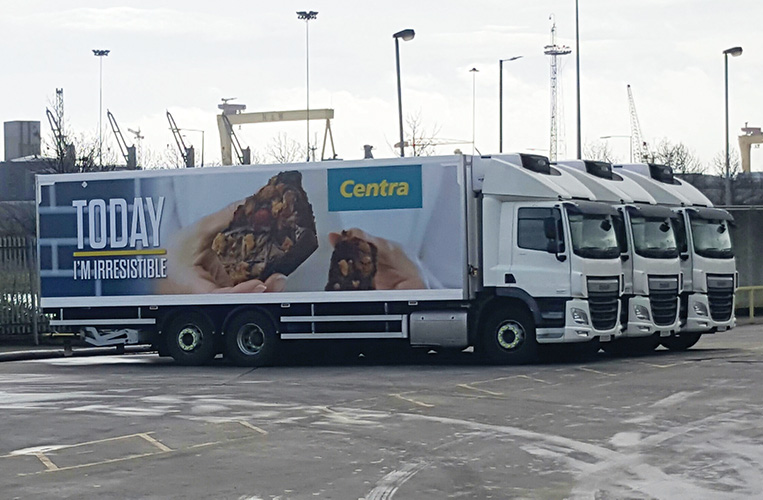 In what constitutes a massive overhaul by any standards, Wincanton Distribution has –in conjunction with client Musgraves –taken delivery of 44 brand-new DAFs. It's all part of a complete fleet upgrade which will also see new trailers added during the current calendar year. We dropped into their Belfast depot and touched base with transport manager Glenn Baxter to find out more.
There's a whole fleet of shiny new vehicles in Wincanton Distribution's Dargan Drive depot in Belfast these days and the place is positively abuzz. Wincanton / Musgraves took possession of no fewer than 44 new DAFs from TBF Thompson in recent months and the vehicles were put straight to use serving Wincanton's six-county contract with Ireland's leading grocery retail and wholesale company.
Transport manager for Wincanton Distribution Northern Ireland, Glenn Baxter reveals: "The fleet upgrade took place between November, 2016 and March. It's a major renewal programme - we got an entire brand-new fleet of DAFs –20 tractor units and 24 rigids. The rigids are all dual temperature and four of them are 18 tonne while the other 20 are 26 tonne. We need some of the smaller vehicles for ease of access to the convenience stores –the shorter wheel base helps us achieve this."
To replace practically the entire fleet of trucks is a dramatic move –why DAF? "Ourselves and our customer, Musgraves, went into the tendering process to see what the options were and in the end we went for DAF. As Musgraves run DAFs down south and they have years of experience with them, it made sense to go with them and have the one fleet operating in their entire business across the board."
The fleet at Wincanton Distribution's Belfast depot comprises 46 trucks in total as well as 32 trailers. "We're also in the process of buying a new trailer fleet this year, with Musgraves'help,"Glenn confirms. "Musgrave is our main customer here and we deliver to their Super Valu, Mace and Centra stores all over the six counties.
"In that network, we service 275 shops weekly, which equates to 1,000 tracked deliveries per week. There are 13,500 roll cages delivered per week on a normal week –and you could double that for a busy period like Christmas."
From a logistics point of view, how difficult is it to keep everything running smoothly and on time? "We coordinate with our planning team to ensure that deliveries are made on time and to the very highest standard. Getting the goods to their destination on time is a major priority, as is safety. We could have 50 vehicles leaving the site every day to deliver to these stores so a lot of planning is required.
"Health & Safety and compliance are as much a priority as getting the goods delivered on time. We are fully compliant with all driver regulations, rules and standards set out by all the relevant bodies and authorities and are at the forefront of the drive for safety and compliance in the transport industry."
With more than 200 locations across the UK and Ireland, Wincanton is the largest British logistics firm, providing supply chain consultancy and solutions to some of the world's most renowned brands. They employ approximately 17,500 people across their many sites and operate a 3,400-strong fleet of vehicles.
As a trusted and respected business partner, Wincanton design and implement services that range from setting up and operating distribution networks through to bonded warehouses, technology hosting, container transport and storage, striving for and achieving operational excellence in everything they do.
Having started life delivering milk in 1925, they have over the past 90+ years entered a host of new industry sectors, venturing into new geographies, broadening their services and using technology to manage the increasing pace and complexity of the supply chain.
With in-depth sector knowledge and insight, Wincanton cover a wide range of markets including retail, consumer goods, food and drink, construction, dairy, defence, industrial, fuels and energy.
Today, they are focusing on their roots in the UK and Ireland and are concentrating on what they do best - delivering market-leading logistics solutions.
Their aim is to bring fresh thinking to the supply chain, responding intelligently to business change and developing agile, flexible logistics solutions that deliver to exact customer needs.
Glenn Baxter had been transport manager for a year and has worked with Wincanton in a variety of capacities for 18 years so far, including transport supervisor in the Larne depot and a spell in the Health & Safety department. Wincanton currently run four depots in Northern Ireland –Belfast, Lisburn, Larne and Derry –generating employment for close to 470 people.
While the Belfast depot fulfils the Musgraves contract, Larne looks after Asda, Derry is contracted to Seagate and the Lisburn operation oversees a contract with Coca-Cola, handling both finished product and raw materials.
Regarding day-to-day activities at the Dargan Drive –Musgraves hub in Belfast, Glenn continues: "Everything is brought in and distributed from here. Most of the produce is locally sourced and we pick it using voice technology throughout the warehouse, for delivery within 12-15 hours, starting daily at 3am."
With so much money having been invested in the new fleet of DAF trucks and brand-new trailers also on the way, these are exciting and progressive times for Wincanton Distribution. "The business is there and we need a perfect fleet to meet our customers'delivery deadlines. It's a huge commitment from our customer, Musgraves, to invest in this fleet, and we are looking forward to working together with them for a long time,"the affable transport manager concludes.
Wincanton Distribution,
1-19 Dargan Drive,
Belfast,
County Antrim,
BT3 9JG.
Tel: 028 9078 7333
Taken from Irish Trucker & Light Commercials magazine, June/July 2017, Vol 20 No 4