Experts in international transport
17/11/2017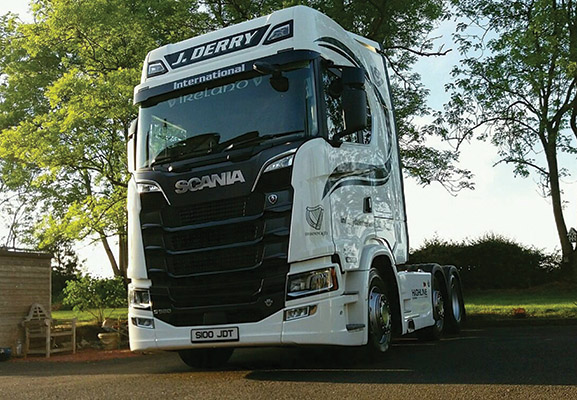 JDT International Transport provides transportation and general haulage throughout Ireland, the UK and Europe. Company owner John Derry told Irish Trucker all about the Armagh-based venture.
These are heady times for JDT International Transport and business owner John Derry wouldn't have it any other way.
Set-up by John himself in 2008, the company has grown stronger with each passing year and will be celebrating a decade in existence next year much to the owner's delight.
The beginning of 2017 saw the Armagh man adding a new Scania R580 to his truck fleet and while the first months of the New Year were slow things have taken a much better turn recently and he's quite optimistic heading into this summer.
Immersed in the haulage industry all of his working life, JDT International Transport's founder took time from an increasingly busy schedule to explain all about the business which he has proudly grown from the ground up.
"We're in Portadown, Co Armagh and the business is established since 2008,"John explained.
"We've eight staff and I suppose you could say that I'm currently the boss of a sole trader company that does general haulage.
"Our work tends to bring us all over Europe, whether it be over to the UK or for refrigeration work over in Italy. We're willing to go the distances."
The origins of JDT International Transport date back to a time when John first started out in the haulage game.
Back then he worked for his uncle Jim as a youngster at Derry Brothers –a company which he still operates today –and it wasn't long before John too was bitten by the bug.
Since then, he has started his own international transport firm, which has eight full-time staff and a fleet of seven trucks.
"I was always interested in trucks and I started working with my uncle from a young enough age,"he revealed.
"I bought my first truck, which was a small rigid truck, in 2001 and just started working away from there. Then in 2008 I bought a Scania and over the next three years I was really only operating with it until I bought two more in 2011.
"Right now, we have seven in our fleet –four Volvos and three Scania –but I find that the re-sale value on Scanias is better and I'll be buying them from now on. By the end of 2018 I'll hope to have progressed the fleet up to 10 trucks."
John makes no secret of his admiration of the Scania brand, having recently added another one to his fleet just two months into the New Year.
"They are a great truck,"he said. "I bought a new R580 Scania in February and I'm very happy with how it has been going got me so far, so I'd say I'm going to stick with them going forward."
Buying new trucks wasn't as easy for John when he first started out in 2008. Back then, the country was heading right into a stinging recession and the banks weren't all that obliging to customers looking for loans.
John bided his time and over the last nine years he has grown a six-truck fleet which is second to none for its size, and he's proud of what he has.
Having started a company in the middle of an economic down –and come through it with flying colours –you can't really blame him.
"From 2008 on things were definitely tough business-wise,"John pointed out.
"The UK market kept me going, to be honest, and we just had to work harder and struggle through it here. Thankfully we have.
"It's only since May last year that we've been able to bring our staff numbers up to eight again and we'll be hoping that times get busy enough again where we'll have to expand on that number."
John candidly revealed that the early part of 2017 had showed worrying signs again business-wise, but says that order has since been restored and is looking forward to another profitable year.
"January and February did take a bit of a lull,"he said, "but thank God business is good at the moment. Hopefully, we'll be adding to the fleet again at the end of the year and it will certainly be a Scania truck if we decide to do so."
In the space of nine short years, the company has amassed some loyal clientele and John feels much of that comes down to the excellent service that JDT International Transport provides.
He also hailed the contribution of his staff, in particular his drivers, for the outstanding work they've done since the inception of the business to make sure that it remains the first choice for all its clients'transport needs.
Now close to crossing the halfway point of 2017, John feels that expanding the company further is a real probability down the line should business keep on thriving the way it has been.
"Like I said, we're hoping to add one more truck to the fleet at the end of the year, which will be a Scania –all going well,"John stated.
"I'll have to take on more drivers too and that's a good complaint to have. We'll do what we have to do to keep going as we are."
That's good to hear and we're sure to hear plenty of good things about JDT International Transport in the coming months and years.
JDT International Transport
19 Teagy Rd,
Portadown,
Co Armagh
Tel: +44 7776 163997
E-mail: [email protected]
Taken from Irish Trucker & Light Commercials magazine, June/July 2017, Vol 20 No 4