A professional and reliable transport company
16/11/2017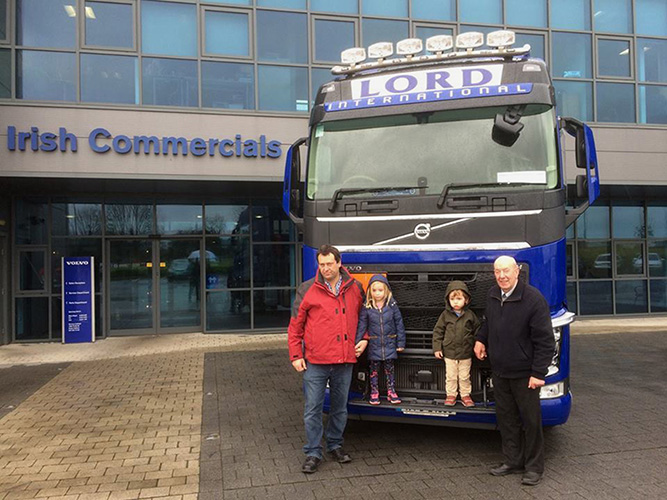 Irish Trucker caught up with Barry Lord of Lord International Transport who recently added two new Volvos to their impressive fleet. Their core business is dry freight and refrigerated work.
Lord International Transport of Lusk, Co Dublin is a family owned and operated business. Established in the seventies by Eamonn Lord, the company has grown from strength to strength and has become a well-known name in the industry.
The Lord family transport goods and materials for a wide range of clients across different sectors to and from Ireland, the UK and Europe. They have a can-do attitude and take pleasure in assisting and finding the best solutions that their clients deserve.
They are able to provide efficient and cost effective transport services to all of their clients. They operate 7 days a week, 365 days a year and, sometimes, at 24 hours notice for their clients.
The team at Lord Transport combines a wealth of experience with quality and reliability which adds up to an unequalled haulage service all at the most competitive rates.
The business started in the seventies by Eamonn Lord and is now run by him and his son Barry. They have successfully maintained the ethics and good customer service for which the company has become known and respected over the years.
The business started transporting livestock but over time they changed tact to supply a range of services which enabled them to offer better services to their customers.
Customer demand and new opportunities encouraged them to diversify and, today, they are a respected player in the Irish transport business across a range of sectors.
"We specialise in a mixture of dry freight and fridge work and our drivers are all ADR and DPD trained, "explained Barry Lord who joined his father in the family business back in 1986.
"My father started off in the seventies, transporting livestock, before purchasing his first rigid in 1978. He started out doing groupage for B&I before adding his first tractor unit in 1984 and starting continental work pulling for B&I and EuroHaul."
At Lord Transport they pride themselves in providing their customers with excellent service and they go out of their way to meet their needs. Current clients include the likes of DSV, Rhenus Logistics, Roadtrain and Lucey Transport, to name but a few.
Employing six full-time as well as a couple of part-time drivers, the Dublin-based company operate a modern fleet of six trucks and associated trailers which enables them to transport most materials as and when required.
"We have four Ivecos and recently purchased two new Volvos. We took possession of them in early March and it have very much been a case of so far so good. There's one in Sweden at the moment!"
Volvo are renowned for building trucks knowing that the single, most important component is the one behind the wheel. Product quality is the efficiency, safety and comfort that drivers experience in their cabs, and builds on their long history of developing innovative, reliable engineering features.
"I suppose we wanted to get into a better league of lorry,"answered Barry when asked why they went down the Volvo route, "and driver satisfaction is high with a Volvo."
The current tradition conditions are challenging, to say the least, but Barry is optimistic that things will pick up considerably in the not too distant future. To that end, they have taken on an additional two drivers in recent times on top of upgrading their fleet.
Eamonn, Barry & Co are determined to ensure that they will be well positioned to capitalise on an expected increase in enquiries to their office.
"Business is not as busy as it was but we are kept ticking a long. We're hoping that things will improve in the future."
This family-owned business is built around service and reliability, giving customers the confidence they're looking for in a transport partner.
The same friendly, hardworking and customer orientated ethos that was installed from day one, applies today. With a great deal of continental experience, they continually enjoy repeat business from customers.
Contact Barry at the telephone number below to find out more.
Lord Transport Ltd.
Lusk
Co. Dublin
Mob: +086 8541317
Fax: +353 18437304
Email: [email protected]
Taken from Irish Trucker & Light Commercials magazine, June/July 2017, Vol 20 No 4