Superior crane installations
08/11/2017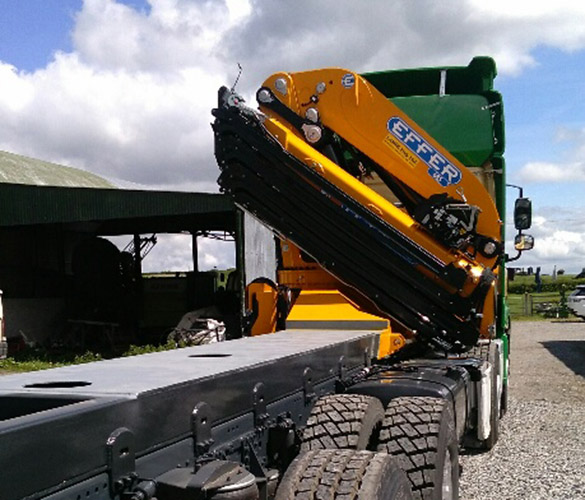 With agencies for Effer and Maxilift, Lambe Engineering & Crane Services Ltd. is Ireland's premier supplier of state-of-the-art truck-mounted cranes. We travelled to Blueball outside Tullamore and caught up with director Brendan Lambe to find out more about the exceptional range of specialist products and services provided by this outstanding family business.
Operating from Roscore near Blueball in County Offaly, Lambe Engineering & Crane Services Ltd. are renowned market leaders when it comes to cranes, offering professional sales, installation, servicing, repairs and parts services for a comprehensive range of truck-mounted cranes from the small, versatile Maxilift five-metre ant crane right up to the magnificent 220-metre Effer.
As main dealers for market-leading Effer and Maxilift truck-mounted and marine cranes, boasting over 30 years'experience in engineering and hydraulics. Lambe Engineering & Crane Services can also certify cranes for the HSA forms GA1 as well as providing an excellent nationwide backup service on all their products.
As a family-run operation, Lambe Engineering & Crane Services provide a level of aftersales service and a personal touch that is second to none, ensuring that every customer is a happy one and guaranteeing a steady flow of repeat custom and new business through positive referrals.
The company was established by brothers James and Brendan Lambe in February, 2005. As well as specialising in the sourcing and installation of truck-mounted cranes, they are also NSAI-approved vehicle body builders, / installers with a veritable wealth of experience in both the hydraulics and electronics of cranes accumulated since the late 1970s.
Quality permeates everything Lambe Engineering & Crane Services do, from the service provided to the market-leading agencies represented. "We pride ourselves on providing excellent crane installations to trucks, compared to any of our competitors. This includes speaking to our customers and truck suppliers to
make sure everything is clear before the installation begins,"Brendan confirms. "Effer and Maxilift are known as the best truck-mounted cranes that money can buy and we are delighted to offer our customers the No.1 products.
"Effer cranes have a new stabilisation system, which enables drivers to have full stability whilst operating the cranes. We are nearing completion of our first installation of this V-Stab system for Murphy Transport in Cork, complete with flyjib and winch and Effer's unique wind and drive system even through the jib, which saves time and money (no dismantling of pulleys etc., just fold up and drive away!).
"It gives excellent stability while the crane is working over the cab of the truck, something which couldn't be achieved before. It also allows drivers to unfold cranes and work in tight, confined spaces like piers or ports."
Delivering maximum stability for superior performance in tight spaces, Effer's new V-Stab stabilisation system increases both working area and stability in front of the cabin, combining the features of a traditional subframe with the CroSStab, the well-known Effer solution, to guarantee optimal 360°stability without specific operations on the truck frame.
The new V-Stab offers a number of important benefits to the operator, including a 35% wider working area, a significant increase in load capacity compared to traditional stabiliser systems (and a four-fold increase in lifting weight capacity at the front of the truck!) and maximum performance in a working area that has been increased by 15 metres.
As a company, Effer's main goal for more than half a century has been to create high-quality products in order to provide maximum value to lifting experts all over the world. Through expertise, passion and reliability, the world-leading Italian crane manufacturer achieves the most extreme performance and satisfies the most demanding needs.
"They have been making big truck cranes for longer than anybody else and they pride themselves on their unique and innovative CroSStab and V'Stab systems. Their motto is 'Power of Performance'and Effer has achieved something almost impossible, combining the lightness of their cranes with unique performance power. The structure of Effer cranes is superior to our competitors as the booms are welded inside and out by means of robots, so as to avoid any structural cracks and ensure a long life to the cranes."
Fronted by highly-skilled and fully-trained experts in all aspects of cranes (having completed both Effer and Copma / Pesci training courses), Lambe Engineering & Crane Services Ltd. is the No.1 authority on truck-mounted cranes on the island, with customers from Cork to Derry and Dublin to Galway.
"We are a small company who deal personally with all our customers and we make sure that everybody is 100% happy with all of our installations. We deliver a solution that is to their exact requirements and specifications and are willing to give advice on what the optimal solution might be,"Brendan notes.
"As main agent for Maxilift, we can also provide the smallest fully-hydraulic crane on the market, which can be fitted on a small van. Known as the Ant Crane because it can lift much more than its own weight, this economical monoboom crane is extremely popular with a range of customers, including local authorities, etc."
Light but efficiently performing, hi-tech, safe and user-friendly, Maxilift is the ideal solution for installation on light and ultra-light vehicles (vans, pick-ups, trailers), but it also fulfils the needs of several other fields including forestry, marine, gardening, construction and agriculture.
The Maxilift range goes from the .50 ant crane to their full range of Maxilift mono boom cranes supplied with their own power packs or to operate with PTO from the truck. These can be viewed on www.maxiliftcrane.com. The Maxilift Ant Crane grants excellent performance, reliability and technologically-advanced solutions. Its weighs just 95 kg but can lift up to 500 kg. Easy to assemble and remove, it doesn't need P.T.O. and also works without a battery.
There's a lot more to Lambe Engineering & Crane Services Ltd. than the two high-profile agencies. "We're also approved by the Health & Safety authority to carry out crane testing and certification and have been doing that for a long time,"Brendan confirms. "We know what to look for and what the potential dangers to operators can be."
They can also provide a vast range of crane attachments, including pumps and rotators, clamshell buckets, timber grabs etc. from their supplier ICM (International Construction Machinery), based in Italy. A service offering changing an existing manual crane to a radio remote control system is also offered.
Going forward, the County Offaly headquartered company is in a strong position, providing complete nationwide coverage from its midland base. "Obviously, everyone felt the effects of the downturn but we're hoping now that things are starting to build back up again and the signs are encouraging. We're in the process of building a new state-of-the-art workshop, which we'll move into this summer, and we're confident about the future.
"We're a small, hands-on operation, with four staff, and we pride ourselves on looking after our customers and keeping them happy. Our focus is very much on quality over volume. What we sell, we service and we strive to be as strong as possible in all areas –sales, service, repairs and parts for our cranes.
"The cranes we have are No.1 in the market,"Brendan concludes. "The power-to-weight ratio of our cranes is excellent and that's vital to hauliers, with payload being such an important consideration. Effer is the king of the big truck-mounted crane and the cosmetic finish on them is very, very good, while Maxilift are the best in the business for smaller vans which can be installed onto a van or trailer."
Between both, Lambe Engineering & Crane Services have something for everybody who needs a truck-mounted crane.
Lambe Engineering & Crane Services Ltd.,
Roscore,
Blueball,
Tullamore,
County Offaly.
Mobile: 086 8511900 / 8983375
Email: [email protected]
Facebook: www.facebook.com/lambeengineering
Taken from Irish Trucker & Light Commercials magazine, June/July 2017, Vol 20 No 4