Tim Keogh Transport offer an experienced service
25/10/2017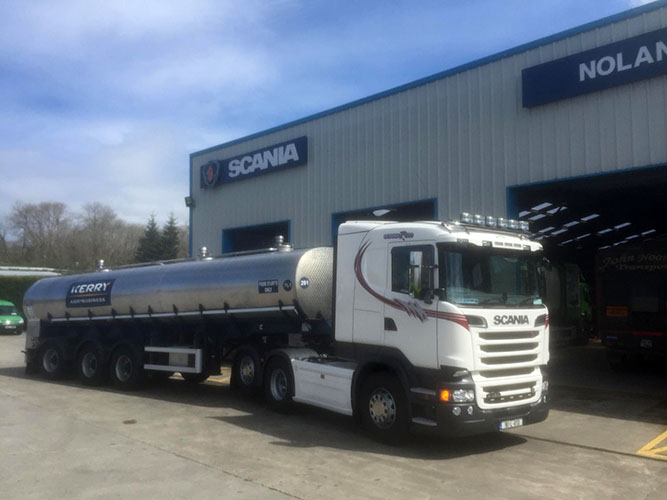 The haulage industry has gone through a turbulent time over the last few years, but certainly in the last eighteen months or so, there has been a huge improvement across the board.
The haulage industry is arguably the most competitive business to be involved as margins between success and failure are a very fine line.
There are so many issues to deal with on a daily basis that anyone outside and never involved in the industry would beg to ask the question why bother?
But for those that are involved, the majority possess a common trait which is that it is in their blood and Tim Keogh of Tim Keogh Transport Ltd is no different in that respect.
Based in Newcastle West, Co Limerick, Tim has been operating his own business for the past 12 years and for this month's edition of Irish Trucker he tells us about the services that he provides, while giving his thoughts on the industry as a whole.
"I worked for a haulage company in Dublin before I decided to go out on my own. I have five waste lorries on the road as well as a milk truck. We have a few customers in the waste end of the business including Barna Waste and K.W.D, while the milk run is carried out for the Kerry Group,"said Tim.
"We would haul bulk waste for these companies from one depot to another and would be operating throughout the 26 counties. The milk run would be a lot more local and we draw from farmyards to Co-Ops in Ennis and Sixmilebridge."
Tim has a fleet of Scania, Volvo and Mercedes trucks at his disposal all of which is maintained to the highest standard possible.
To operate such an extensive fleet, Tim needs an experienced and loyal work force and he admits that they are fortunate on this front.
"All of our drivers would have the necessary licences to haul bulk transport. They are very experienced and some of them are here years. They have all done the compulsory CPC course as well. We are lucky to have a very experienced work force and they are all very good at the jobs they do and they are reliable, which is essential in this industry.
Tim revealed that he has been working with the majority of his customers since he first set up the business over a decade ago.
"A lot of the customers would be giving us their business for many years now and we're grateful for that. It is up to us to ensure that they maintain happy with that service and try to improve on it if we can."
Recently, Tim added a Scania Tag axle to his fleet and he revealed that this has made a huge difference for the milk run.
"The tag axle allows us to be more manoeuvrable, which is ideal for us in farm yards. We have a wide variety of trailers, but we use the tag axle for the milk as the Kerry Group requested that we get one."
Tim prides himself in keeping the fleet well maintained in order to avoid any unnecessary downtime, the scourge of the haulage industry.
"It is essential to keep the trucks in pristine condition, although that can be difficult on some of the back roads that we would be using. Nonetheless, Croome Park Trailers and Casey Trailers from Naas would look after our maintenance."
Tim is hoping that the abolishing of the milk quota could have a knock on effect for him and add to his workload. "It's possible that it will help us. Farmers will be producing more milk now and that means there will be more demand on milk."
Through his many years'experience in the industry, Tim has learned valuable lessons along the way, which he puts into practice today.
"We've always tried to keep the overheads down and we've managed to grow every year. As I said, we are fortunate with the customer base that we have. We are there to provide them with the best service possible and once we continue to do that then we should be ok.
"There are many overheads to contend with and tax is the biggest issue at the moment. The fuel rebate has helped a little, but every decision with regards the business has to be taken with the utmost care.
"We are there for the customer and anything they need done, we will do it to the best of our abilities. We have always prided ourselves on getting the job done on time. When you are working with the likes of milk there are time constraints in place and you have to get the job done on time.
"We have been through a recession and I feel we have come out stronger since then. Fortunately, we have managed to keep the overheads down and that has made a huge difference when in the midst of a recession. You cannot take any decision lightly, but at the same time, we are looking forward to the future and hopefully further expansion if the work is there.
"I would also like to thank all our customers for their continued support over the years. I'm very fortunate to be working alongside such reputable businesses and hope to continue to do so for many years to come."
Tim Keogh Transport Ltd
Bridgeview,
Barna,
Newcastle West,
Co. Limerick
Taken from Irish Trucker & Light Commercials magazine, June/July 2017, Vol 20 No 4