Driving for Gold
24/10/2017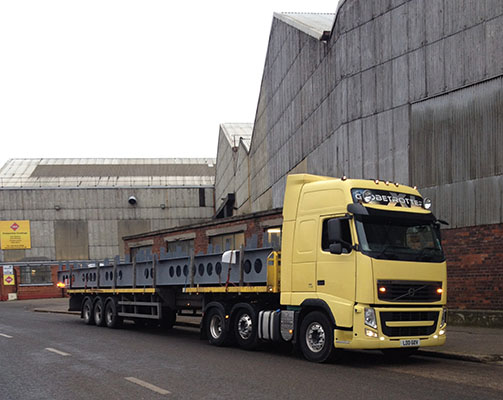 The Fleet Operator Recognition Scheme (FORS) is a voluntary accreditation scheme that promotes best practice for commercial vehicle operators.
With over 4,500 members, FORS is gaining recognition as the transport industry's go-to accreditation scheme. FORS encompasses all aspects of safety, efficiency, and environmental protection by encouraging and training fleet operators to measure, monitor and improve performance.
FORS provides accreditation pathways for operators of any type, and for those organisations that award contracts and specify transport requirements.
FORS Bronze, Silver and Gold membership provides progressive accreditation enabling operators to achieve exemplary levels of best practice. FORS members stand out from the crowd, work to standards above the legal minimum and have access to a wide range of exclusive benefits that provide a real competitive advantage.
The scheme offers accreditation that drives best practice across the European fleet industry in terms of safety, efficiency and environmental protection. It also offers guidance and training to help operators attain the Standard.
For this month's edition of Irish Trucker, we profile FORS member Donaldson Haulage and speak to company managing director David Donaldson about why he thinks being involved in such a scheme has helped enhance his business.
First, we'll take a quick look at the history of the company which was initially established in 1978 by David's father Walter, who set out as a livestock haulier.
Then in 1992, David came on board and there was more of a focus on general haulage, which the company continues to offer to this day.
"We operate a fleet of mostly Volvo trucks, while our trailers consist of low-loaders, curtainsiders and flats. We are kept busy all year round and we are fortunate to have a reliable customer base,"said David.
"We have two main customers and they would be Environmental Fabrication Ltd and Wilsons'Yard, Dromore. The majority of our work would be for these two companies, but we do other work as well."
David revealed that he has been a member of FORS for the past four years and he is delighted to have achieved bronze status in that period.
In the last four years, we have had many audits and checks done. All the paper work has to be kept in order, while they also focus on the health and safety side of the business.
"Everything has to be kept up to date, but in fairness, once you get everything in order, it is easy enough to keep on top of things and ensure everything is up to date.
"We have received our bronze status and we are hoping to progress further. We are a small business and it will take time, but certainly we have found that there are many benefits to being involved in FORS."
David added that maintaining the fleet was an essential part of the business as downtime was something that they strived to avoid at all costs.
"The maintenance would be done by a local garage. I would always place a great emphasis on this and we would upgrade the fleet every three to four years.
"The trailers are kept in good condition also and they would receive as much maintenance as the trucks as one is no good without the other."
The haulage industry has certainly improved in recent years in that overheads are not as expensive as they have been in the not so distant past.
"Definitely, it is not as expensive to run a truck as it has been in the last few years. Diesel prices have come down, while insurance and tax are better then they were.
"There are many overheads to contend with and it is very important to keep them down as much as possible. That is why we never grew too big, we are happy to run a small firm and keep the expenditure to a minimum. That is not to say that we will invest in the business when we have to. It is essential to do so in order to maintain the standards that our customers expect from us."
The company director admits that he is happy with the direction that the business is heading as they continue to meet the customers'demands on a daily basis.
"As long as our customers are happy and they keep giving us their business then we must be doing something right. A small fleet is relatively easy kept compared to a big one. We used to have a bigger fleet, but it is not easy keep them all on the road every day, but the size we are now, we find it a lot more practical and we are pleased the way things are going.
"You can't rest on your laurels in the haulage industry, so it is essential to maintain your standards and try to improve on them as much as possible. That is something that we are always conscious of."
Donaldson Haulage
Address: 49 Gowdystown Rd, Banbridge, BT32 4HH,
Phone: +44 7850 172941
Taken from Irish Trucker & Light Commercials magazine, June/July 2017, Vol 20 No 4