Safe, efficient haulage solutions
18/10/2017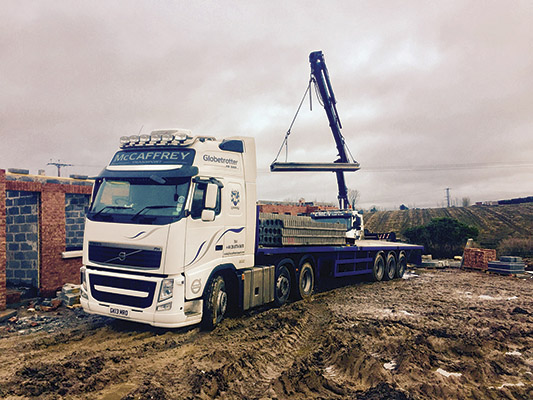 Synonymous with delivering safe and efficient freight transport solutions across Ireland, the UK and mainland Europe, McCaffrey Transport Ltd. recently bolstered their impressive fleet with the addition of four brand-new Mercedes-Benz vans. We dropped into their Coalisland, County Tyrone HQ and touched base with operations manager Owen McCaffrey to find out more about this professional and progressive family-run operation.
With over two decades of experience of national and international haulage, McCaffrey Transport possess the skills, expertise and vehicles to ensure that goods arrive at their destination –anywhere in Ireland, the UK or Europe - in good condition and on time. All services are offered at competitive rates.
Specialising in general haulage, they provide a comprehensive range of dry freight and machinery transportation services including abnormal consignments, container loads, full loads, heavy loads, part loads and wide loads. Running a modern fleet of well-maintained, refrigerated trucks equipped with dual temperature controlled compartments (all with ATP certification), McCaffrey Transport Ltd. provide unrivalled refrigerated transport solutions
All drivers are CSCS card holders and are routinely trained and updated in all prevailing safety regulations. The stunning fleet of vehicles is immaculately maintained to perform at its optimal level at all times.
In April of this year, the fleet was increased when McCaffrey Transport took delivery of their first four Mercedes-Benz vans - three Citans and a Sprinter –from Mercedes-Benz Truck & Van (NI). These were put straight into use by founder Martin McCaffrey and sons Owen, Stephen and Michael, who are employing them on a variety of tasks including urgent collections and deliveries for local customers, pick-ups of parts for trucks (which the company maintains in its own workshop) and visits to clients'premises and job sites.
The Citans are 109 CDI Long models, which incorporate a number of fuel-saving BlueEFFICIENCY measures as standard. These include the ECO start/stop function –which turns off the engine whenever the vehicle is stopped in traffic, then restarts it as soon as the driver depresses the clutch –low rolling resistance tyres, and optimised alternator and battery management systems.
The Sprinter, meanwhile, is a Short-bodied 314 CDI. As a special 'Premium Edition'version, it came with additional features including a satellite navigation system, comfort seats, chrome-effect grille and air-conditioning as part of its standard equipment. As an optional extra, McCaffrey Transport also specified the slick-shifting 7G-TRONIC PLUS seven-speed automatic transmission.
Offering outstanding fuel economy, comfort, driveability and general build quality, the four new Mercedes vans are fitting additions to the hard-working fleet of eleven trucks and 16 trailers (four fridges, four curtains and eight more between flats, step frames and low loaders).
"Because it's a family business, we use the four new vans for a combination of personal use and also in the parts and machinery end –a bit of pallets and groupage,"operations manager Owen McCaffrey reveals. "As well as distribution, the larger one is also used as a service vehicle."
Regarding the decision to opt for Mercedes-Benz, Owen continues: "Fuel economy for a start; the Citans are doing almost 50 miles to the gallon. Secondly, the dealer is well-positioned for us. As we went for the Mercedes Agility package, the servicing and maintenance depot is very convenient …plus the salesman we dealt with, Paul McClerkin, is an all-round decent guy.
"There's great comfort, too, and they drive like a Mercedes car. At the end of the day, there's a bit more prestige to them than your run-of-the-mill van."
The genesis of the excellent operation that is McCaffrey Transport Ltd. goes back more than two decades: "My father, Martin, started out on his own 20+ years ago,"Owen notes. "He started off in bulk haulage and groundworks mainly and then, when the bang happened, we moved away from construction and more towards the haulage end of things."
Today the refrigerated work is split between UK and European (predominantly Scandinavia) runs. Meat and dairy produce are transported from Northern Ireland to the UK, whilst the Scandinavian market is serviced with meat from both Northern Ireland and the Republic.
The company is flexible and versatile, with a fleet to match, and dry freight and machinery represent an equally important aspect of the overall business. In the past twelve months, the McCaffreys have been becoming increasingly involved in the aftersales market for the crushing and screening sector, moving a lot of parts back and forth between Ireland and the UK / continent.
"We work in conjunction with Symon Fox of Crusader European Logistics Ltd. through his network in the UK on the groupage and machinery end of things,"Owen states.
In total, between drivers, workshop technicians and office personnel, gainful employment is generated for a team of 20 –quite an achievement so soon after such a severe economic downturn! "We're doing okay but the haulage game is tough going,"says Owen. "Cash flow is key. You have to get the money in and keep on top of things. It's a very competitive market and rates are very tight, but we've never had any complaints about our service so we'll keep pushing onwards."
Apart from one Scania, the truck fleet at present comprises all Volvos. An upgrade is imminent: "We've ran a few demos since the start of the year and we're going to be looking at buying something new in the second half of 2017,"Owen confirms.
As a family business, McCaffrey Transport is ideally placed to provide customers with an unrivalled service, a personal touch, great attention to detail and absolute customer care at all times, always with total transparency. Martin and Michael manage the groundworks end of the business, while Owen and Stephen (transport manager) oversee the haulage side of the operation.
"Being a family business certainly helps and you won't go too far wrong when you have four people willing to do whatever it takes to get the job done,"Owen concludes. "We are working for pride in the name and it means a lot to us to maintain our good reputation. That is reflected in our level of customer care and makes a massive difference. We leave no stone unturned in making sure customers are happy."

McCaffrey Transport Ltd.,
96A Reenaderry Road,
Coalisland,
Dungannon,
County Tyrone,
BT71 4QW.
Tel: 028 8774 0670
Email: [email protected]
Taken from Irish Trucker & Light Commercials magazine, June/July 2017, Vol 20 No 4