Trust and transparency is key for Tom McGrath Transport
13/10/2017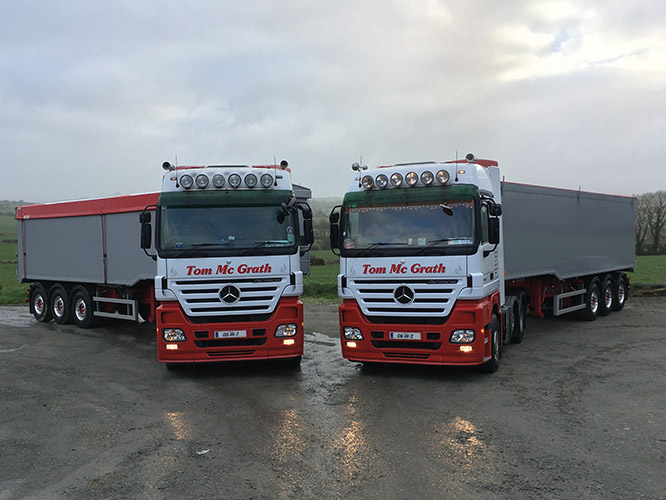 Providing bulk, liquid and refrigerated transport services to the agri-business sector, Tom McGrath Transport became one of the first TASSC-approved haulage contractors in Munster in March 2011. Also registered with the HSE and Department of Agriculture for the transportation of food grade products or any product that ends up in the food chain, the company has its sights set on obtaining ISO 9001 accreditation before the year is out.
To succeed in the transport business, Tom McGrath believes trust and transparency are vital commodities. That's why he has always insisted on doing things the right way.
His company was adhering to the TASCC code of practice for the haulage of animal feed and combinable crops long before it became a requirement. He recalls: "It was no big pain on our part to join because we were already giving that level of service. We had nothing to hide. Every job we undertake is to the highest standard."
The TASCC code of practice aims to combine food / feed safety legal requirements with recognised industry good practice and specific customer requirements to provide confidence in the food / feed chain. Tom's drivers are TASCC trained and up-to-speed with current legislation. The company can arrange collection and delivery from farms, mills, docks, ships and stores locally and throughout Ireland.
"Trust and transparency are huge with us. We have worked hard to build trust with our customers. Without trust, you are at nothing. There is a mutual respect between us and our customers. Our good name and reputation means everything to us and allows us to attract new clients. Word of mouth is the best form of advertisement."
Hailing from Glenroe near Kilmallock on the Limerick-Cork border, Tom has been driving trucks since 1977. He worked for some very reputable hauliers, including James O'Sullivan in Mallow, who now runs Mallow Commercials Test Centre, and Monaghan's Transport in Kildorrery, which gave him a good schooling and insight into how the transport industry functions. In January 2004, he set up his own business and operated as a sole trader up until recently when Tom McGrath Transport became a limited company.
"I started out doing a 'farm to factory'bulk milk collection service for Dairygold which we are still doing to this day. We collect milk from 150 suppliers in Limerick and Tipperary every second day and deliver it to the Dairygold Powder Milk & Cheese plant in Mitchelstown,"he explains.
Bulk animal feed haulage accounts for a large part of Tom's business nowadays and in this regard, he works for Brett Bros in Callan, Co. Kilkenny, McDonnell Bros in Fermoy, Co. Cork, Southern Pork Ltd and Munster Feeds in Mitchelstown to name but a few. The company also does refrigerated transport work for Kerrygold, who opened a new €38 million state-of-the-art butter production and packing facility in Mitchelstown last September.
The official opening of the aptly-named Kerrygold Park was performed by Minister for Agriculture, Food and the Marine Michael Creed TD, Minister for Jobs, Enterprise and Innovation Mary Mitchell-O'Connor TD and Aaron Ford, chairman of Kerrygold owners Ornua. The facility has the capacity to produce up to 50,000 tonnes of butter per annum and has created 75 new jobs.
"As a local haulage business, we are delighted to work for Kerrygold, which is one of Ireland's best-known brands globally. They are an excellent company to work for and we hope to grow with them in the coming years. We are very fortunate to have such good clients, and to have most of them on our doorstep is an added bonus,"Tom enthuses.
The affable haulier is full of praise for his team of drivers: "We have eight full-time drivers who are experienced and reliable lads. We have had no accidents or claims since we started 13 years ago, and that's all down to the diligence of the drivers. Their exemplary driving record is something we are very proud of and is the greatest compliment I can pay them."
Tom's modern fleet of trucks and trailers gives his clients the peace of mind that their job is in safe and capable hands. He runs six Mercedes-Benz Actros'and a further two Volvo articulated trucks as well as six refrigerated trailers, five bulk tipping trailers (including two new Wilcox which were purchased from Payne Brothers in East Anglia) and five curtain-siders for the transportation of ambient products. In addition, he runs two milk collection tankers on behalf of Dairygold.
"The Actros isn't the cheapest truck, but its quality is second to none. It's ideal for Irish road conditions and the back-up we receive from Surehaul in Clonmel is excellent. They understand the industry and that's why they're at the end of the phone 24/7. They're not a 9 to 5 operation like some of the other dealerships. McCarthy Commercials (main Volvo dealers) also provide us with a first-class service."
While his children aren't currently involved in the business, Tom acknowledges the important part they and his wife Bridie have played in its success and the support they have given him down the years. His son Tommy is currently in Australia, while twin daughters Karen and Tara are based in Scotland and Cork respectively. Karen works as an occupational therapist and Tara is studying a Masters in Social Work in UCC.
For a fast, reliable, professional, courteous, trustworthy and transparent service, be sure to give Tom McGrath Transport a call.
Tom McGrath Transport
Glenroe,
Kilmallock,
Co. Limerick.
Telephone: 086 6091010
Email: [email protected]
Taken from Irish Trucker & Light Commercials magazine, June/July 2017, Vol 20 No 4