Specialists in livestock haulage
09/10/2017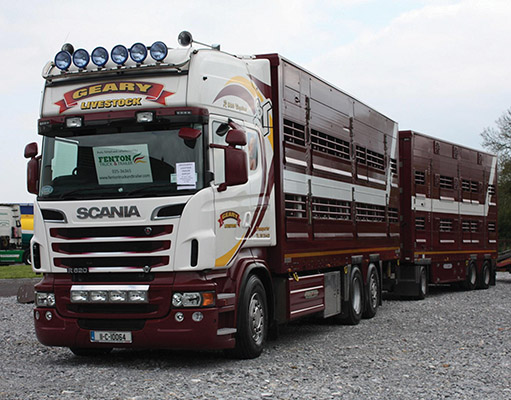 Geary Livestock Ltd in Co Cork continues leading the way in the transportation of pigs, cattle and sheep. Irish Trucker caught up with Managing Director Pat Geary recently to learn more about the company.
Business is good right now at Geary Livestock Ltd and business owner Pat Geary wouldn't have it any other way.
Based in Mitchelstown in Co Cork, the company has grown from humble beginnings into a successful outfit which specialises in transporting pigs, cattle and sheep all throughout the country.
Geary Livestock Ltd is a family-run company which established itself as a top quality transporter of the aforementioned by providing a service which is renowned as excellent amongst its clients.
The core of the business is transporting pigs from farms all throughout the Munster region to processing plants both north and south of the border.
Geary Livestock Ltd currently employs six staff at its base in the heart of the Golden Vale and, as Pat explained, recently made some new additions to its fleet.
"Right now we have seven trucks on the road which are all Scania and we recently added a 162 to the fleet. We also have two new trailers on the way,"the Managing Director outlined.
The origins of the company date back way beyond a two-and-a-half decades ago when Pat's father, Pa, started it up as a small venture.
Pat, whose wife Josie is also a director with the company, outlined that he very much followed in the footsteps of Pa Geary, who sadly passed away last October, when deciding on a career path.
"We go back a lot further than that,"he explained.
"My father had a wealth of experience in this business going back over 50 years. It was a one-lorry operation when I joined him in 1993. We bought a second lorry at that stage and the business gradually expanded after that. We bought our third lorry in 1999 and we're now running seven –six arctic trucks and one road-train truck.
"In addition, we have a number of three-deck trailers which are suitable for transporting pigs and sheep."
Geary Livestock Ltd is well-known for investing in the latest technology when it comes to the transportation of livestock, boasting a modern fleet operated by six highly-skilled drivers, including Pat's brother Roger.
The company's trucks are a familiar sight on roads all across Ireland, as they transport thousands of livestock each week.
"Business is good right now,"Pat stated. "Thankfully, the downturn didn't affect us all that much, as it didn't affect our clients, and we've been able to stay busy throughout."
Indeed Geary Livestock Ltd's has developed a strong relationship with its clients down through the years, with well-known outfits like the Rosderra Irish Meats Group, Edenderry, Co Offaly; Karro Pork, Cookstown, Co Tyrone; William Grant & Co, Co Derry; McCarron Meats, Co Cavan; Dawn Pork & Bacon, Waterford, Staunton Foods, Co Cork, Ballon Meats, Carlow and Finn Meats, Mitchelstown all among them.
The lasting relationship that the company has developed with its clients comes down to one thing in particular for Pat.
"We provide them with an excellent service,"he stated. "We have good lorries and good drivers here and all those things combined is a major part of the reason why I think they choose us first ahead of others."
Geary Livestock Ltd has completed animal welfare courses and follows all the guidelines and regulations in this regard.
The company's trailers are all Red Tractor approved and have passed Department of Agriculture inspections and have automatic ventilation and watering systems. They are cleaned thoroughly after each and every trip. Pat and his staff endeavour to make sure that each journey is as stress-free as possible for the livestock.
Up until a couple of years ago, the company used to provide an international transport service.
However, an increase in Irish cattle prices no longer made it feasible, as Pat explained.
"We used to transport calves to Holland, Italy and Spain, but the decrease in live exports at the time meant the work dried up for a while,"he outlined.
"It's something we would consider getting into again if things were to change down the line."
Now well into a new year, with two new trailers on the way, things are looking as optimistic as ever for Geary Livestock Ltd.
For Pat, he's hoping that business continues to go well for his clientele and that diesel prices stay where they're currently at.
"My hopes are that the diesel prices won't creep up any more than they've done recently and that the people I work for continue to go strong and that business keeps going well for the he said,"
He concluded: "Livestock haulage is a specialised business and it's not something you can just take up. When farmers deal with us, they can be assured of the best possible service at the most competitive price."
Geary Livestock Ltd purchases its Scania trucks from A. O'C Commercials in Carrigtwohill, Co Cork, while their trailers come from Fenton Truck & Trailer Ltd in Fermoy.
Geary Livestock Ltd
Kilglass,
Mitchelstown,
Co Cork
Tel: 025 84054
Taken from Irish Trucker & Light Commercials magazine, June/July 2017, Vol 20 No 4