33 years and counting for De Brun Iasc Teoranta
05/10/2017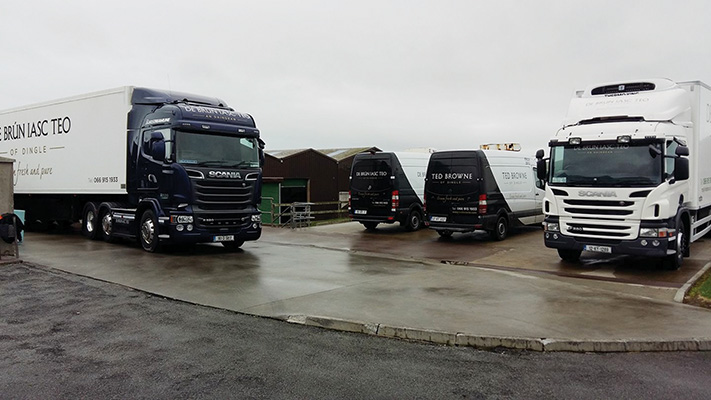 De Brun Iasc Teoranta have been leading the way in the processing of seafood in this country for more than 30 years now. Irish Trucker caught up with company Managing Director John Browne to learn more about the business.
Business has been good as of late at De Brun Iasc Teoranta and for John Browne and co, they're hoping things continue to stay that way in the coming months, having recently added a new Scania truck to their fleet.
Based just outside of Dingle in Co Kerry, the second generation company has been feeling positive effects from the upturn in the economy as of late and have ambitions to grow "busier and busier"into the future, as their Managing Director puts it.
Over the last three decades, De Brun Iasc Teoranta has earned itself a glowing reputation for processing quality fish from its facility in the south west and John himself was able to take time out of his busy schedule recently to give us the lowdown on what they're all about.
"We're based in Ballinaboula, Dingle, Co Kerry,"explained John, who has taken over the running of the business from his father and mother, Ted & Hannah Mae Browne, the company's original founders. "They set the company up in 1984 and there are currently 25 staff working here. My wife Aiste also works here in the office, so it's a very close-knit operation that we have going."
With the De Brun Iasc Teoranta in the Browne name for 33 years (and counting), the business has grown from strength to strength through the years based on the model which Ted & Hannah Mae originally set out for it all those years ago.
So what is it that De Brun Iasc Teoranta actually does? John explained to us about the ins and outs of the company and how they tend to differ from other competitors.
"We process crab, prawns & salmon,"he outlined. "Most of our crab and prawns are caught off the west coast, the crab and prawns would be processed by hand. We're hauling most of our Crab from Mayo to Dingle with Scania trucks and we have a very good supply coming from Mayo.
"We deal with West Coast Crab Sales & O'Donnell Fish up in Mayo and John Nolan at Castletownbere Co-op for our prawns. We deal with Salmac in Scotland for the supply of farmed salmon."
Looking back on the origins of De Brun Iasc Teoranta, John says the business, which now employs 25 staff from the Dingle area, was built from the ground up by his father and mother after having pursued his own start up from his days as a fisherman.
John himself has forever been immersed in the business, endeavouring along with its other 24 staff to ensure of its success.
"My father and mother started this company from scratch –from the ground up,"he stated. "He was fisherman and left it to go on and start this company.When I left school I did a FÁS Motor mechanics course and returned to the business after that.
"Today, we supply 100 of the top restaurants in Ireland with crab, prawns and salmon. All of our export here would be crab and we'd be supplying cruise ships all over (Europe) with the crab meat from here. We also have markets in the middle east in Dubai, Singapore and Malaysia."
As aforementioned, the economic downturn did have a telling effect on the company and it saw De Brun Iasc Teoranta having to cut 25 staff at its plant back in 2008 because of cheap imports of produce from outside the EU.
There had been reports of a possible closure for the plant that summer but in the past nine years business has turned around and De Brun Iasc Teoranta has bounced back strongly, according to John.
"We're steadily coming back to being busy again,"he was happy to state. "The downturn definitely did have an effect on us but we've came through it and we recently bought a new Scania to add to the fleet a couple of weeks ago."
De Brun Iasc Teoranta operates two Scania trucks in its fleet, one being a 520 tractor unit and the other a 280 rigid. They also have a trailer for their tractor unit. Also in the fleet are a 151 Sprinter van and a 141 Caddy van which are constantly on the road at the present time.
So what's the secret to successfully operating a crab processing plant through four different decades? John would tell you that you'd have to ask his father, but he tried his best to break it down for us.
"I think it's the quality,"he stated. "We put an awful lot of effort into the quality of the product here. That comes from the fishermen. We work with the fishermen closely to ensure the top quality of the product is landed."
"2017 is a new year now for us and let's just hope that everything goes well in it and we keep getting busier and busier."
Here's hoping.
De Brun Iasc Teoranta
Ballinaboula, Dingle, Co. Kerry
Tel: (066) 915 1933
Taken from Irish Trucker & Light Commercials magazine, June/July 2017, Vol 20 No 4