New additions to Evergreen Horticulture fleet
04/10/2017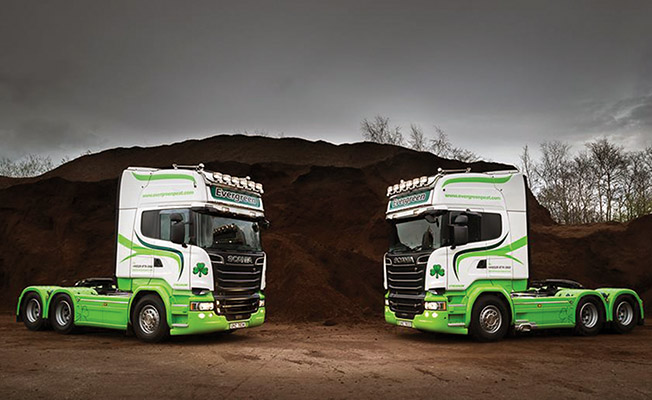 Tyrone-based Evergreen Horticulture, one of Ireland & the UK's leading horticultural manufacturers of exclusive growing media products, including composts, peat and specialist mix substrates, recently took delivery of two new Scania trucks as part of an ongoing investment within its fleet.
The two very smartly turned-out R580 LA6x2 Topline Griffin specification twin-wheel tag tractor units were purchased from Harry McQuillan of Road Trucks Ltd in Larne, Co. Antrim, and will be used to transport the company's horticultural products throughout Ireland and the UK. The top-of-the-range Streamlines, whose livery features Evergreen Horticulture's trademark Shamrock logos, will run alongside two DAF 510 tractor units and a fleet of 20 trailers comprising walking floors, flats, curtainsiders and chipliners.
"We're extremely happy with our new trucks,"Colin McCuskey, Sales & Logistics Manager of Evergreen Horticulture enthuses.
"We're extremely busy at the moment so there will be no shortage of work for them. If these new trucks do well, we may consider investing in one or two more."
Evergreen Horticulture ran a much larger fleet a few years ago before deciding to scale back and outsource some of its transport work instead. Colin goes on to explain the reasoning for this.
"In 2011, we brought 11 new DAFs but felt we were getting away from our core business –which is manufacturing –and in the best interests of our company we decided to sell most of them and concentrate on what we do best. We did, however, keep the bulk of our trailers,"explains Colin.
"I do not envisage us going to that size again in terms of our fleet. We organise and schedule the maintenance ourselves along with Gerard Robinson, a local reputable and highly skilled mechanic, and with Road Trucks, looking after the bigger repairs. We draw peat from bogs in the midlands back to our facility here in Coalisland where we manufacture a range of peat-based composts, which are then exported to the UK and beyond."
A whopping 90 per cent of Evergreen Horticulture's products are exported to the UK, with the Irish, European and UAE markets accounting for the rest. The company, which employs 15 staff, has been trading successfully since it was founded in the 1950s by Jim McCuskey. Jim still runs the business along with his son Colin and daughter and office manager Collette McGurk, who are also directors.
The haulage arm of the company originated due to an overwhelming demand from customers for a reliable delivery service, with the first lorry being purchased in the early 1980s. An optimal delivery service is assured with the live 24-hour tracking of the Evergreen Horticulture fleet. Your delivery can be tracked from dispatch to your door.
Evergreen Horticulture takes pride in offering a personalised service from the point of order to delivery, endeavouring at all times to deliver within three working days. The Co. Tyrone firm is well-known within the industry for its efficient delivery service, and is acclaimed for its overnight service of full loads from the UK to Ireland.
As a leading manufacturer of horticultural peat and compost products, quality continues to be central to the Evergreen Horticulture ethos. The company is renowned for supplying top quality sphagnum Irish moss peat in bales and bulk for the growers'market. Sphagnum Irish moss peat organic structure delivers optimal plant growth and is used exclusively throughout the comprehensive range of Evergreen Horticulture composts. Irish moss peat bales, Irish moss peat bulk, Multi-Purpose compost, Specialist composts, Bark, Soil conditioners and Growbags are just some of the products offered.
"We use Irish peat exclusively as the base line in all of our composts which are entirely free of any recycled materials,"Colin points out.
The quality product offering from Evergreen Horticulture ensures ultimate growing results are consistently achieved by its customers. Developments are in progress to add peat-free alternatives to the company's portfolio.
The latest technology at its modern factory, complemented with superior quality raw materials, enables Evergreen Horticulture to produce the finest quality composts at the most competitive price. The company's facilities comprise 800 m2 of production area, two hectares of stockholding for bulk, 4.5 hectares for stockholding for palletised stock, and 200 m2 office premises.
Evergreen Horticulture uses state-of-the-art equipment sourced from The Netherlands, Denmark and Canada. There are computerised and fully automated production lines: mixing lines for customised bulk, professional grower mixes and pre-packed composts. The family-run business works closely with the professional grower by supplying custom-made substrates in bulk and bales.
Evergreen Horticulture continues to invest in its product packaging to ensure its products are fresh, modern and attractive. The strength of the Evergreen Horticulture brand is a key factor in distinguishing its products from the competition. The company produces eye-catching designs for marketing its latest range of products and is happy to make these designs for display at garden centres and nurseries which are Evergreen Horticulture stockists.
Evergreen Horticulture Irish moss peat is sourced from weed-free bogs in the centre of Ireland. The peat is screened into a 0-12mm particle size (medium grade) or into a 12-25mm (coarse grade). Irish sphagnum moss peat bales are available in 100ltr, 150ltr, 200ltr and 250ltr compressed bales in a 0-12mm medium grade. Evergreen Horticulture's products are ideal for all your planting needs, including seeds, cuttings, potting, hanging baskets, containers and outdoor planting. With Evergreen Horticulture you can be assured ultimate growing results are achieved at all times.
Evergreen Horticulture
10A Ferry Road,
Coalisland,
Dungannon,
Co. Tyrone,
BT71 4QT.
Telephone: +44 28 8774 0950
Fax: +44 28 8774 8237
Email: [email protected]
Taken from Irish Trucker & Light Commercials magazine, June/July 2017, Vol 20 No 4