May the FORS be with you
03/10/2017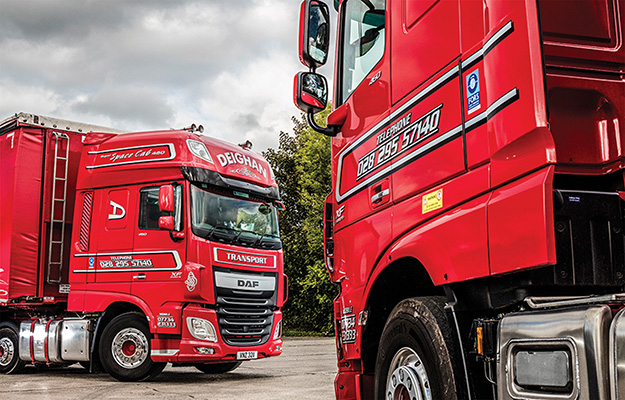 In November, 2016, Deighan Transport became the first Northern Ireland operator to secure Gold membership accreditation with the Fleet Operator Recognition Scheme (FORS) - a prestigious endorsement of the exemplary levels of best practice continuously enforced by one of the island's premier general hauliers (specialising in construction site and air freight distribution).
We travelled to Garvagh, Coleraine and caught up with founder / proprietor Seamus Deighan to find out more about his fantastic family business and what it means to have attained the highest possible FORS certification.
Since its inception in May, 2000, Deighan Transport has always been the real deal. Providing unrivalled services between Ireland, the UK and the continent –with a particular emphasis on delivering into major construction sites in and around London –the business has always placed a huge emphasis on constant improvement, compliance and operating to the highest standards.
This is reflected in its membership of FORS since 2013 and the rapid procurement of Bronze, Silver and then Gold certification. "We try our best to always be as good as we possibly can be,"notes the managing director, who is proud to front an authentic and fully accredited general haulage operation.
"We have left no stone unturned in ensuring that we have the necessary signage, cameras, sensors etc. as well as driver training. We've done everything possible to eliminate problems,"he continues. "I'm keeping it steady now and doing what I set out to do when I set the company up. We're happy to manage what we have and to continue to provide a top-quality service to our existing customers."
The Fleet Operator Recognition Scheme is a voluntary accreditation scheme that promotes best practice for commercial vehicle operators. With over 4,250 members, FORS is gaining recognition as the transport industry's go-to accreditation scheme, encompassing all aspects of safety, efficiency, and environmental protection by encouraging and training fleet operators to measure, monitor and improve performance.
FORS Bronze, Silver and Gold membership provide a progressive accreditation conduit whereby operators can achieve exemplary levels of best practice. FORS members stand out from the crowd, work to standards above the legal minimum and have access to a wide range of exclusive benefits that provide a real competitive advantage.
In short, FORS accreditation drives best practice across the European fleet industry in terms of safety, efficiency and environmental protection. "A lot of our work is in the London area and we had delivered switchgear into sites such as the Olympic village, the Emirates Stadium, Wembley, Heathrow and The Shard,"Seamus notes.
"I got to thinking that if these jobs were starting today rather than finishing that we would need FORS to have any chance of securing the work. So I realised that in order for the company to continue to move forward it was something that I would have to do. It shows your customers that you are serious about what you are doing. Once we got the Bronze membership we decided to keep pushing on and we were awarded the Gold late last year."
From the off, the entire team at Deighan Transport was fully committed to proving that they were capable of performing at the very highest levels of excellence pertaining to the industry. "Our drivers fell in with it and the training has really been excellent. They did courses and classes and things over and above the CPC and I have found this to be interesting and beneficial not just to the drivers but to the company as a whole."
FORS Gold operator status encompasses not only the demonstration of best practice but continual improvement of operations. When Deighan Transport gained the distinction of becoming the first Northern Ireland operator to be afforded FORS'highest level of accreditation last November, Peter Morrow, FORS manager for Northern Ireland said: "This is an exciting milestone for FORS in Northern Ireland, and we congratulate Deighan Transport on such a significant achievement."
For over a decade, Deighan Transport has been delivering electrical switchgear to construction sites in London as well as all over Europe –Holland, Spain, Denmark, Finland etc. –for E&I Engineering Group in Burnfoot, County Donegal. "We've been with them for about twelve years and we've grown together,"says Seamus. "I work for five different customers in construction at the moment and I picked up a couple of those since gaining FORS. We were also one of the first companies in Northern Ireland to be Crossrail complaint and we got a lot of work from that as well."
At present, Seamus runs an immaculate fleet of six DAFs –including brand-new units purchased in 2016 and 2017 –along with eleven trailers, a mixture of curtainsiders and flat beds. Although the economic downturn hit the construction sector hardest of all, Deighan Transport –which also offers a stellar airfreight distribution service –emerged largely unscathed.
"We came through okay because we are small and that's the way we are going to keep it,"he reflects. "We're very particular about who we work for and I generally stick to a select few that we've worked with for many years. I'm a great believer in 'if it's not broken, then why fix it?'
"I went for the FORS accreditation more to reassure my existing customers that I could do a top-class job for them rather than trying to get new customers. We're keeping ahead of the game and, when you are taking materials into the centre of London and there are fitters waiting for you to arrive, you don't want to be turned away because you don't have the required accreditation.
"Everything has to be right –the spare bulb, signage, cameras, sensors, up-to-date hard hat, driver training –and if you fail on any one of these then you won't get into the site. Also, you can't do Crossrail unless you have FORS, so it's very important. Of course, it doesn't come without a cost because a lot of work and investment goes into getting the accreditation, but all my customers are very important to me and it's important to keep them happy."
As Northern Ireland's first Gold member of FORS, Seamus recently had one of his units on display at City Hall in Belfast as part of a campaign to promote road safety between trucks and cyclists. He's also a member of the RHA and points out that the umbrella organisation has been exceptionally good to him: "They've been very helpful and are only ever a phone call away. If you contact them, they will get back to you straight way and are very much on the ball."
Of course, running a superb road haulage firm is of no consequence if the business isn't operating as a viable commercial enterprise. Referring to the critical challenge of continuing to turn a profit, Seamus concludes: "I think it's time to tighten up the belt as there are uncertain times ahead between Brexit and the fall of Sterling. Shipping costs and fuel costs have got higher and it's time to batten down the hatches because we could be in for a bumpy ride over the next few years."
Of course, such variables are completely beyond Seamus'control and, whatever transpires on the increasingly volatile and unpredictable political and economic landscapes, Deighan Transport's customers will nevertheless be guaranteed a top-class, FORS-approved service.
Deighan Transport,
22 Rectory Park, Garvagh, Coleraine,
County Londonderry, BT51 5AJ
Tel: 028 29557140
Fax: 028 29557140 Mobile: 07734 231333
Email: [email protected]
Web: deighantransport.weebly.com/
Taken from Irish Trucker & Light Commercials magazine, June/July 2017, Vol 20 No 4