Eye-catching additions to the DTT fleet
29/09/2017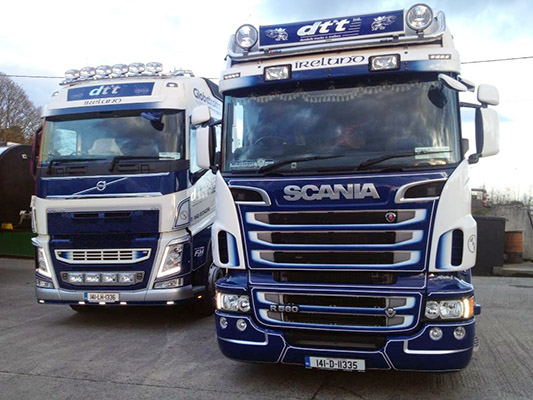 Celebrating 30 years in business, Dundalk Trucks & Trailers Ltd (DTT) recently invested in two new tractor units, one of which rugby fans have become familiar with thanks to its eye-catching livery that sports the Guinness Pro 12 logo.
In keeping with its policy of continually upgrading its fleet, Dundalk Trucks & Trailers Ltd took delivery of 171-registered Scania R580 and Volvo FH500 tractor units earlier this year from McElvaney Motors (Monaghan) and McDonnell Commercials (Monaghan) respectively. The Scania is a real head-turner with its black cab and matching 'silver bullet'trailer, both of which bear the Guinness Pro 12 logo. The impressive rig has become a familiar sight around the Aviva Stadium on the big rugby weekends and owner Sean Hand has been overwhelmed by the favourable comments it has received.
"There has been a massive reaction to the truck, the chrome tanker and the Guinness livery. When you put the three of them together, they really look the part. We've toured around Dublin on the rugby weekends and the amount of people taking pictures has been incredible. We put a photo of it up on Facebook and it got 600 'likes'in a few hours,"he proudly states.
Bearing the blue and white colours of DTT, the new Volvo FH500 is also a sight to behold. The 10-strong fleet is one of the most modern on the road. It includes three other Volvo FH500s and a Scania R560 which are all less than four years old. At the opposite end of the scale, there is a 1984-registered Volvo F6 which makes regular appearances at truck shows. DTT also runs 15 trailers which are a mixture of tanks, flats, containers, refrigerated and curtain-siders.
DTT was established in 1987 and is run by Sean and his sister Claire Savage with the help of their mother Gretta. They inherited their passion for trucks from their late father Oliver Hand, whose company Oliver Hand Transport was the forerunner to DTT. Sean's son Ryan and Claire's son Ciaran have also joined the family business in recent years as a panel beater / sprayer and mechanic respectively.
Much of Ryan and Ciaran's time is spent in the company's state-of-the-art workshop where maintenance and servicing is carried out, and provides a brake test and brake disc skimming service to other truck and trailer operators in the area.
"With road safety and roadworthiness being huge issues nowadays, we saw an opening for this kind of service. We invested in the relevant equipment and training before opening the garage to the public two years ago. It has received great support from the local haulage fraternity and complements our core business, which continues to be transport,"Sean says.
"We are located a mere 300 yards from Junction 17 of the M1 between Dublin and Belfast, so we're very easy to access."
Employing 18 staff, including 10 full-time drivers, DTT specialises in groupage, refrigeration, bulk tankers and road freight services, and strives for complete customer satisfaction. With safety being such an important part of the business, you can rest assured that all DTT management and staff are trained to the highest standards in every aspect of their jobs. The company's modern fleet and strategic location between Ireland's two biggest cities ensures downtime and loss of production by maintenance stops is kept to a minimum.
"It's important that all of our customers have a hassle-free and happy experience with us. They keep returning because we not only met their expectations, but exceed them. We are committed to continually improving our service and giving our customers what they want,"the affable haulier continues.
"No business would be successful without a competent workforce and we are fortunate to have drivers who are highly experienced, loyal and courteous. Our experience means we have the logistical knowhow to ensure on-time delivery transport wherever the final destination may be."
You may have guessed from the Guinness logo on the new Scania that DTT has very close ties with Diageo and Associated Global Logistics (AGL), who operate from the Guinness Brewery in St. James'Gate, Dublin. The association with Diageo goes back to the days when they ran the now closed Great Northern and MacArdle Breweries in Dundalk.
"We do a lot of work for Diageo. We transport tankers of Guinness from Dublin to Belfast on a daily basis and we have been doing that since the 1980s,"Sean explains.
"We have a number of other clients on our books such as IMEX, who we undertake refrigerated work for. We also team up with other haulage companies like Hannon Transport, O'Dwyer Transport, Lucey Transport and Hanlon Transport on various jobs."
Sean concludes by thanking DTT's customers for their continued support.
"I would like to take this opportunity to thank them for the loyalty they've shown us over the past three decades. They have stuck with us through thick and thin, and we look forward to working for and with them for many more years to come."
Here's to the next 30 years of DTT!
Taken from Irish Trucker & Light Commercials magazine, June/July 2017, Vol 20 No 4