A voice for truckers in the Mid-West
26/09/2017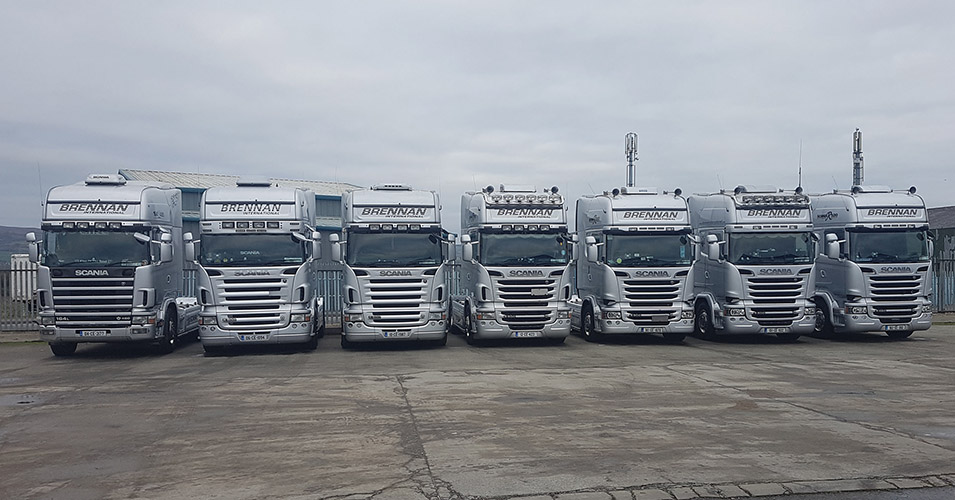 Pat Brennan of Brennan International Ltd is chairman of the Mid-West branch of the Irish Road Haulage Association (IRHA), which has approximately 90 members in counties Limerick, Clare and Tipperary. The local branch meets four times a year, while Pat also attends up to half a dozen meetings of the national council annually.
Pat succeeded former IRHA president Eoin Gavin as Mid-West branch chairman six years ago and, along with secretary Brendan Ryan and treasurer Paul Connole, provides a voice for members in the region. The IRHA is the recognised national representative body of the licenced road haulage industry in Ireland with members operating under Road Haulage Operator Licenses issued by the Department of Transport. A Road Haulage Operator's License is required where goods are carried for hire or rewards in a vehicle or combination of vehicles which is in excess of 3.5 metric tonnes.
The IRHA was founded in 1973 with the purpose of representing and promoting the interests of Ireland's licensed road haulage industry –on a national and international level. The Association promotes professionalism, excellence and safety in the operation of road transport business.
In recent years, the IRHA has successfully lobbied for the introduction of a tax break on fuel and a reduction in road tax. The 'rebate'on diesel costs for hauliers means they're entitled to refunds on part of the excise duty on fuel paid by tax-compliant haulage companies. Persuading the Government to lower road tax levels was another very significant result for the IRHA as many Irish hauliers had been unable to compete with out-of-state operators, particularly from Northern Ireland.
The rising cost of motor insurance, especially commercial premiums, is the biggest single issue facing Irish hauliers at present. The IRHA is calling on the Government to introduce legislation to allow the commercial sector to obtain insurance in other competing markets across the EU to combat the lack of competition in the insurance sector in Ireland.
"There are only a small number of companies in the Irish insurance market who are charging double what their counterparts in Europe are charging because of a lack of competition. It seems to be run as a cartel system,"Pat opines.
"The levels of disparity are unstainable which shouldn't be the case at all. As part of EU agreement, we have free movement of people, free movement of trade and free movement of services, yet Irish hauliers can't do business with a German insurance agent. It's very hard for us to compete when we can't get access to the same services as our EU counterparts."
A shortage of professional drivers, which hasn't been helped by a delay to the commencement of the HGV driver apprenticeship programme, initiated by the IRHA, is another major challenge facing the sector. Pat says he wouldn't encourage his eight-year-old son to follow him into the business because of the unsocial rules pertaining to drivers'hours, attitude towards drivers and lack of facilities for drivers both in service stations and company premises,
"It's becoming more and more difficult to attract younger drivers. They have more legislation to deal with than an airline pilot,"the 47-year-old complains.
"A truck driver can only drive for six consecutive days before taking a break whereas a coach driver, who is carrying 55 people, can drive for 12 consecutive days. How can that be right? Those of us in the international transport sector have a huge problem with the current drivers'hours rules because it leaves us with a very short time span in which to get in and out of Europe. It takes us to two days to reach Holland alone. We face a constant run against time. It's not something operators on mainland Europe have to contend with. The last thing our drivers want to be doing is sitting in a lay-by for 24 hours when they're only a few miles from home."
The introduction of the diesel rebate scheme and reduction in road tax are signs that the Government are beginning to recognise the key role the transport industry plays in driving the economy, Pat feels.
"We're a small country which has to export in order to survive. As members of the EU, we have access to 28 countries in Europe and we're a massive link in the export chain. It's only in recent years that the Government have recognised this. The majority of freight in this country moves by road. For the food or pharmaceutical industries to function, their produce has to go by road.
"It takes a long time to get something across the line and a lot of lobbying from all IRHA members across Ireland. The Government takes a lot of convincing, but we're hopeful that the insurance and driver shortage issues will be resolved just like the fuel rebate and road tax were."
He continues: "I'm proud to say that the diesel rebate movement was started here in the Mid-West by Eoin Gavin and I. We didn't like the idea of having to fill our trucks in Belgium so we went to the Government and put it to them that if they gave us 10-15c of a rebate on diesel, they'd reap the benefits. Our national treasurer Seamus McGowan lobbied harder than anyone on this to achieve this goal.
"Getting the commercial vehicle road tax passed in the 2015 Budget was another landmark result for the Association. The previous system, which was based on the weight of the truck and trailer, was flawed and open to abuse. It makes sense for everyone to be paying the same tax at a greatly reduced rate. My fellow Clare men TD Pat Breen and Timmy Dooley were very supportive of our plight given the distorting effect the road tax mechanism was having on the growth of the sector, while IRHA president Verona Murphy also put a huge amount of work into getting it through."
A native of Shannon who inherited his passion for trucks from his father Pat Snr, Pat set up Brennan International Ltd in 1988 in Limerick. Having stated out with a humble Fiat Ducato van, he now runs a fleet of 11 Scania and Volvo trucks as well as a range of curtain-side and refrigerated trailers. The groupage specialist offers a dry and refrigerated haulage service throughout Ireland, the UK and mainland Europe, with Germany, Belgium, Switzerland, The Netherlands and Spain the main countries it serves.
"Most of our customers are from Limerick, Clare, Tipperary and Kerry. They have been very loyal to us over the years. We employ 12 staff and are happy with the size we are now. The aim going forward is to consolidate what we have by continuing to provide a quality service to our customers,"the affable haulier concludes.
Brennan International Ltd
Clondrinagh Industrial Estate,
Ennis Road,
Limerick.
Telephone: +353 (0)87 2410788
Web: www.brennan-international.ie
Taken from Irish Trucker & Light Commercials magazine, June/July 2017, Vol 20 No 4