And the award goes to...
18/09/2017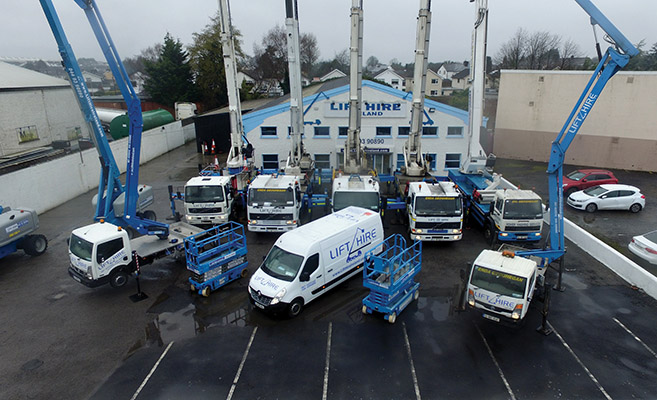 2016 was a year to remember for Enda Geoghegan of Mullingar-based Lift Hire Ireland Ltd who added Westmeath's Best Young Entrepreneur award to his curriculum vitae. His company also won the award for Best Established Business for good measure.
Young entrepreneurs from all counties in Ireland received a total of €1.5 million in investment funding through their involvement in Ireland's Best Young Entrepreneur (IBYE) competition.
A total of 180 talented entrepreneurs across every county in Ireland, aged between 18 and 35, have been awarded the funding through the Local Enterprise Offices after winning, or becoming runners up, in IBYE County Finals.
This initiative for young entrepreneurs is run by the 31 Local Enterprise Offices (LEOs) nationwide, and supported by the Department of Jobs, Enterprise and Innovation and Enterprise Ireland. The investment awards will be used by the young entrepreneurs to help fund business start-ups, create new jobs locally and help develop new products for international markets.
Westmeath winner, 30-year-old Enda Geoghegan, founded Lift Hire Ireland, along with his father Syl in 2008, and they specialise in van, truck and trailer mounted lifts reaching 10 to 60 meters. As well as supplying state-of-the-art equipment on a hire and sale basis, Lift Hire Ireland provide fully trained and experienced operators.
The ever burgeoning company also offers boom and scissors lifts without operators to all sectors, including construction, film productions, CCTV maintenance and repairs.
Meanwhile, the aim of the business is to specialise in providing an all round service to the telecommunications sector in Ireland for all access requirements.
"We were up against some stiff competition here in Westmeath and were surprised to come out on top,"Enda –who will now go on to fly the Westmeath flag on the IBYE national stage - recalled in conversation with Irish Trucker magazine, "but it's a great bit of recognition to get and is a testimony to the staff we have working for us here."
The award process entailed a weekend bootcamp focussed on developing a business plan as well as a 'Dragons Den' style pitch in front of Local Enterprise officials.
"If I can't talk about our business then who can?!"Enda quipped. "I know it inside out so it didn't take too much effort to explain to people what we do. We're an ambitious company and have big plans for 2017 such adding to our fleet of equipment and gaining a bigger share of the market. We have plans in place to help us grow the business on a large scale."
All told, it's a far cry from the humble beginnings in which Lift Hire Ireland Ltd started out life nine years ago.
"I started working with my father's company, Power Washing Services, in 2007 and we tried to develop that business further by investing in our first lift. But, as everyone knows, things got quiet around 2007/'08. We were faced with hefty repayments on the lift and, as the saying goes, the summer was short and the winter long.
"On a more positive note, as we look to the future, we came through what will go down in history as the worst recession ever. Now that we are operating in an economy that is growing again, we're, needless to say, hoping that our business can grow as well."
Lift Hire Ireland's central location in Mullingar is a big plus in their favour as it helps to reduce travel time, saving their customers time and money.
"That's a unique selling point we have and it allows us to operate on a nationwide basis. It differentiates us from the competition who tend to focus on the larger urban areas while the boys in the midlands tend to be that little bit cheaper!"
At Lift Hire Ireland, Enda and the team understand the importance of safety in the workplace.
Their staff are trained to the highest standard in working at height while they offer all of their customers the highest standard training courses and safety consultation advice at very competitive rates.
Courses are available on an ongoing basis catering for small groups and can be organised to suit your business, thus saving you money in down time. All courses are provided by fully qualified and certified instructors in conjunction with Lift Hire Ireland.
"Our number one priority is safety and we have worked hard to build a culture of safety amongst all our staff."
Lift Hire Ireland can also cater for their customers safety requirements on a consultancy basis in the preparation of: safety statements, method statements, carrying out hazard identification and risk assessments, the procurement of on street work permits and traffic management plans,
Since the introduction of chapter 8 to the roadwork requirements in Ireland all MEWPs being used on public roadways or footpaths must have traffic management in place.
At Lift Hire Ireland they have a dedicated team who work on traffic management plans, notifications, permits and installations all across Ireland. Their crews are fully trained and competent in traffic management installations.
Simply put, all angles are covered and there are no short-cuts in their business model.
"A lot of our competition operate on a rent and return basis but the way we look at things is - what is the best equipment for the job? If you don't supply the right equipment first time around, there's a cost to the customer and a cost to us on the delivery side. You have to get it right from the start."
At Lift Hire Ireland they have dedicated project managers to deal with the various sectors they supply their machines. Their project managers have experience in the various applications of their MEWPs within the particular sectors.
Contact Enda and his team today for Lift Hire Ireland's most up-to-date rates and availability.
Lift Hire Ireland Ltd
Unit 26 Mullingar Business Park
Mullingar
Co. Westmeath
N91 K4XY
Tel: 044 93 90890
Mob: 0876255542
Email: [email protected]
Website: www.lifthireireland.com
Taken from Irish Trucker & Light Commercials magazine, Vol 20 No 3, May 2017