Etmar - the delivery specialists
15/09/2017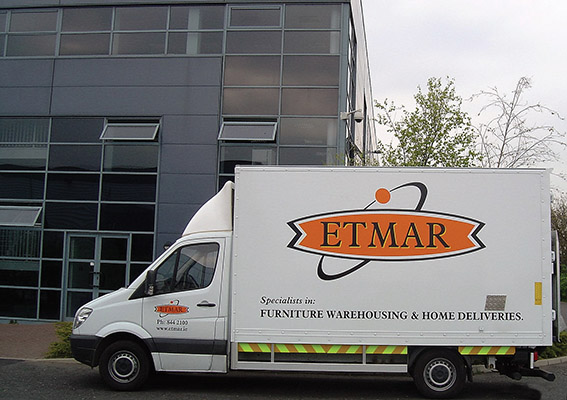 Delivery services have become an important part of everyday life as more and more people get their products delivered by specialists.
Delivery vans now flood the roads as the endeavour to get products to customers as quickly as possible and all the time taking great care to ensure no damage is done.
A great deal of trust has to be placed in delivery companies and drivers as businesses must have confidence in the logistics firm that is delivering their products.
Almost every business in the country uses a delivery service at one time or another, some on a daily basis, while others not as frequently.
One of the Ireland's oldest and most reputable department stores are Arnotts, which is located on Henry Street and is one Dublin's greatest landmarks, having first opened its doors in 1843.
Arnotts supply everything from beauty products to homeware, electrical and furniture. The company offer a delivery service for products that customers are unable to take home for them.
For many years, Arnotts operated their own home delivery service, but in 1996 a corporate decision was made to outsource this end of the business.
Having worked in the company's transport department for 20 years previously, Mark Homan eyed an opportunity to establish his own business supplying a delivery service for Arnotts.
So on September 5th of that year, Etmar Ltd was established with Mark as Managing Director.
The role of this new business was to offer a quality delivery service for Arnotts and 21 years later this transport firm is still going strong.
"Our company specialise in home deliveries of furniture from retail sales in furniture stores. We also provide warehousing and stock control,"said Mark.
"I have been involved with Arnotts a total of 41 years now. They were looking to outsource the work and with the experience I had in the company I thought it was an ideal opportunity for me."
Mark runs a fleet of trucks and vans with two new Mercedes-Benz Atego trucks joining the fleet recently. The two 818 rigid short radius distribution trucks are leased through Fleetplan.
The Ategos are finished in Arnotts livery as they take to the roads where they begin life as delivery vehicles.
"We added a brand new DAF last year and have the two new Mercedes now as well, which are leased from Fleetplan. I find that by leasing the trucks, we are cutting down in overheads. If we have a problem with one of the trucks, we just make a phone call and they are out straight away to either fix the problem or give us a replacement vehicle. This cuts out unnecessary downtime, which is something you strive to avoid in this business. It just cuts out a lot of hassle that we don't need."
Mark revealed that the drivers do not just deliver customers'products to the front door; they will also assemble if wanted.
"We place a lot of training into the drivers and helpers. Many of them are with us for a lot of years now, some would be 14 years or more. We trust them to do the job to the highest standard and not only will they deliver the products in perfect condition; they will remove all packaging and assemble the product if the customer wishes. They are experienced and skilled at what they do, which plays a big part in the success of the business."
"We specialise in furniture, but that doesn't mean we don't deliver other goods as well. We also offer warehousing from our premises in Greenogue Business Park and this end of the business has proven to be very successful and is growing all the time."
Of course, Mark, like everyone else, had to combat the recession that had a vice-like grip on the country for a few years.
"We were fortunate to be working for such a well-established business as Arnotts and that is what really got us through the recession. The strength of them as a company really helped.
"Look, in saying that, we did have cut lads down to a three-day week, which they all accepted and got on with. That lasted about a year before we returned to the five days."
Mark admitted that he is pleased with the direction of the business and stressed that he is always looking at opportunities to expand.
"For the last 18 months or so, business has been going really well and of course, if there is an opportunity to expand than we will do so accordingly.
"Two more people will be taken on this year, while as I said earlier, we have added to the fleet, so we feel that we are heading in the right direction, business wise.
"The transport industry is one of the toughest to be involved in, as they are so many overheads, but when you work for a company like Arnotts that really helps the situation.
Etmar Ltd
Greenogue Business Park,
Rathcoole
Dublin
Phone: (01) 844 2100
Taken from Irish Trucker & Light Commercials magazine, Vol 20 No 3, May 2017